Maison Tiskiwin is one of the oldest museums in Marrakech. The collection of North African cultural objects compiled by Dutchman Bert Flint is housed in a restored riad and takes you on a historical tour from Marrakech to Timbuktu.
The private Maison Tiskiwin (also: Dar Tiskiwin) is one of the oldest museums in Marrakech. The national historical collection was founded by Dutch anthropologist Bert Flint. It shows numerous exhibits discovered and secured by Bert Flint along the former caravan route from Marrakech to Timbuktu. The primary focus of the exhibition is the culture and often merely orally transmitted history of the Amazigh Berbers, including the Tuareg people.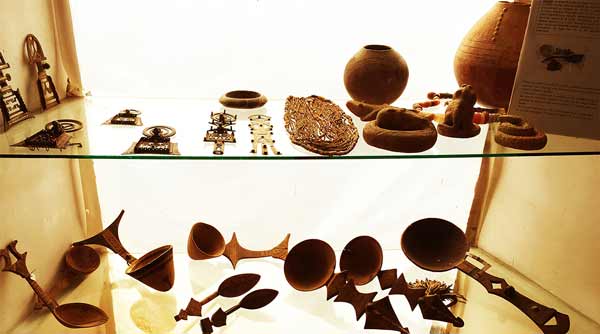 Maison Tiskiwin – a cultural-historical journey from Marrakech to Timbuktu
The exhibition is designed like a trip along the old trade route from Marrakech to Timbuktu and is divided into ten stages. Each room has exhibits from different regions ranging from Morocco to the Sahel. They represent the art, culture and crafts of North Africa. Among the exhibits are hand-knotted carpets, traditional clothing, jewelry, tools, elaborate plaitings and weapons. Even a nomad tent was placed in the extensively restored riad.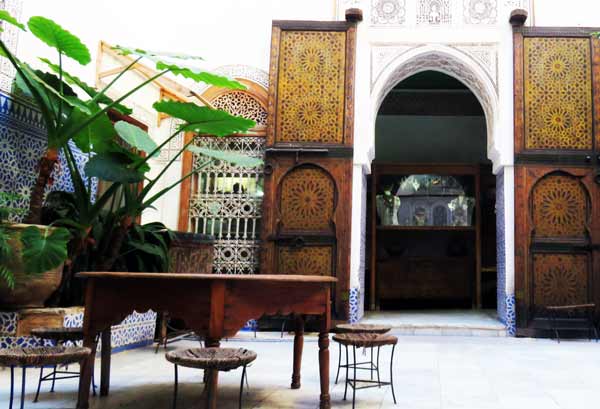 The anthropologist Bert Flint came to Marrakech in 1957 and has since saved countless cultural treasures. In the 1980s he opened the Maison Tiskiwin and made his private collection accessible to the public. Since then, the museum is placed in a renovated Moorish riad in the southern medina, just a few meters from the Dar Si Said Museum.
In a nutshell
There are four folklore museums in Marrakesh, which are generally similar. However, the Maison Tiskiwin differs from the others in two ways: first by the focus on the Berbers, and second by the supra-regional concept, which reaches far beyond the borders of Morocco. A visit of Bert Flint's private collection is a must, not only because of the beautiful riad with its filigree wood carvings and artistic mosaics. These impressive woodworks are called "zellige" in Arabic. By the way, Bert Flint still lives in Marrakech today and he is said to regularly sit at the entrance of his museum, welcoming his guests personally.
Info
Maison Tiskiwin is located in the southern medina between the Dar Si Said Museum and the Bahia Palace. From Jamaa el Fna, follow the Zitoun Jdid and walk on for about 10 minutes. The museum is well signposted from there. At the entrance, folders with explanations in several languages are offered. You should definitely take these with you in order to learn more about the exhibits and regions, because in the actual exhibition there are no multilingual displays.
Location:
Opening hours:
Maison Tiskiwin is open daily from 09.30 a.m. to 12.30 noon and from 2.30 p.m. to 6 p.m.
Admission: adults 20 DH, children 10 DH
(Photos: Travelguide Marrakech)