If you want the real authentic Marrakech experience, the accommodation of your choice should be a riad in the historic medina. There are by now more than 1200 guest houses, one more beautiful than the other. In this article, the most highly rated riads are presented.
Riads are generously-sized town houses, whose plain ochre outside walls hide a tastefully decorated interior. The heart of these often sumptuously renovated town houses is a splendid patio, which is usually decorated with complex ornamentation, water basins and a lot of plants. Around this roofless courtyard the guest rooms are arranged. On the roofs of most riads, you will also find a terrace with sitting areas. Some riads not only offer to cook for their guests, but have their own cooking courses on offer. Others even have their own on-site hammams.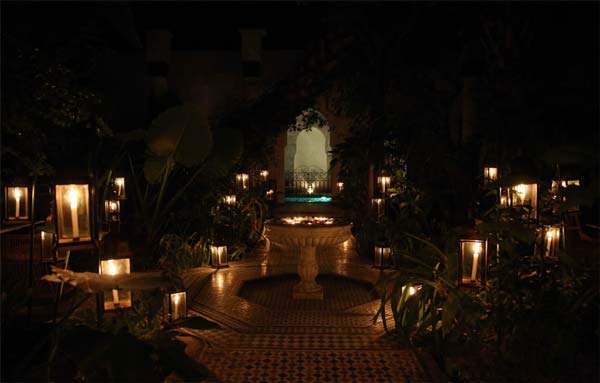 (Palais Riad Lamrani)
The 10 best riads in the medina of Marrakech
Since Marrakesh is a very popular travel destination, a lot of riads are fully booked quite early. So if you are looking for something special, make sure to book early. The following list introduces the 10 most highly-ranked riads on Booking.com (Status 02/2015). All of these hotels offer air-conditioned rooms and free WiFi.
1. Riad Signature (10,0)
Riad Signature is located very conveniently in the southern medina between Jamaa el Fna and Bahia-Palace and has its own on-site hammam. This riad, welcoming its guests with the menu of the day, has the best ratings at the moment of this research. Double rooms starting from €60 per night. Book here!
2. Riad Les Nuits de Marrakesch (9,9)
Run by two male managers, Nuits de Marrakesch, close to Jamaa el Fna, is highly praised, too. There is no hammam here, but a roof terrace, a swimming pool and whirlpools. A suite for two can be booked from €125 per night. Book here!
3. Riad Warda (9,9)
Prettily decorated Riad Warda is located south of Jamaa el Fna in one of my favourite areas. Rates for the double rooms with noble tadelakt bathrooms start from €100 per night. Book here!
4. Riad Dar Nakous (9,8)
Also situated in the southern medina, not far from Bahia Palace, you will find this reasonably priced riad. Double rooms from €69 per night. Book here!
5. Riad Teranga (9,8)
Opposite Sidi ben Slimane fountain in the northern medina, there is Riad Teranga, which has a beautiful large patio offering separated seating areas on its edge. The guest house is decorated traditionally and double rooms start from €40 per night. Book here!
6. Palais Riad Lamrani (9,8)
A bit more expensive is Palais Riad Lamrani, which offers its own garden, a roof terrace, a swimming pool and a hammam. Luxury reigns here and – of course – affects room rates: a suite for two can be booked from €300 per night. Book here!
7. Riad Idra (9,7)
This guest house is also located in the northern medina. Some of the rooms, which are partly decorated in European style, have a private whirlpool. From €175 per night. Book here!
8. Dar Anika (9,7)
This riad is a beautifully refurbished town house in the southern medina. Besides a classy swimming pool, there is an on-site hamman and proper spa-treatments on offer. Suites for two start from €200 per night. Book here!
9. Riad Villa El Arsa (9,7)
Beautiful traditional riad in the southern medina, in which all rooms have their own tadelakt bathrooms. Moroccan and French cuisine is served and cooking courses in Morrocan cuisine are offered to guests. Double rooms start from €55 per night. Book here!
10. Riad Anabel (9,6)
Riad Anabel is also quite reasonably priced and has a beautiful patio with a diving pool. In the bathrooms you can admire complex tile works and the roof terrace looks really comfy. Double rooms are available here from €60. Book here!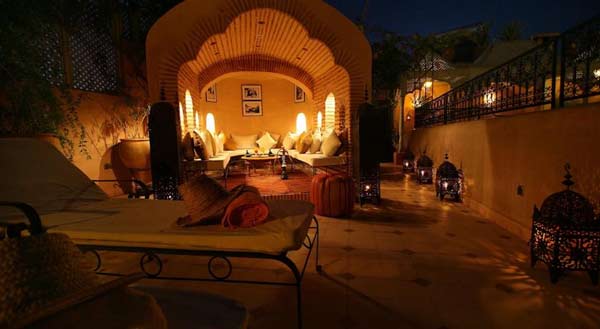 Roof terrace (photo: Riad Anabel)
Tips for booking riads in Marrakech
Most accommodation in Marrakech can be booked via online services like booking.com or hotelscombined. If you intend to travel to Marrakech in winter, make sure your rooms are air-conditioned or include heating facilities. At all times, a roof terrace should be available so that you can admire the polyphonic sounds of the numerous muezzins' calls to prayer. If you are looking for a nice riad during the high season, book early!
Often, the different riads offer airport transfers for a fee. However, it is much cheaper to go to the medina by bus or taxi on your own and walk the rest. Even though there are only few street signs in the medina, make sure you note down the address of your riad to be able to ask someone for the way if necessary.