If you want to experience the real Marrakech, when looking for a place to stay, look for a riad in the historic medina. This area has over 1000 guest houses, each just as beautiful as the next and some really very special indeed. This article will guide you through the top ten most amazing riads to stay in.
Riads are spacious townhouses, often lavishly renovated and with clay-coloured outer walls. Behind these lie tasteful interiors and magnificent patios with elaborate decorations, water features and leafy foliage. The guest rooms are grouped around these inner courtyards. Most riads have rooftop terraces with seating areas. Some also have their own small swimming pools and hammams.
Many riads have their own restaurants and bars that serve alcoholic drinks. You'll find that quite a few also provide cookery lessons. Click on the promotional pages to find out what these luxurious old town houses have to offer.
The 10 best riads in the medina of Marrakech
As Marrakech is a very popular travel destination, many riads get booked up well in advance. So, if you're looking for a lovely place to stay, the best advice is to book well ahead. The following is a list of the top ten riads based on the best guest ratings on booking.com (as at 11/2018). All these hotels have air-conditioned rooms and free Wi-Fi. What's more, they're all very central within the medina, so not too far out at all.
10. Riad Dar Nakous (9.2)
This relatively cheap, family-friendly riad is also in the southern medina not far from the Bahia Palace. A double room in the Dar Nakous costs about 69 Euro a night. (Book now)
9. Riad Villa El Arsa (9.2)
This is a beautiful, traditional riad in the southern medina where all rooms have their own Tadelakt bathrooms. Guests are served Moroccan and French cuisine and you can also take part in Moroccan cooking courses. Double rooms start at 55 Euros per night. (Book now)
8. Riad El Fenn (9.2)
A breath-taking boutique riad in an ideal location. El Fenn has a large garden and three pools, its own wellness area, a restaurant and a piano bar. If money is no object, stay here to experience one of the finest guest houses in Marrakech. (Book now)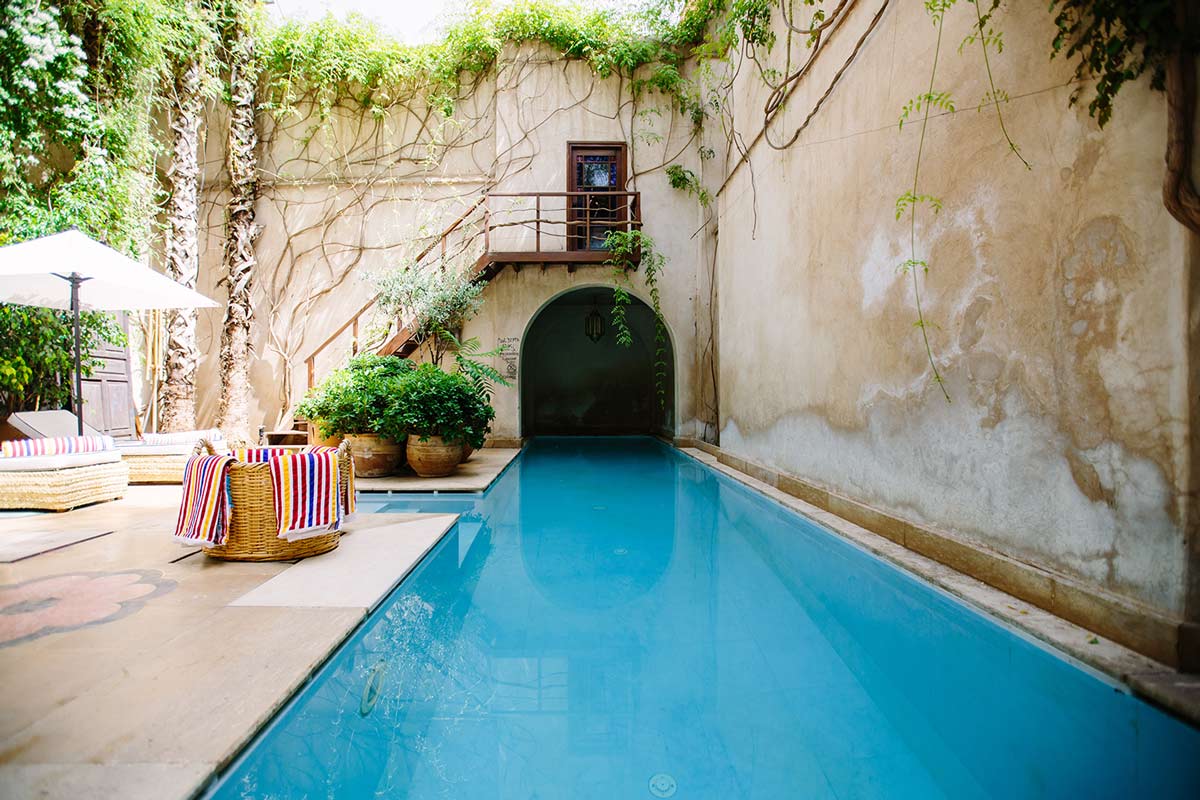 Riad El Fenn, Marrakech
7. Riad Signature (9.4)
Riad Signature is in a good location and you'll find it in the southern medina between Jamaa el Fna and Bahia Palace. Featuring its own hammam, this riad has an excellent guest rating and offers a delicious daily menu. You can book a double room from 60 Euros per night. (Book now)
6. Dar Anika (9.6)
This riad is located in a beautifully renovated townhouse in the southern medina. In addition to a stylish swimming pool, it also has a private hammam and various wellness services. Double suites in Dar Anika start at about 170 Euros per night. (Book now)
5. Riad Anabel (9.6)
Riad Anabel offers accommodation at affordable prices and has a beautiful patio with a plunge pool. The bathrooms feature ornate tiling and the roof terrace is really cosy. Double rooms start at 60 Euros. (Book now)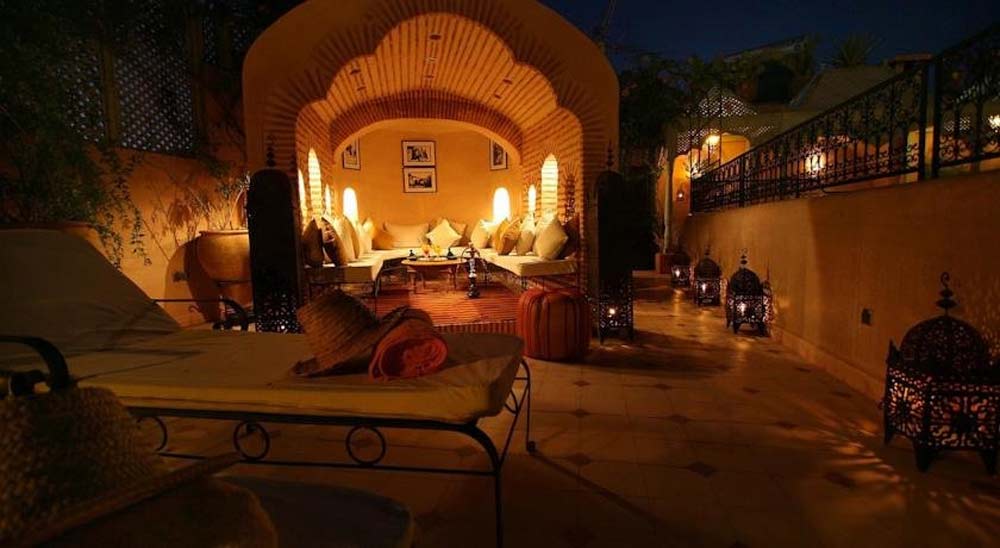 Riad Anabel, Marrakech
4. Riad Vanilla Sma (9.6)
The Vanilla Sma is in the Mouassine district of the northern medina. It features a beautiful interior and lovely furnishings. This elegant riad has a roof terrace and a swimming pool. Double rooms include very chic Tadelakt ensuite bathrooms and cost about 120 Euro per night. (Book now)
3. Palais Riad Lamrani (9.6)
Riad Lamrani is a little more expensive. It has its own garden, roof terrace, swimming pool and hammam. Indulge in true luxury here! The price reflects this: A 2-person suite starts at 300 Euros a night. (Book now)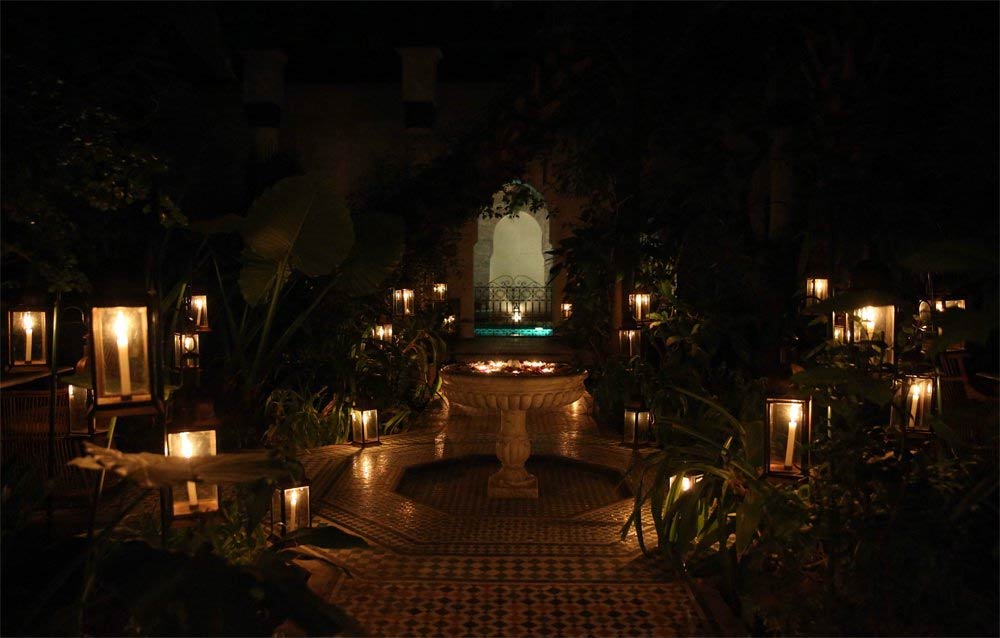 Palais Riad Lamrani, Marrakech
2. Riad Idra (9.7)
Riad Idra is an amazing luxury riad in the Mouassine district. It has its own wellness area, pool, restaurant, roof terrace and bar. Rooms are furnished in a part European style and even have their own jaccuzis. Prices start from 175 Euros per night (Book now).
1. Riad Les Nuits de Marrakech (9.9)
Run by two gentlemen, the Nuits de Marrakech is close to Djemaa el Fna and is highly rated by guests. It doesn't have a hammam, but there's a rooftop terrace, a swimming pool and jaccuzi. Les Nuits de Marrakech was a booking.com winner in 2015. You can book a 2-person suite from 125 Euros per night. Book now)
Tips for booking riads in Marrakech
You can book online for most places to stay in Marrakech through sites like booking.com.
If you're visiting the city in wintertime, make sure the accommodation you choose has heating.
Never book a riad without a rooftop terrace!
The most beautiful riads often get booked up well in advance, so don't leave it too late.
Many riads offer airport transfers at an additional cost but it's usually cheaper to make your own way into the city.
Make a note of the address of your accommodation so you can ask someone for directions if you need to.
..maybe you haven't found the right place yet? Here's the ultimate guide to help you choose your ideal accommodation in Marrakech!