Marrakech is one of Morocco's most exciting destinations. You should aim to spend at least a few days in the "Red City" if you are to get a true sense of its unique ambience. Take the time to meander through the souks in the Medina, visit some of Morocco's most beautiful buildings and soak up an exotic atmosphere redolent of the 1,001 nights.
Alongside Fez, Meknès and Rabat, Marrakech is one of Morocco's four royal cities. Its history can be traced back to the 11th Century. Many great dynasties have left their mark here. Monumental buildings such as the El-Badi Palace and the Bahia Palace have borne witness to the passage of time in one the Islamic world's most important outposts.
Among the souks of the Medina, the atmosphere can be confronting in its intensity. Unfamiliar colours, smells and sounds overwhelm the senses. At the heart of this bustle and chaos is the Jemaa el-Fnaa. The so-called Beheading Square exerts an enduring fascination. Here, you can experience snake-charmers, storytellers and musicians. As night falls, the scent of food stalls envelopes the square. It is fair to say that you haven't really been to Marrakech unless you have experienced the Jemaa el-Fnaa.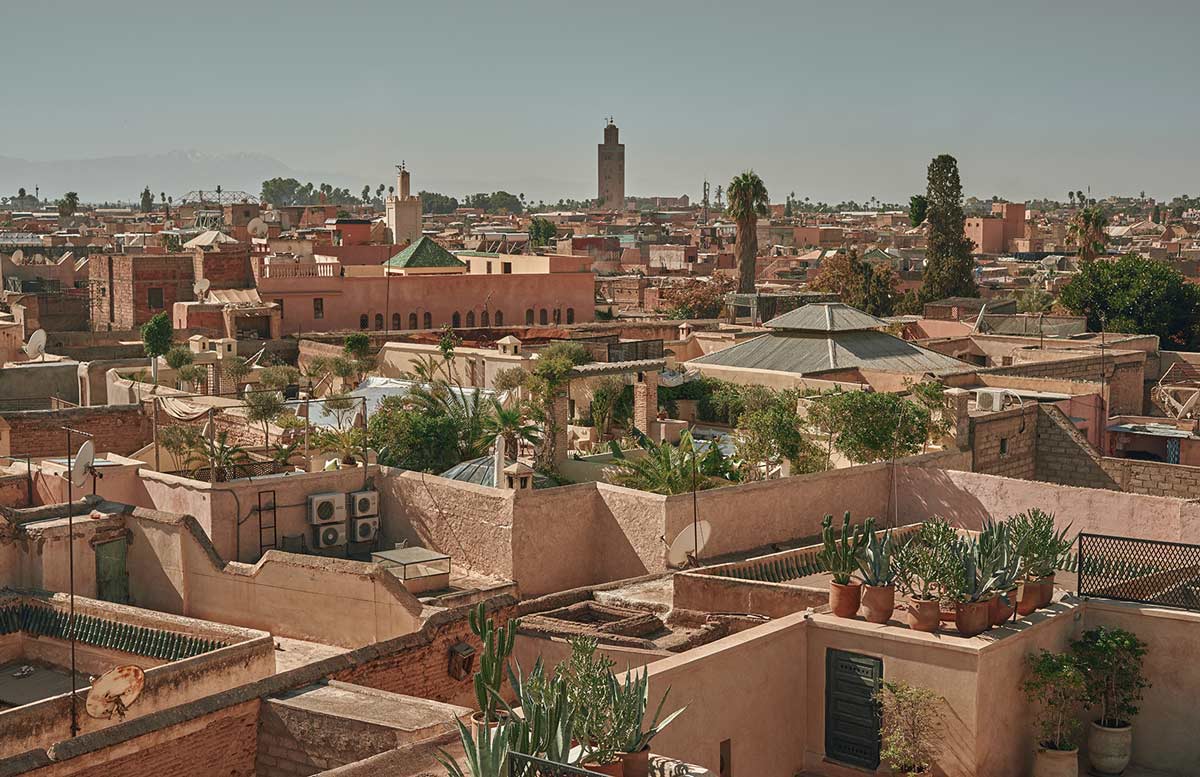 Marrakech is located in the western part of southern Morocco. The "Red City" is not just a dream destination for a city-break, but the perfect place from which to set off on a tour of the coast, the High Atlas Mountains or the Sahara.
This website will provide you with all the information and advice you need to plan a journey to Marrakech or Morocco. Marhaba!
Travel time and weather
Marrakech is worth visiting at any time of year. Although temperatures do fluctuate throughout the seasons, you will generally find that – apart from mid-Summer, which can be uncomfortably hot
– the climate is usually more pleasant than it is in Europe.
In the months of April, May, September and October, all options are open to you when planning a trip. These are the best times to travel to Morocco.
At other times of the year, some limitations may apply. For example, in the summer, the Sahara becomes very hot, especially during the middle of the day.
Holiday duration
You should allow at least three days for your visit to Marrakech. This is enough time to get a proper feel for the city, and to see most of the important attractions.
If you would like to see more of Morocco during your trip, take the time to plan an excursion or small tour outside of the city.
Around 7-10 days is a good length of time to spend on a first visit to southern Morocco. Of course, the more time you have, the more flexible you will be able to be when making arrangements.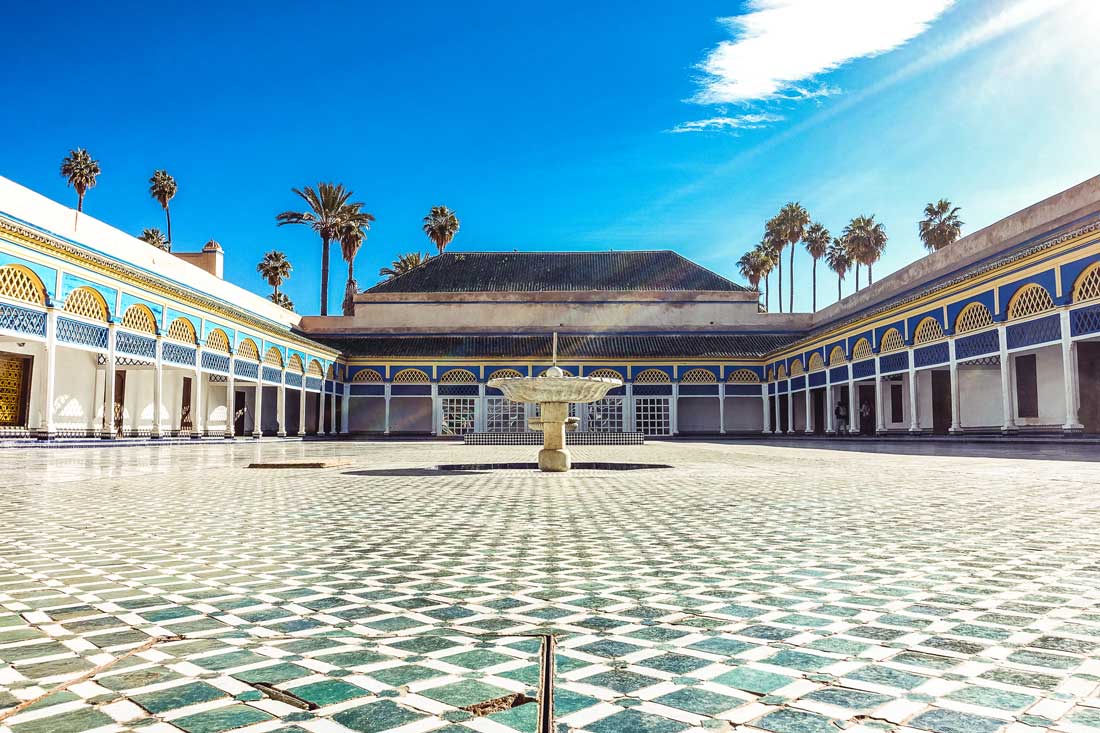 Getting there
The quickest and easiest way to travel to Morocco from Europe is by plane. Flights from Germany usually take around 4 and a half hours. Return flights cost between 80 und 300 Euros.
There is a regular shuttlebus from the airport to the city-centre. Taxis are also available. Private transfers are scarcely any more expensive, but much less hassle.
Accommodation in Marrakech
Marrakech offers a wide variety of accommodation and you will generally find that you are spoilt for choice when searching for a hotel. It is definitely worth choosing a nice riad in the medina. Many of these are townhouses which have been luxuriously renovated. They generally have green inner courtyards and are true pearls, which will make your holiday unforgettable.
There are also various conventional hotels in the newer part of the city, as well as a number of hostels for those on a budget.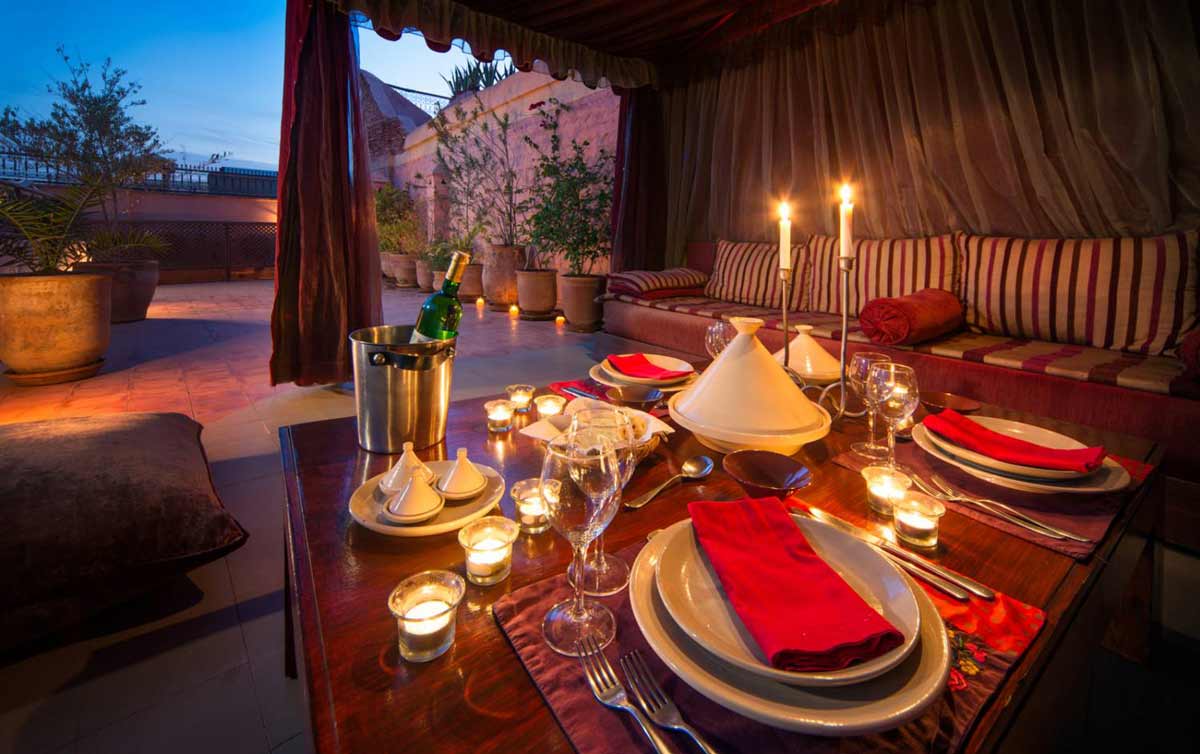 The most beautiful sights in Marrakech
Marrakech has no shortage of fascinating buildings, small museums, gardens and exhibitions. The less time you have, the more difficult it will be to decide what to do.
For most, the absolute must-sees in Marrakech are the Bahia Palace, the Koutoubia Mosque, the Medersa Ben Youssef and the Jardin Majorelle.
What to do in Marrakech?
If you would like to explore beyond the impressive palaces of Marrakech, take the time to arrange an excursion or some exciting activities.
This might mean anything from a half-day cookery course, to a hot-air balloon ride at sunrise, to a desert tour lasting several days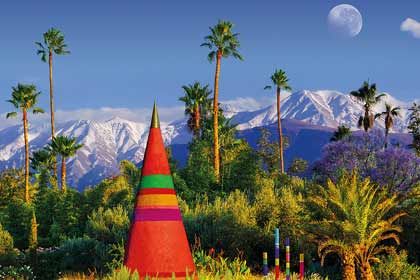 A trip to André Heller's Anima Garden is a journey into another world where art and nature are lovingly intertwined. Find out more about the most beautiful garden in Morocco! This breath-taking dream of greenery in an otherwise barren landscape
Travel tips for Morocco
There are some cultural differences that you will need to bear in mind during your travels. Many things are simply done differently in Morocco, from attitudes to alcohol to the practice of haggling.
In our FAQs you will find advice on a range of topics from changing currency, renting a car, using the internet, alcohol, homosexuality and travelling as an unmarried couple.
Safety
Morocco is a very safe country to visit. Statistically speaking, robbery and violent crime rates are lower than they are in many European countries. Even in large cities like Marrakech with large numbers of tourists, unpleasant situations are very unusual.
This at least partly because the consumption of alcohol is frowned upon under Islam.
Latest posts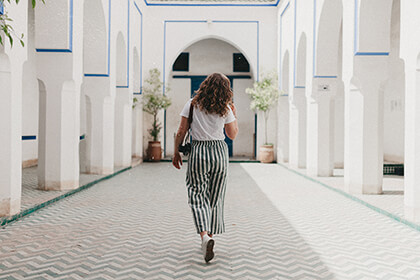 Is it safe for women to travel to Morocco? Yes: if you take sensible precautions. Here are some travel tips for solo female visitors to Morocco.