Are you looking for a hotel or riad in Marrakech? If so, this page will help you to gather the best information to find the right kind of accommodation.
Marrakech is brimming with places to stay. As a large city, you'll find plenty of guest accommodation with numerous riads to choose from. If anything, you'll be spoilt for choice when looking for accommodation to fit the bill. However, it can still be tricky if you've never been to Marrakech before, making it harder to take the right decisions when you're actually there.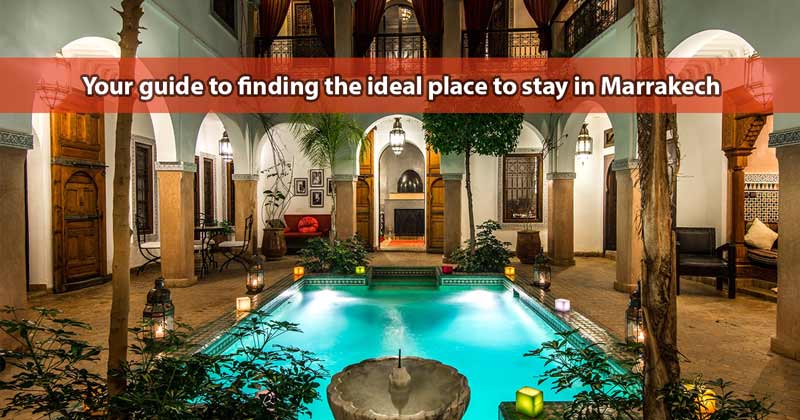 This article provides more information on the hotels and riads that visitors rave about in Marrakech. I'll highlight the best areas and districts to find accommodation and explain why it's best to steer clear of certain areas. So, you'll be able to choose top-rated riads in different parts of the city. My summary also recommends accommodation to suit individual needs, for example, low budget and family-friendly hotels.
As this is a long article, you can use the contents guide to find what you're looking for.
What's a riad and why do so many people rave about them?
If you want to experience the real Marrakech, don't miss the chance to spend a night in a riad. Marrakech has over 1,000 riads, mostly in the medina. Step out of your accommodation right into the pulsating, bustling heart of the old town.
The medina in Marrakech is surrounded by red clay walls, giving the oriental metropolis its nickname as 'the red city'. These walls are of architectural importance and hide the meandering, twisty streets that lie behind them from the outside world. Maybe you'll stumble across a humble abode or a grand Moorish residence that will become your little piece of paradise during your stay!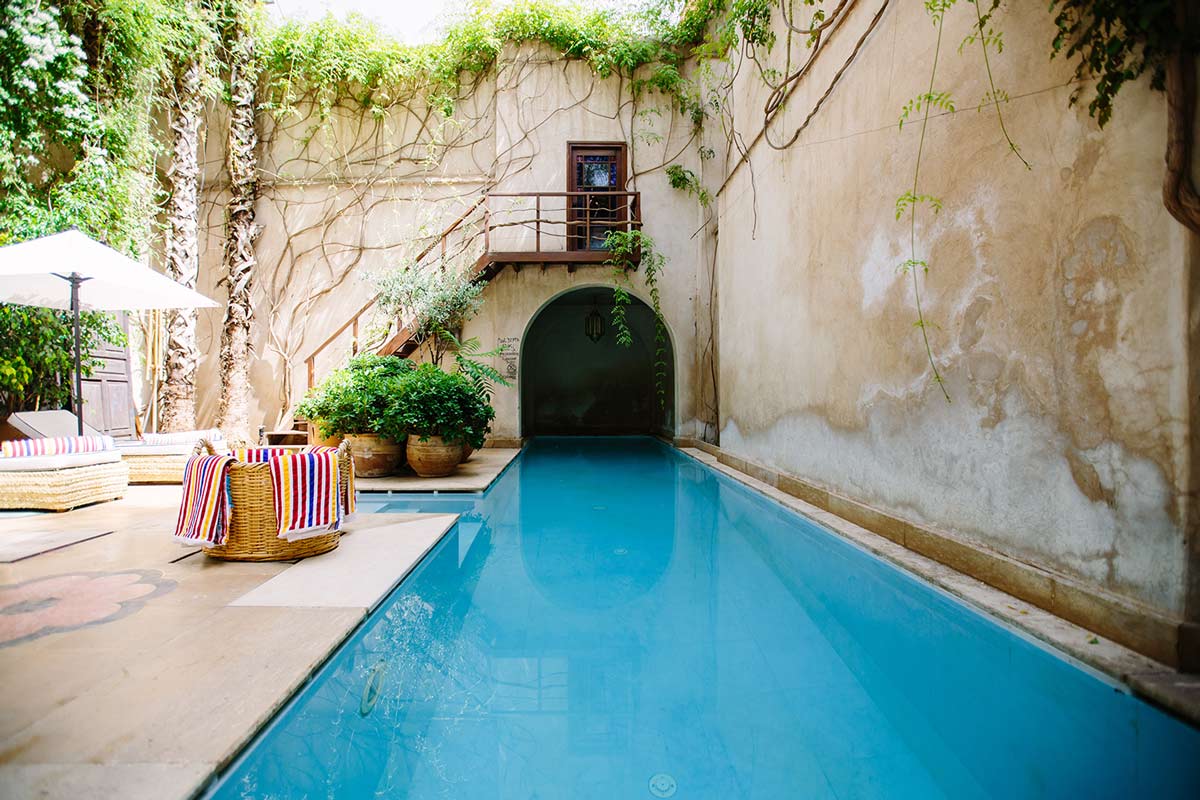 Riad El Fenn, Marrakech
Traditional Islamic architecture places more emphasis on the inner building. Morocco has a culture where flaunting your wealth is frowned upon. Therefore, wealth isn't usually obvious from the outside, but many riads have simply stunning interiors.
Almost all traditional town houses have a small courtyard at their heart and often with leafy foliage. You won't be surprised to learn that the term 'riad' comes from the Arabic word for garden. Some riads even have several inner courtyards.
Most riads in Marrakech span three floors and have a roof terrace outside. Sometimes, their courtyards feature ponds or pools. In summer, when it's hot and dusty in the medina, a riad's shady inner courtyard can be a really welcoming and peaceful retreat to relax away from the bustling old town.
Many riads have been lavishly restored over the last twenty years. Some of the best interiors mimic the Dar Si Said or Bahia palace styles.
What about typical hotels in Marrakech?
In addition to the many riads, you'll also find a good selection of hotels in Marrakech. These lie in the medina as well as the new town's Hivernage district and the Palmeraie green belt area that borders the north of the city.
The large hotels often have their own spacious gardens and generous swimming pools, which can make all the difference for families with children. Marrakech boasts numerous luxury hotels, with over 50 5-star establishments offering all creature comforts to make for an unforgettable stay. Well-known chains like the Four Seasons and Ibis also offer hotels in Marrakech.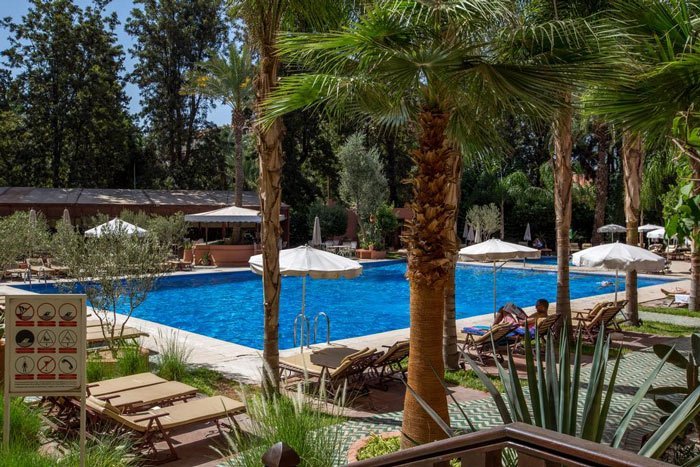 You'll also find classic hotel complexes in Marrakech, for example, the El Andalous Hotel.
To experience Marrakech with all your senses, I'd advise against staying in a new hotel outside the medina. It's better to stay in a lovely old town riad or in one of the spacious hotels full of oriental charm and set within their own palm-lined gardens.
How much do hotels and riads cost in Marrakech?
It's difficult to talk about prices and quote precise figures. You simply can't compare an affordable hotel in the medina with a luxury hotel like La Mamouina, which is where elite international trend-setters and the jet-set stay. One night alone will cost several hundred euros. At least you'd have a stay to remember!
Otherwise, prices for a night in a basic hotel in Marrakech start at around 10 Euros (DBL). You'll pay more for a better location, modern facilities and extra comfort. Expect to pay around 40-100 Euros a night for a double room in a well-run, well-appointed riad. Of course, there are cheaper as well as more expensive riads, but the majority fall within this price range.
Good locations: the best areas for a riad and what to look out for
Staying the night in an old town riad is all about enjoying the original atmosphere while benefitting from a prime location. Almost all of the major sights in Marrakech are in the medina and, with a few exceptions, these are only accessible on foot. So, stay here to save yourself the time, trouble and taxi fares. Also, staying in an old town riad gives you an ideal stopover point and is very practical when you need a bathroom break, a rest or to drop off your shopping.
End the day in the perfect way by enjoying a glass of tea at a stand on Jemaa el Fna. Every day, there's so much to see right up until around midnight. In the evenings, the Souks are buzzing with people. Shops are open and light up the medina's alleyways with their lamps. A few hours later, the scene suddenly transforms. Suddenly, it's dark and almost empty. You'll may be left wondering if you're on the right route or whether you need to check out the next alleyway!
However, the medina isn't necessarily all about central locations and easy access. Districts in the old town are very different and you should take this into account before making a booking, which is what the next paragraph will explain.
Districts that are recommended when staying in the medina.
Taxis can only drive right up to a few riads in the medina and you often don't have any option other than walking. To save you from long walks, I recommend riads that aren't too far from Jemaa el Fna. You can get a taxi or airport shuttle there and then walk, so don't make this any harder than necessary. This is particularly important if you're in Marrakech for the first time or arriving in the evening.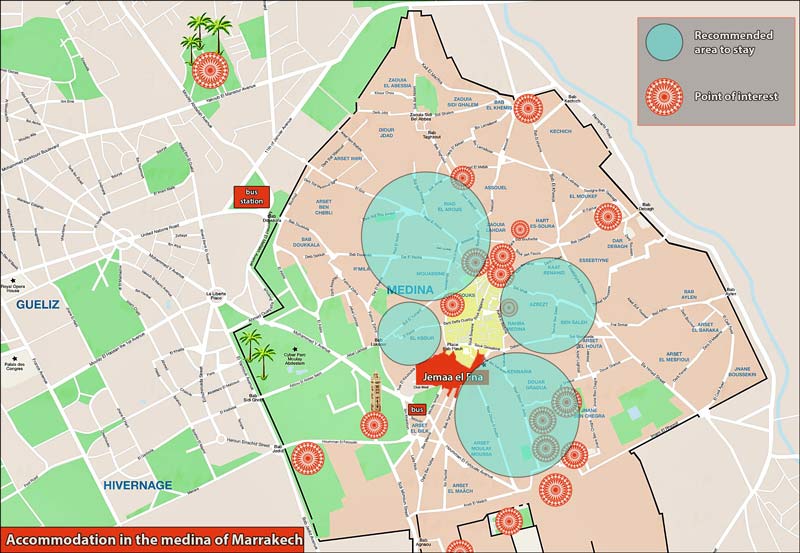 Sights and recommended locations for hotels and riads in the medina of Marrakech. Click to enlarge the map.
If you aren't sure where to stay in the medina, you'll find the map above helpful as it shows the most important sights within the old town. I've also highlighted four areas in the medina that I can particularly recommend for accommodation. They're all near to Jemaa el Fna and are quite easy to reach. In addition, they're fairly close to the most important sights.
These are only my recommendations and you'll find many other wonderful riads outside the areas shown.
Tips for booking hotels and riads in Marrakech
Booking.com shows all accommodation on a map. Before booking, always check the area.
If your riad is in a tucked away location, you can either organise an airport transfer (for around 150DH) or get a taxi as far as the city walls or Jemaa el Fna. From there, you'll be able to find someone to guide you for a small tip.
Some hotels and riads require a credit card to book a room online.
If you're looking for budget hotels in the area, ask to see the rooms before confirming. In Morocco, this is standard practice and nobody ever refused my polite requests, which often saved me from going wrong.
These days, most accommodation provides free WLAN.
Winter can be quite cold and temperatures may fall below 10°C, which is when having a heated room is a great idea.
Firm riad recommendations
It isn't easy to recommend specific hotels and riads. These often change ownership, staff or managers. Also, new riads are always popping up while others close. Since everyone has different tastes and budgets and there are so many riads in Marrakech, the following selection will give you an idea of what's on offer.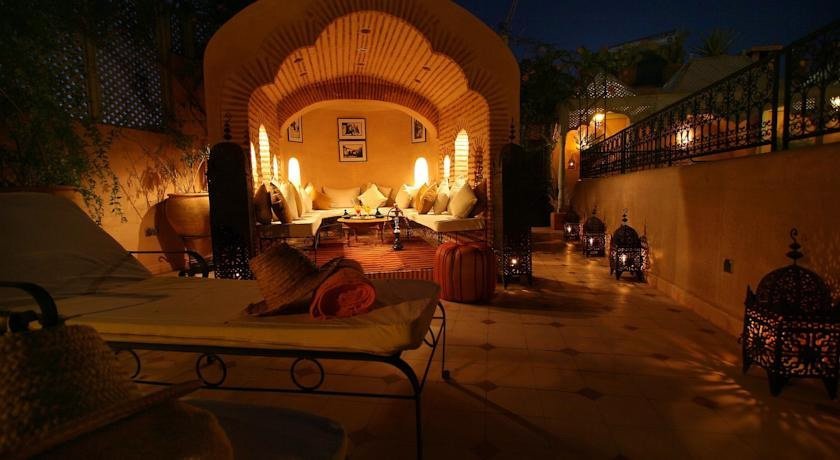 roof terrace Riad Anabel
Recommended riads in the northern medina
The Mouassine district lies in the northern medina. Many people think this area is the best part of the old town with its decorative fountains and partially covered alleyways. From Jemaa el Fna, the quickest way to the Mouassine district is through the souks, north of the square. At night, large gates close off these souks so you'll need to take a slightly longer route.
There's also the Bab Doukkala area, some distance from Jemaa el Fna. However, it's a good stopover since the bus station is only a few meters away from its gates.
| Riad | Info | Price | Booking |
| --- | --- | --- | --- |
| | A lovely riad offering great value for money in the Mouassine district with its own pool | € | |
| | A small pool restaurant, roof terrace and bar serving alcoholic drinks | €€ | |
| | A luxury riad with a small pool to the north of Jemaa el Fna | €€€ | |
| | An elegant riad in the Mouassine district with a pool and parking | €€€ | |
| | A stunning luxury riad in the Mouassine district with parking, a spa, pool restaurant and bar | €€€ | |
Recommended riads in the southern medina
When I stay in Marrakech, I prefer the southern medina. There's less traffic than in the northern part and fewer tourists, making it a little more laid back in general. The most beautiful area surrounds two streets called Riad Zitoun el Lakdim and Riad Zitoune el Jdid where you'll find many lovely hotels and riads. From here, it's easy to get to all the sights and attractions and Jemaa el Fna is just around the corner.
| Riad | Info | Price | Booking |
| --- | --- | --- | --- |
| | The perfect location with child care available and family rooms | €€ | |
| | Air-conditioned rooms with private terraces. Easily accessible | €€ | |
| | A cost-effective riad with a pool and family rooms | €€ | |
| | A lovely riad right on Jemaa el Fna with a restaurant, bar and family rooms | €€ | |
| | A pool, roof terrace, restaurant, private hammam and a great location | €€€ | |
| | 'A fine riad in a fantastic location with its own pool. A 2015 booking.com award winner! | €€€ | |
| | | | |
Family-friendly riads
Moroccans are very child-friendly and it's great being on holiday in Morocco as a family. In Marrakech, children really don't need entertaining. The medina is full of jugglers, snake charmers and monkey trainers, offering plenty of excitement for most children.
In Marrakech, families can decide whether they'd prefer a large hotel with its own outdoor pool or a family-friendly riad in the medina. When travelling with children, riads have the advantage of being self-contained and children aren't likely to wander off. Family-friendly riads offer family rooms and some even offer child care and have their own swimming pools, which are great for children.
| Riad | Info | Price | Booking |
| --- | --- | --- | --- |
| | The perfect location in the southern part of the medina, with childcare and family rooms. | €€ | |
| | A family-friendly 4-star hotel with a pool in the Hivernage district. N.B. This hotel is NOT in the medina. | €€ | |
| | A lovely riad right on Djemaa el Fna with a restaurant and family rooms. | €€ | |
| | A cost-effective riad with a pool and family rooms | €€ | |
| | An amazing luxury riad in the Mouassine district, with parking, a spa, pool, restaurant and family rooms. | €€€ | |
Low budget hotels
The medina is where you'll mainly find low-budget hotels and cheap accommodation. Generally speaking, these small, simple hotels and riads can vary greatly. Many budget hotel rooms have their own toilets. Otherwise, expect to share facilities with other guests on the same floor and showers often cost extra.
You'll also find cost-effective, well-run hotels in Riad Zitoune Kedim, a street to the south-east of Jemaa el Fna. Make the most of your budget and enjoy socialising, meeting plenty of young people and travellers in Marrakech's hostels.
| Riad | Info | Price | Booking |
| --- | --- | --- | --- |
| | Simple, clean and right on Jemaa el Fna | € | |
| | A basic hotel in the southern medina | € | |
| | A basic, clean hotel in the southern medina | € | |
| | A clean hotel in the southern medina with a roof terrace | € | |
| | A simple riad offering simple rooms in the southern medina | € | |
This article has many more tips for backpacking and low-budget holidays in Marrakech.
Riads with disabled access
Marrakech offers a great selection of hotels and riads, which are either fully accessible or have accessible rooms as a minimum.
In general, riads in the medina don't have lifts and most have steep, twisty, narrow staircases, although some also have reasonably-sized rooms on the ground floor. You'll also find a number of popular places to stay that specifically cater for people in wheelchairs. For example, Riad Tarzout has professional and accommodating hosts who welcome all disabled guests.
| Riad | Info | Price | Booking |
| --- | --- | --- | --- |
| Handi Oasis | A hotel that specifically caters for disabled people | €€ | |
| Riad Abaca Badra | With an accessible entrance and rooms (the Meknes and Zagora rooms) | €€ | |
| Riad Tarzout | A lovely riad in the northern part of the medina that specifically caters for disabled people | €€ | |
Gay-friendly accommodation
In Morocco, homosexuality is taboo and finding accommodation for same-sex couples isn't easy. Despite this repressive culture, a thriving gay scene has emerged over the last few years. Possibly the most famous member of this community is fashion designer Yves Saint Laurent, who renovated the Jardin Majorelle hotel along with his partner.
Some hotels and riads are openly gay-friendly. These are often run by European same-sex couples. Here's a selection of these riads. Find out more by reading my article on gay-friendly Marrakech.
| Riad | Info | Price | Booking |
| --- | --- | --- | --- |
| | In the northern medina | €€ | |
| | A great central location near the Heritage Museum | €€ | |
| | A lovely riad with a swimming pool in the northern medina. Easy to get to from the station | €€ | |
| | A stunning boutique riad in the perfect location. It''s pretty hard to find anything much better' | €€€ | |