What is Moroccan currency called? What is the exchange rate? Can I withdraw money at a cash machine in Marrakech using my Maestro card or should I change money at a currency exchange bureau? Find the answers to key questions about money, currency, Morocco and travel at a glance. 
In Morocco, currency is officially the Moroccan Dirham (MAD). A dirham is made up of 100 centimes and is currently worth about 0.09 Euros. Of course, currency is index-linked in Morocco. Therefore, it's subject to fluctuations. However, these tend not to be too significant and the exchange rate won't make a huge difference when you're changing money.
What you should know about the currency in Morocco
The national currency is distributed in coins and banknotes but you'll rarely use the 10 and 20 centime coins on your everyday travels. Coins that are worth half, one, two, five and ten Dirhams are far more important for you everyday spending. Banknotes are worth 20, 25, 50, 100 and 200 Dirhams.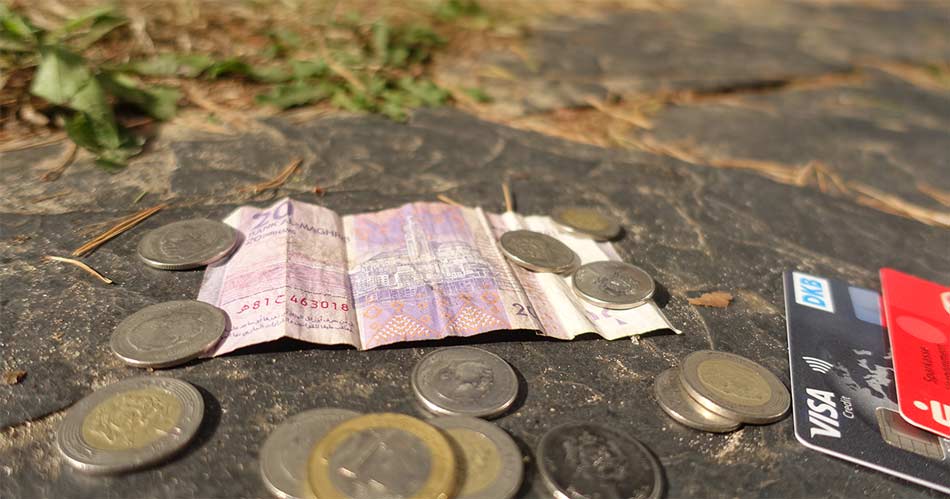 The official currency is the Moroccan Dirham (photo: Travelguide Marrakech)
How do you get cash in Morocco?
As with any long-distance trip, you should plan ahead for your holiday in Marrakech and leave yourself plenty of time to sort out how you will get money while you are there. You can't choose one of the most obvious options as you aren't allowed to bring Moroccan currency (the Dirham) into the country.
However, tourists shouldn't be put off going to Morocco on holiday because of the restrictions on bringing in the national currency. Many other options are available to you when it comes to obtaining Moroccan Dirhams.
Changing money and planning to take it with you before you travel
Moroccan legislation rules that it's illegal to bring Moroccan currency into the country. Although this law is mainly aimed at business travellers, it applies to tourists too. Most people would agree with me when I say that I've never wanted a customs officer to go rifling through my hand luggage and even less to inspect my wallet.
However, this import ban isn't the only factor that goes against getting Dirhams at home before your travel. Above all, you may be faced with a poor exchange rate, as well as horrendous exchange fees. Unfortunately, you're at the mercy of domestic banks in this respect.
When returning to Morocco, money matters may be a little easier if you still have leftover change or banknotes from your last holiday there and can take these with you.
My personal experience
Although it's illegal to even bring in small amounts of money, in reality, I've never had a problem with this. However, due to poor exchange rates, I'd advise against changing a large amount of money in advance.
Exchange bureaus
You'll find exchange bureaus at all Moroccan airports, as well as in every major city. Unlike banks, these have much longer opening hours and are normally staffed every weekday. They also cash travellers' cheques for a fee.
In all honesty, I'm not a fan of these places. Above all, changing money in exchange bureau means you'll get a poor exchange rate. In addition, changing money into Moroccan currency often incurs additional charges.
The second worst option for changing currency in Morocco
In Morocco, currency exchange bureaus are really best for those who only want to change smaller sums of money and who don't have a credit card to use for free withdrawals. However, if you find you need some cash on the final day of your trip and don't want to have to shell out on bank charges, using an exchange bureau can be a fairly easy way to get your hands on some cash.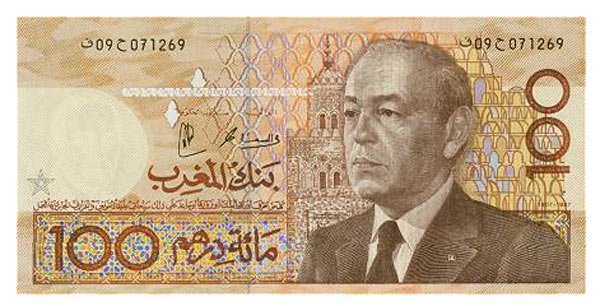 When you're in Morocco, if you need to change this 100DH note, for example, it's better to do so at a machine rather than go to an exchange bureau.
When looking for the ideal exchange bureau, compare their exchange rates with those of the banks. It's also a good idea to ask about any additional exchange fees. Anyone changing money in a currency bureau should always keep their receipt. Just as you can't bring Moroccan money into the country, you can't take it out either. When following these procedures and changing your left-over foreign currency at the airport, you must have your exchange receipts.
Incidentally, I've never been approached on the street and asked if I want to buy Moroccan Dirham. However, it's common for shops in the major tourist cities to price their goods in Euros and use a conversion rate of 1:10. This puts buyers at a disadvantage because it's a far worse exchange rate and automatically inflates the prices paid.
In my experience
Currency exchange bureaus are the second worst option for changing currency in Morocco. Unless you're looking to change a small leftover amount at the end of your holiday, I'd always withdraw money using a credit card.
Maestro cards
Just about every Moroccan city has at least one bank. You're usually limited to a maximum withdrawal of 2000 Dh. It used to be easy to withdraw money from bank ATMs using your Maestro card.
Unfortunately, things changed a few years ago. So, these days, many cards won't be accepted at ATMs, including V-PAY cards. On the other hand, Maestro cards are sometimes accepted at larger shopping centres. Another problem is the relatively high withdrawal charges. These vary according to your bank and are calculated as a percentage, often with a fixed basic amount applied. For example, you could find that withdrawing 20 Euros incurs a fee of up to 5 Euros.
If you only have a Maestro card and want to withdraw money in Morocco, try to only make a limited number of withdrawals and maximise the amount of money you take out each time.
In my experience
I used to simply use my Maestro card. Once, when traveling in a group, we took it in turns to withdraw large amounts of cash and divided these sums between us. Today I take a free credit card with me when I travel and can withdraw cash without incurring any charges. Consequently, I tend to go to the ATM fairly frequently and withdraw smaller amounts.
Credit cards
Credit cards (Visa and MasterCard) are the most reliable method of withdrawing money in Morocco. You can use them at any ATM in the country. Also, credit cards offer a few more options like cashless payments in large shops, restaurants and hotels, and, above all online payments for bookings. Often, credit cards are the only accepted payment method for many low-cost flights and hotels. Even renting a car can sometimes be difficult without a credit card.
If you're using a free credit card, you'll either find that there aren't any fees when withdrawing money in Morocco. Or, if you do get charged, it's easy to get a refund at a later date. However, this only applies when you withdraw cash. In total contrast, anyone using their credit card abroad to pay for items in shops, restaurants or hotels and riads can expect to incur even higher additional charges than those levied for Maestro cards.
If your credit card (or Maestro card) is lost or stolen, put a block on it straight away. Always keep your credit card company's phone number to hand so you can report a lost or stolen card.
In my experience
If you use a free credit card, in Morocco, money can be saved on expensive withdrawal fees and can you can definitely use any ATM machine to withdraw Moroccan currency. I feel better when I don't carry too much cash around with me. Due to the horrendous fees for cashless payments, I only use my credit card for online bookings and to withdraw cash. Just in case my card is lost or stolen, I always keep my card company's phone number in my mobile phone contacts list.
Practical tips: (Not) withdrawing cash when landing at the airport
After your flight lands in Marrakech, you'll go through passport control and find yourself in the baggage reclaim area of the Arrivals hall waiting for your hold luggage. You'll find a currency exchange bureau and an ATM there. These will be easy to spot from the long queues of passengers who've recently disembarked.
If you're lucky, you'll still have 50 Dirhams left over from your last holiday in Morocco. This means you can happily bypass the queues and hop on the airport bus. If you don't have any Moroccan cash and prefer not to stand in a long queue of tourists at the start of your Marrakech holiday, I recommend a getting a private airport transfer to the city centre. This won't cost you much more than a shuttle bus or taxi. And it's much quicker. Making it easy to avoid considerable stress and hassle after you've arrived.
Since these transfers are booked and paid for in advance, you won't need cash to get to the city centre. When you get off the bus and make your way towards Jemaa el Fna, it's easy to spot the banks with accessible ATMs.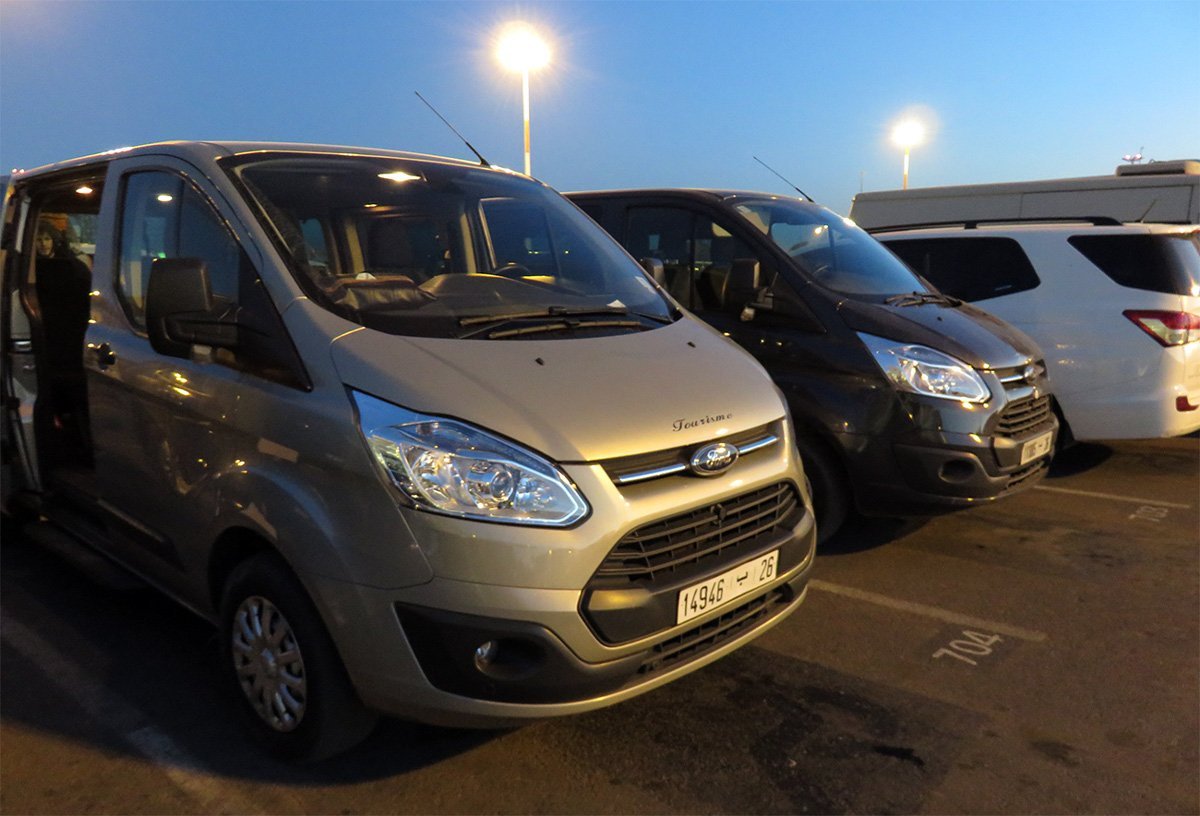 You don't need cash to book an airport transfer. Ride on a modern minibus equipped with WLAN and save time and stress (photo: Travelguide Marrakech)
In my experience
As mentioned above, changing money in a Moroccan exchange bureau isn't the best option. Of course, this applies to airports too. After disembarking from my flight, I like to get to the city centre as quickly as possible without queuing. That's why I prefer to be picked up at the airport and sort everything else out later.
Change, cash, Morocco and a travel cash app for when you're on the move
Notes and coins in Moroccan currency are scarce, especially the smaller amounts. Therefore, always try to keep as much change on you as possible. There seems to have been a chronic shortage of small change for years,. Which means it's always a good idea to have enough small notes and coins in your wallet.
I'm extremely disciplined when it comes to having cash on me in Morocco and my golden rule is to ensure I always have enough small change (5 DH, 10 DH, 20 DH). If you only have a 200 DH note, you won't find it easy to pay for anything in Morocco.
If you decide to leave the city, for example, by going on a trekking tour in the High Atlas Mountains, build up your cash reserves in advance and make sure you have enough money. Don't forget small change. Firstly, tiny settlements and villages don't have ATMs. Secondly, it can be a little embarrassing. Let's say if you want to give someone a tip on your travels and only have a 200 DH note.
App recommendation
If you're travelling in a group and need to work out how to divide up everyday expenses, try the free TravelMate App.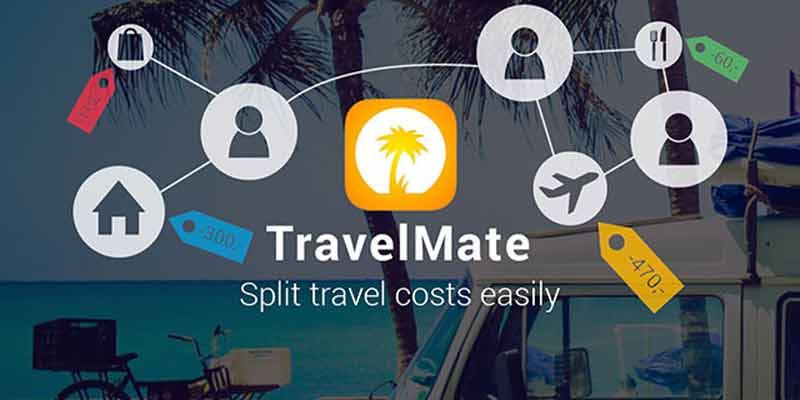 Summary
The official Moroccan currency is the Moroccan Dirham, which is equivalent to 0.09 euros at the moment. Since you can't bring Moroccan currency into the country, changing money at home isn't a good idea. Instead, withdraw your money from an ATM when you're there. Use a free credit card for this and benefit from withdrawals without being charged. Since Moroccan notes and coins are fairly scarce and especially in smaller amounts. Always try to keep as much change on you as possible. I can guarantee it will come in handy.