Unfortunately, as a travel destination, Morocco is far from being handicap friendly: High kerbs, a lot of road holes and a lack of escalators or ramps render travelling for people with disabilities rather strenuous. If you want to discover Marrakech in a wheelchair, what you need is love of adventure, humour and thorough planning.
Fortunately, Morrocans are very helpful towards people with disabilities and often offer assistance without being asked – and without expecting the otherwise obligatory tip. Yet, what you will hardly ever find in Morocco are ramps and elevators, traffic lights with acoustic signals, information in Braille or accessible buses. What you will find instead are obstructive kerb heights, a lot of road holes and lifted manhole covers. These little obstacles may make travelling difficult but not impossible – especially if you are accompanied by someone who supports you.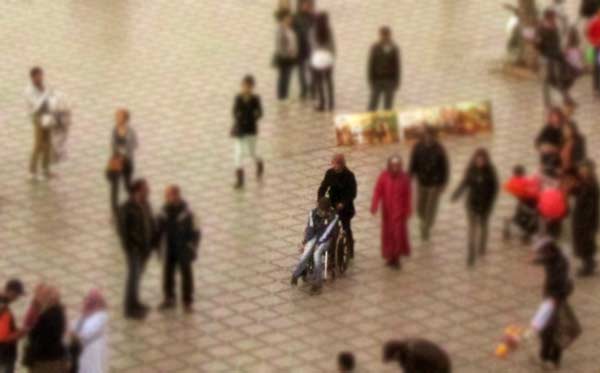 Woman in a wheelchair on Jemaa el-Fnaa
(photo: Travelguide Marrakech, 2014)
Accessible transport and traffic in Marrakech
In contrast to other Moroccan cities like Fès with its hillside situation, Marrakech is flat and most lanes in the medina (the old city centre) are a bit wider than elsewhere. Yet, you have to get used to the busy souks where people turn rather competitive sometimes to get ahead quickly. Also, be reminded that it is not possible to get around in a car there — all destinations in the ancient city centre have to be accessed on foot — or wheelchair.
City buses are rather old i.e. they are usually not equipped with zero-step entry or height adjustment control, but with a little help you may still be able to use them. Otherwise, get one of the beige-coloured Petit Taxis for your ride about town.
For day trips outside Marrakech, choose a Grand Taxi rather than the bus as buses as well as many trains do not provide technological support for wheelchair access. However, the train station and Marrakech's Menara Airport are even to the ground with step-free access and door widths adequate for wheelchairs.
Accessible sights in Marrakech
Tourist Marrakech, as you may have already guessed, is not specifically made for wheelchairs, so some of the sights there cannot be fully recommended to people with special needs. Two of those are the museum Dar Si Said and the ancient Islamic college, the Ben Youssef Madrasa, both being located in two-storey buildings without elevators. Yet, even though you may not be able to see the former students' bedrooms on the second floor of the Madrasa, it is worth a visit, since you can fully admire the grandeur of Islamic art and architecture from the ground floor, too. A visit to either the Museum of Photography (Maison de la Photographie) or to the Douiria Mouassine Museum is definitely not recommendable, since both buildings are far from being wheelchair-friendly. Another cultural institution, the Dar Bellarj, the "House of Storks", offers changing exhibitions, but unfortunately, some of the exhibits in the wide basement are only accessible via stairs.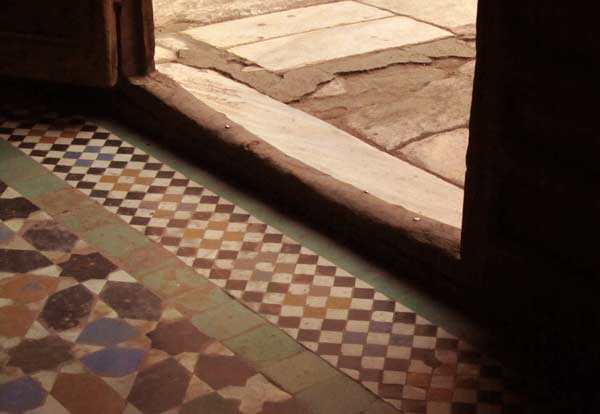 Superable barrier at Ben Youssef Madrasa
(photo: Riads Marrakesch, 2014)
Yet, given the abundance of sights and museums, there are plenty of spots to be discovered in a wheelchair, for example, famous Jamaa el-Fnaa, Koutoubia-Mosque, Bahia Palace, El Badi Palace with its Museum for Photography and Visual Arts inside, the Saadian Tombs or the gardens, like Yves Saint-Laurent's Jardin Majorelle or the Menara Gardens. You can also head for Dar Charifa in the northern part of the medina or the Jewish cemetery located at the edge of the mellah, the old Jewish quarter of Marrakech.
Handicap-friendly hotels und riads in Marrakech
In the modern part, the New Town of Marrakech and in the Palmeraie district you will by now find quite a good selection of hotels which either are fully accessible for disabled guests or at least offer some wheelchair-friendly rooms. Yet, if you are looking for a more authentic experience, you should definitely try to find a suitable riad in the medina, the old town. Guesthouses are usually not equipped with an elevator but narrow, steep staircases. However, some offer rooms on the ground floor which are generously measured with doors wide enough to suite the needs of wheelchair users. Others have specialised directly on guests with disabilities, like Riad Daria or Les Jardins de la Medina in the southern part of the Medina. On Booking.com you will find more than 180 hotels in Marrakech which offer rooms and facilities for people with disabilities.
| Riad | Info | Price | Booking |
| --- | --- | --- | --- |
| Handi Oasis | A hotel that specifically caters for disabled people | €€ | |
| Riad Abaca Badra | With an accessible entrance and rooms (the Meknes and Zagora rooms) | €€ | |
| Riad Tarzout | A lovely riad in the northern part of the medina that specifically caters for disabled people | €€ | |
In a nutshell
Marrakech can definitely be strenuous for people travelling in a wheelchair: Roads are bad, tourist infrastructure is only handicap friendly to a very small extent. Visiting some of Marrakech's sights does not make sense since they are spread over several levels connected via narrow staircases — without an elevator. Yet, top destinations like Bahia-Palace or Jardin Majorelle are more accessible. So, keeping calm and planning carefully beforehand — especially when it comes to transport, hotel and things to do — people with disabilities can have a great time in Marrakech.
Tipp: Wheelmap
Use the open map Wheelmap which collects and shows information about how accessible restaurants, hotels, sights and other points of interest are. So far, there is not much on Marrakech but maybe — and hopefully — this will change soon!