Marrakech is a perfect base for day trips beyond the suqs of the medina. Experience the various Moroccan landscapes in the lush and fertile Ourika-Valley, the Portuguese-style coastal town of Essaouira, the Toubkal National Park or at the Ouzoud Waterfalls — Morocco presents itself in many different shapes and breathtaking beauty.
Daytrips and longer excursions can be booked via the many travel agencies and tour operators that you'll find in Marrakech's medina. However, if you are not in need of supplies and an off-road vehicle or 4×4 to go to the Sahara, a lot of daytrips can be organised without renting a car by simply using public transport.
Desert tours and excursions to the Sahara
In Morocco, there are two main desert areas with impressive sand dunes, more than 100m high: Erg Chegaga und Erg Chebbi. Most organised tours take you to the edge of the desert by minibus or off-road vehicles and then provide camels for you to reach your desert bivouac in traditional Berber tents.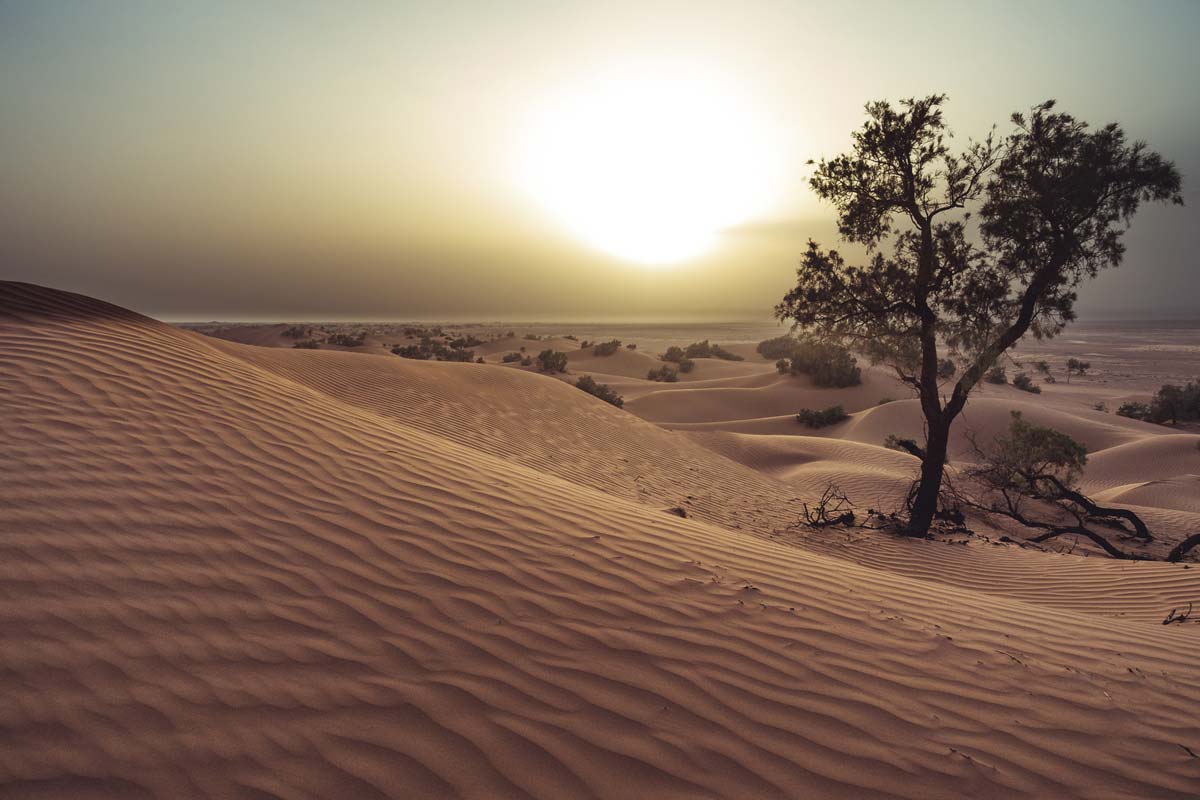 Tours to the desert are an incomparable experience, but from Marrakech, you should at least plan 2, or, if possible, 3 to 4 days for it.
Ourika Valley
Not even an hour from Marrakech, you will find Ourika Valley. This fertile valley is supplied with water by a river fed by springs in the High Atlas. A popular day trip destination is the little village of Setti Fatma, the last settlement that can be reached by car on this side of the mountains. From here, you can start little hikes in the Atlas — the short walk to the waterfalls of Setti Fatma is a classic.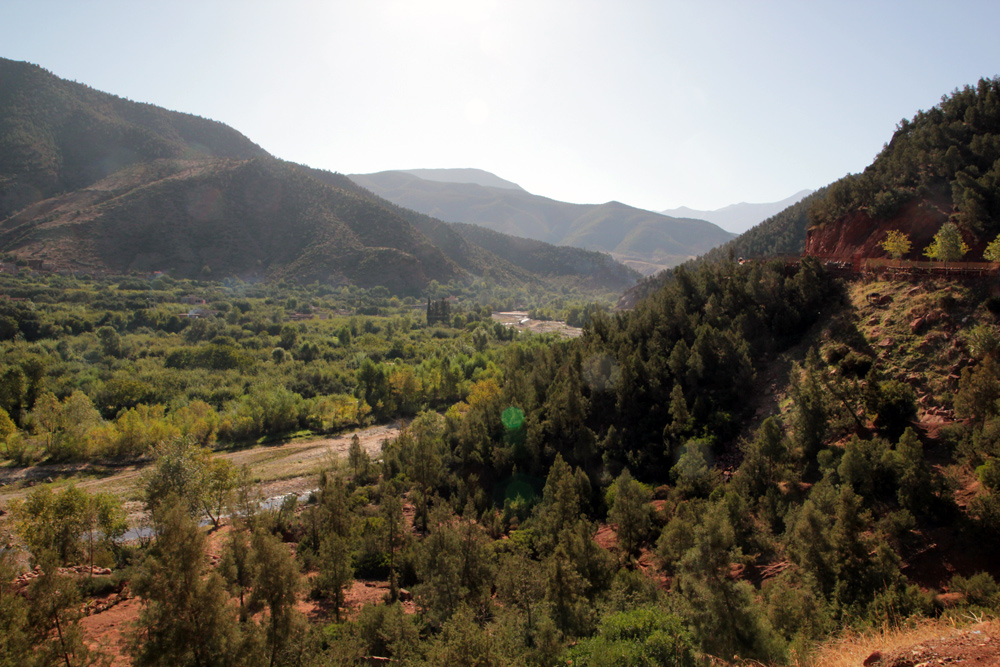 The Ourika Valley
You can organise your trip to the Ourika Valley easily on your own: A Grand Taxi takes you there in about 1.5 hours. Taxis leave from Bab Robb in the south of the medina.
Imlil and the Toubkal National Park
Imlil is the base for hiking and trekking tours in the Toubkal National Park. The village, surrounded by fruit and walnut trees, is located more than 1400m above sea level on the mountain side of a fertile valley. From here, you can start short hikes in the area and to the foot of Jebel Toubkal. As Imlil is the centre of Morocco's mountain tourism, you can also get equipped here for attempting to summit Morocco's highest mountain.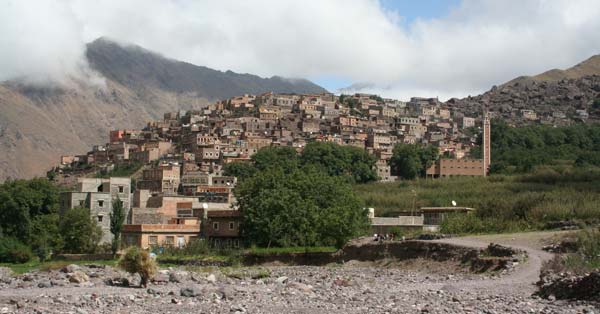 The village of Aroumd near Imlil (photo: Trekking in Marokko)
If you prefer a full-day hike to a short walk, you should stay overnight. There are hotels of all price ranges in the village. Grand Taxis to Imlil leave from Bab Robb in Marrakech.
Ouzoud Falls and the Imi-n-Ifri formation
The waterfalls of Ouzoud are located about 200 km northeast of Marrakech. From a total height of more than 100m, the water runs down into the deep in three steps. At the foot of the falls, barbary apes found their home and complete this perfect scenery which is popular with both Moroccan and international tourists. It can be quite busy here from noon, so that if you want to get away from the trouble, go for a walk downstream and after a couple of minutes, you will be on your own. Not far from Ouzoud, there is the natural bridge of Imi-n-Ifri, created by nature millions of years ago. Take your time for a walk here to explore its gigantic size.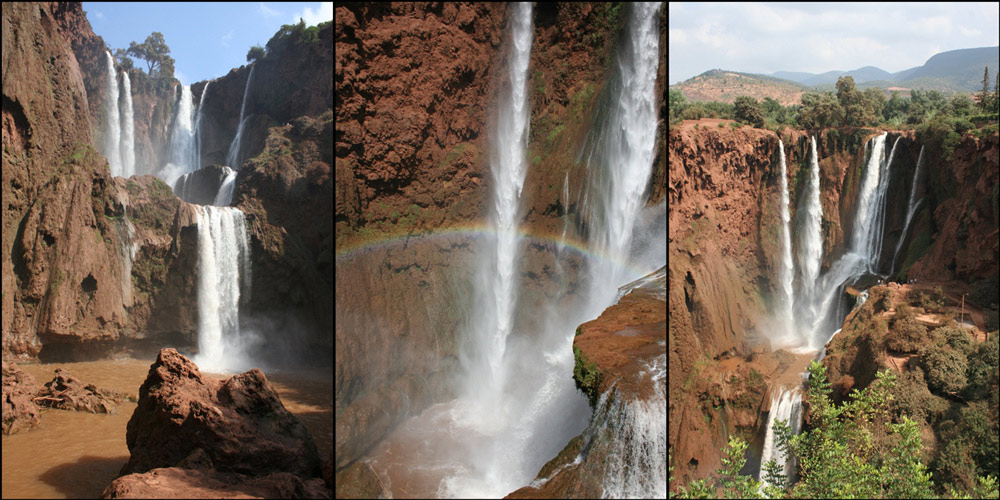 Ouzoud waterfall
The most convenient way to get to Ouzoud and Imi-n-Ifri is by renting a car. If you want to go by bus and taxi, you need to get up early to see both places in one day. It will be easier to spend the night in Ouzoud where you will find several small hotels above the falls. To reach both destinations by public transport, take a bus or Grand Taxi from Marrakech in the direction of Demnate/Azilal/Beni Mellal. Without a hired car, estimated journey time is about 4 hours.
Trip to Essaouira
The coastal town of Essaouira is characterised by Portuguese influence and is one of the prettiest towns in Morocco. It is located north of Agadir on the Atlantic coast and is also called "Pearl of the Atlantic" – definitely for a reason. This seaport with its beautiful medina painted in blue and white has been listed as UNESCO World Cultural Heritage since 2001.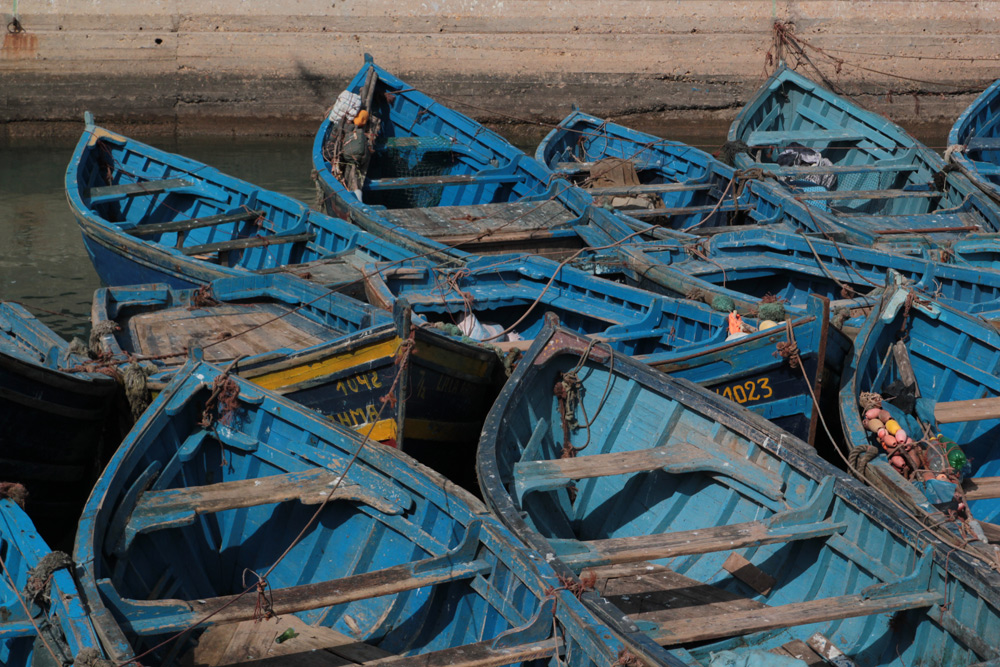 Port in Essaouira
A journey to  Essaouira can easily be done without a guide or an organised tour. Also, it is definitely recommended to stay for at least one night there. However, if you do not have the time, go for a day trip. Buses and Grand Taxis leave from / to Marrakech and Essaouira several times a day.
Ouarzazate and Aït Benhaddou
The former garrison town of Ouarzazate, the "Door of the Desert" is located southeast of Marrakech, beyond the mountain pass of Tizi n' Tichka which leads through the High Atlas. It is an important centre of the global film industry: You will not only find the Atlas Studios here, but also UNESCO World Heritage ksar Aït Benhaddou which has been used as scenery for a lot of film productions. The list is rather long and includes, amongst others, Star Wars (1977), Gladiator (2000), Babel (2006) and parts of Game of Thrones (2010).
Ksar Ait Benhaddou
Crossing the Atlas via the mountain pass of  Tizi n' Tichka is one of the most spectacular routes in Morocco. There are several buses daily from Marrakech, leaving from the central bus station at Bab Doukkala to Ouarzazate.
(photos: Travelguide Marrakech)