Before you head to Marrakech or Morocco in general, you may have a lot of questions, like which immunisations are necessary? Do locals mind being photographed? Is there reliable public transport? Which parts of the town are the best for staying overnight? Is it safe to be out at night? You will find answers in the following list which is updated and extended frequently.
Alcohol
As Morocco is a Muslim country, alcohol is not present in public life. A lot of restaurants do not serve alcoholic drinks since it is quite expensive to get the obligatory licence for that. In other restaurants you will be asked directly if you want wine with your dinner. Most of the bars, clubs and restaurants serving alcoholic drinks are located in the New Town. In Marrakech, you can buy alcoholic drinks in the big Marjane-Supermarket and in only a few other specially licensed shops which are usually located far off the city centre. Needless to say that you are not supposed to drink alcohol in public.
Arrival & Getting there
If you are already staying in Morocco, you will get to Marrakech by train, bus, rental car or Grand Taxi. From Europe, there are by now daily direct flights — the cheapest can be found via Skyscanner. When entering Morocco you need a passport which is valid for at least 6 months from your arrival date – a simple ID card or driving licence is not sufficient. In most places, you can get a provisional passport from your local registration office at home. On arrival you will automatically get a tourist visa which entitles most European citizens to stay in Morocco for up to 90 days. The relevant forms will already be issued by the cabin crew on the plane.
Backpacking
Despite the booming tourist industry of the last couple of years, Marrakech still is a low-budget-paradise for Backpackers, which makes travelling with only a little money quite comfortable. There are plenty of simple and cheap hotels, a huge variety of street food places and most sights are for free.
Camping
There is no camping ground directly in Marrakech, but you will find two outside of the town. If you are not travelling in a caravan and you have the choice, you should try to stay in the city to avoid unnecessary taxi rides.
Clothing
Morocco is a Muslim country and you should dress accordingly: Avoid unnecessarily slinky dresses and only show as little bare skin as possible. That means, knees and elbows should be covered as well as shoulders, cleavage, belly and legs. Put a scarf loosely around your head to avoid people gazing at you. In winter, nights in Marrakech can be quite cold: Be prepared for temperatures below 10°C at night in December. For all other times, choose light and airy clothes.
Currency and financial matters
The Moroccan currency is called "Dirham" (DH, MAD), €1 equates DH10.7, £1 equates DH15.20). It is not difficult to get your cash in Marrakech: There are currency exchange offices, banks and ATMs, so you will be fine using cash traveller cheques or credit / debit cards. Yet, you should keep a coin purse, as you will need small amounts of money for smaller items, snacks, tips, and toilets (usually DH2).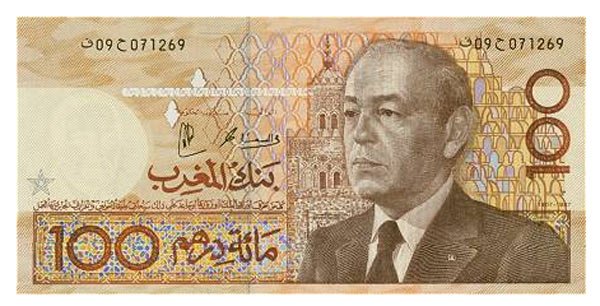 hundred moroccan dirham (ca. 9,04 EUR)
Customs
If you are travelling in your own car, get informed about all important regulations and formalities before you go on your trip. Arriving and departing by plane you should normally not encounter any difficulties at the customs. You are allowed to import tobacco and alcohol to a limited amount (200 cigarettes or small cigars, 50 cigars or 400 g of tobacco; 1 litre of spirits and 1 litre of wine) to Morocco. Concerning the export of goods, there are only few restrictions (e.g. a maximum of 10 pieces of fossils). If you intend to buy a high-quality carpet in Marrakech, you should insist on getting a receipt since you may have to pay duty for it when you come home.
Drugs
"Hashish?" Strolling through the medina, you will frequently be offered marijuana. Nothing to be surprised about: A big part of Europe's consumption of this drug is produced in the north of Morocco. Smoking marijuana is relatively common in Morocco and people differentiate between the so-called "kif" which is made of the whole plant, dried and chopped, and the more effective "hashish" which is the compressed resin of only the plants' blossoms. Yet, the possession of and trade with hashish is strictly illegal in Morocco and can be punished severely. If you still cannot do without, be extremely cautious: Do not buy hashish in the streets and only consume it in your hotel or in the great outdoors.
Food & Drink
There are countless restaurants, snackbars, cafés, food stands and other streetfood places – some also serving international food – so that there is more to choose from than you may be able to chew. The food stalls on Jemaa el Fnaa offer a huge variety of Moroccan delicacies like couscous and tagine, different salads, grilled vegetables and meat skewers or even cooked snails. The real treasures, however, are waiting in upmarket riad-restaurants in the medina.
Typically, meat dishes in Morocco are made of either lamb, beef, mutton or poultry. Vegetarians have to expect a restricted choice but normally you will find vegetarian options everywhere. By now, there are even vegan restaurants like the Earth Café. The typical drink for any time of day is the Thé à la Menthe: strong green tea with heaps of sugar and fresh mint.
Gardens and parks
Marrakech is busy, crowded, dusty and very hot in summer. Early afternoons, when the sun burns mercilessly, are the perfect time for taking a little time-out. For refreshment and relaxation, head for one of Marrakech's lush parks like Cyber-Park, Jardin Majorelle, the Menara Gardens, Agdal Gardens or the little park just behind Koutoubia mosque.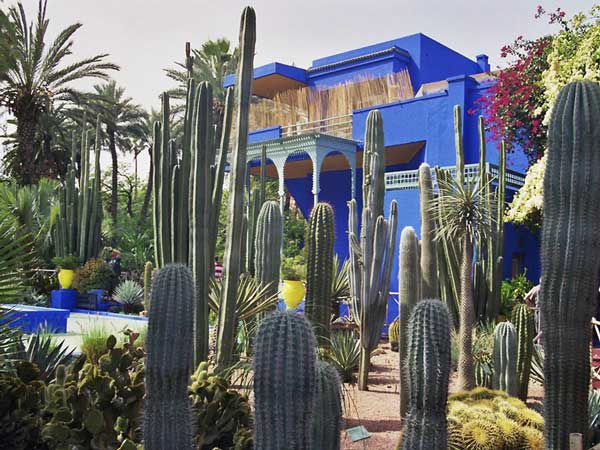 Jardin Majorelle in Marrakech
Homosexuality
Since body contact, intimacy and caresses are only performed in private and never publicly in Morocco, there are hardly any differences for homosexuals compared to heterosexual couples. Some guest houses have a reputation of being gay-friendly and are used to homosexual guests. Marrakech's gay nightlife can be experienced best in one of the night clubs the city has to offer. Marrakechis a holiday destination as suitable for homosexuals as it is for heterosexuals.
Hotels, Riads and accommodation
There are plenty of hotels in any category and price range, from cheap travellers' hostels to luxury Arabian Nights palaces. The most authentic way to stay in Marrakech is in one of the more than thousand riads which have been turned into comfy guest houses. Except for the most simple hotels, you can by now book almost all accommodation online.
Immunisation and health
Entering Morocco does not require any immunisation by law. However, if you intend to stay longer, you should at least have the following immunisations: hepatitis A and B, polio, tetanus and diphtheria. Marrakech's medical infrastructure is good and far better than in the countryside. There are European doctors (one German doctor) and even an animal clinic. The major health problem travellers come across, however, is a simple classic: traveller's diarrhoea.
Insurance
Since Morocco is not Europe, you need a special international travel health insurance. In most cases, annual rates are fairly low and it is really worth it, compared to the costs and the stress you may have in case something happens to you during your holiday without appropriate insurance coverage. You can simply take out one of those special insurance contracts online – sometimes even at short-notice.
Language
Morocco's official language is Arabic, its second official language is French. Apart from that, different types of Berber languages are spoken by about half of the population. In many tourist places like Marrakech, English may also be understood – but do not rely on it. It helps to be prepared and learn a little French – managing the numbers, for example, may save you a lot of money bargaining in the souks!
Luxury
Marrakech is a capital of luxury and a hip holiday destination of the newly riches and VIPs. There are innumerable riads, which have been refurbished and turned into magnificent hotels offering spa and beauty treatments or noble on-site hammams. Legendary La Mamounia with its on-site gardens is by far the most popular luxury hotel in Marrakech. If you cannot afford staying overnight there, you can at least gain an impression of its classy splendour while having a coffee there.
Mail, telephone and internet
Around Jemaa el Fnaa there are shops selling postcards and stamps. Postage to Europe is DH 6.50, but your mail will take some time to arrive. You will find public phones working with either coins or cards in the main post office next to Jemaa el Fnaa as well as in the little phone and internet shops. There are several internet cafés and many hotels offer wireless LAN for free. You can also get a Moroccan SIM card – practically anywhere – for your own smart phone to be online with.
Medina
In the maze-like historic city centre of Marrakech with its narrow lanes, lots of shops and busy workshops you can still experience traditional life very closely and authentically. Almost all sights and most of the riads are located in the medina, too, so you should definitely try to get your accommodation here – nowhere else will you come this close to an authentic One Thousand and One Nights / Arabian Nights experience.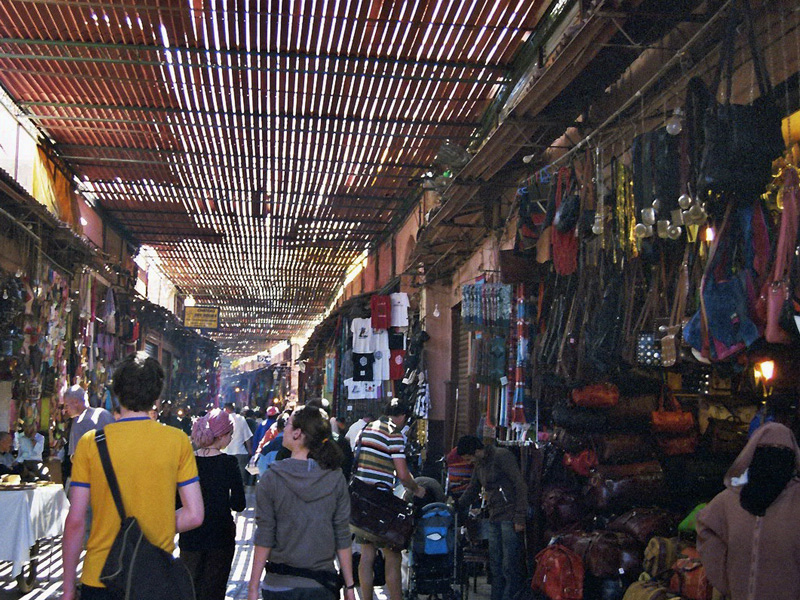 Shopping in the Medina of Marrakech (Foto: Travelguide Marrakech)
Out at night
After dark you should take a taxi and avoid strolling around the more secluded parts of the medina alone at night. However, nights on the Jemaa el Fnaa may end late so it is quite convenient if your hotel is not too far off. Even though the square is usually (over-)crowded you will feel that the atmosphere is never aggressive and you will never come across drunken locals staggering and bellowing through the streets – this is one big advantage of the abstinence from alcohol that religion imposes on Muslims.
Orientation
For a general overview, Marrakech can be divided into its New Town, the medina and the gardens. In the quarters of the new town the streets are arranged clearly and marked with their names whereas you can easily get lost in the maze of the medina. Here it may help to get a feeling for directions by using the minarets of the mosques – above all, Koutoubia Mosque – as landmarks. Using a simple map or your smart phone as GPS-device are also useful options.
Parking
Around the medina you will find several guarded parking areas where you can leave your car for an affordable fee – even for more than a day. There is one just opposite Koutoubia Mosque, for example. Remember that the inner part of the medina cannot be accessed by car.
Photography
Marrakech is a great place for anyone interested in photography. Yet you should act respectfully and politely because a lot of locals have become annoyed by being shot several times a day without being asked. The safest way to get your picture: Ask before you shoot and have a tip ready for special cases.
Rental Cars
Renting a car is a great way to discover Morocco independently. With your own vehicle, you can reach remote places that are relatively poorly connected. This article will tell you everything you need to know about renting a car in Morocco.
Travel Guide
Whether book, e-book, printed blog or smartphone app: You should definitely get a decent travel guide before you go on your trip to Marrakech. It will tell you not only where to find all the sights, but it will also give you advice on good restaurants, nice hotels, relaxed cafés and provides background information which you may not be able to understood from the French signs in the museums.
Travel season
Even if it can be a little chillier in January, it will still be much warmer in Marrakech than at home. The perfect time for travelling though is spring or autumn, but summer and winter are also worth a trip to the Red City.
Safety
Morocco is still a very safe destination, in which petty theft like pickpocketing occurs to a lesser degree than, for example, in southern Europe. You will be fine if you store your valuables carefully and if you are a little attentive in the crowds. In 2011, Café Argana at Jemaa el Fnaa was attacked and 17 people died. Due to worldwide terror warnings, police forces patrol public places and check the roads so that you can feel safe.
Taxis, Buses / Transport and Traffic
There are several city bus lines with which you can reach destinations like the train station, Jardin Majorelle or Menara Gardens for only little money (DH3). You will be quicker though in one of the Petit Taxis which offer a ride within the city boundaries for about DH20. Grand Taxis leave from south of the Medina and the main bus station.
Xenophobia
Xenophobia is defined as the fear of everything foreign or strange. If you are travelling to a place like Morocco which is both an Arab Nation and African at the same time, you will encounter many things that are unknown to you or done differently than at home. You should be prepared to deal with intercultural differences and tune in to the Moroccan way of life and its people open-heartedly and with acuteness of mind. The Moroccan hospitality you will get to know is a good cure for fear.
Yallah Yallah
is an Arabic phrase meaning: "Hurry up, let's go!". In Morocco, people handle the idea of time and punctuality rather flexibly. So in order to avoid any annoyance, be prepared for that people will not always think it important to be on time.