Would you like to take to the skies in a hot air balloon just like in Jules Verne's book "Five Weeks in a Balloon" and see Marrakech from high up above? Well, it's easy to arrange. Balloon rides take place regularly in Marrakech, offering a unique experience that you won't forget in a hurry. Here's an account of my adventure.
It's four o'clock in the morning when we meet Mostafa. He's waiting for us with his Land Rover on the Djemaa el Fna and offers a warm welcome. We're excited. From a mere idea a few weeks ago, we've now made concrete plans to make it happen. In less than an hour, we'll be up in a hot air balloon, floating high in the skies to greet the sunrise.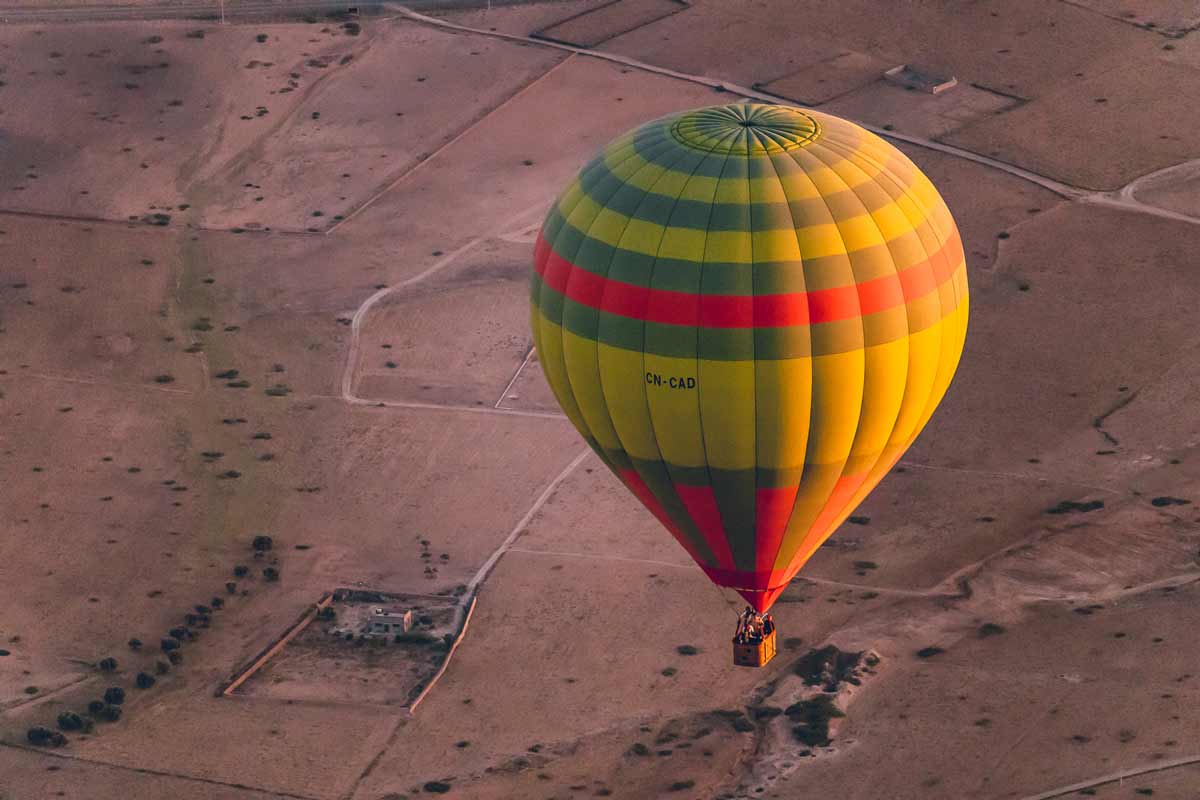 A no-nonsense hot air balloon flight
Hot air balloon trips are popular in Marrakech and a number of companies offer them. However, their packages vary considerably. We've chosen a provider specialising in balloon tours, having conducted these in Marrakech for many years. An important reason for choosing this company is that they focus exclusively on hot air ballooning. This is a straightforward offer and, unlike many others, doesn't include a package of additional activities such as quad bike tours or camel rides.
But back to Mostafa, who drives us in the Land Rover to a small village not far from Marrakech. Dawn is just breaking. Two small fires in front of a tent light up the darkness. A simple stand-up buffet breakfast is ready. In the background, the crew is preparing the hot air balloon, filling it with hot air.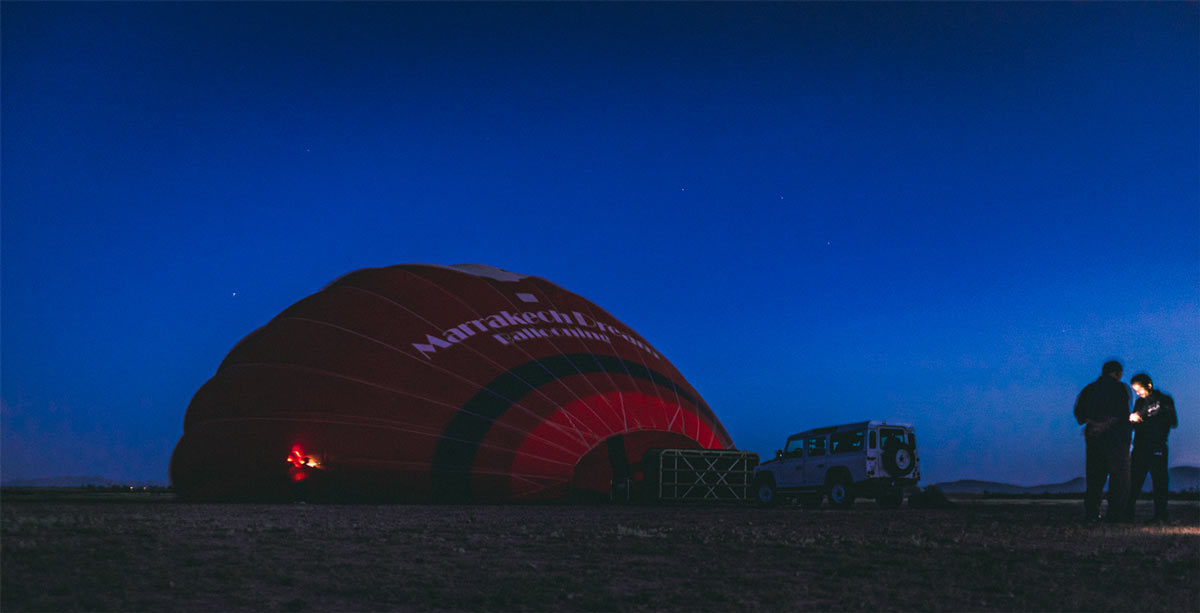 Getting the balloon ready near Marrakech
Ballooning with the professionals
Mahmoud Gouda uses the time before take-off to greet all passengers and introduce everyone. He's our pilot today and has already been around the world, having worked in Egypt, Kenya and Germany, among others, conducting many flights in hot air balloons. He gives us detailed instructions on conduct during the trip and explains the best posture for landing.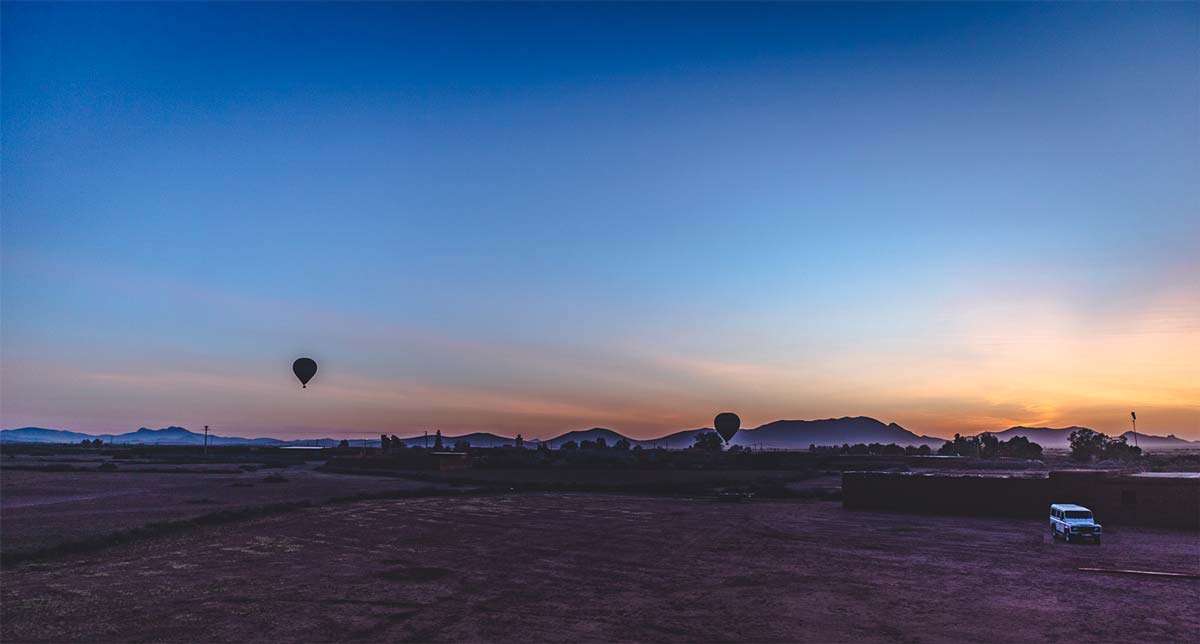 At dawn near Marrakech
Then suddenly, the hot air balloon is fully inflated and ready to go. It rises majestically above the ground and only now can we see just how small the basket really is in comparison to the actual balloon. But there's barely time to notice as it's "Jalla! Jalla!" and we're ready to take off as soon as possible. The sun will be rising soon and we really want to see this from the air.
Panoramic views and busy cameras
We hardly feel the hot air balloon lift off the ground and start its smooth but swift ascent. Below, the two camp fires have almost burned out. In the distance, the snow-capped High Atlas Mountains tower against the skyline. Marrakech just starting to come to life underneath us and a few scattered clouds roam in between. The hot air balloon glides effortlessly through the dawn and the atmosphere is amazing. Then, the sun breaks through and the diverse landscape takes on an array of colours. The view is incredibly vast and our cameras are busy taking snap after snap.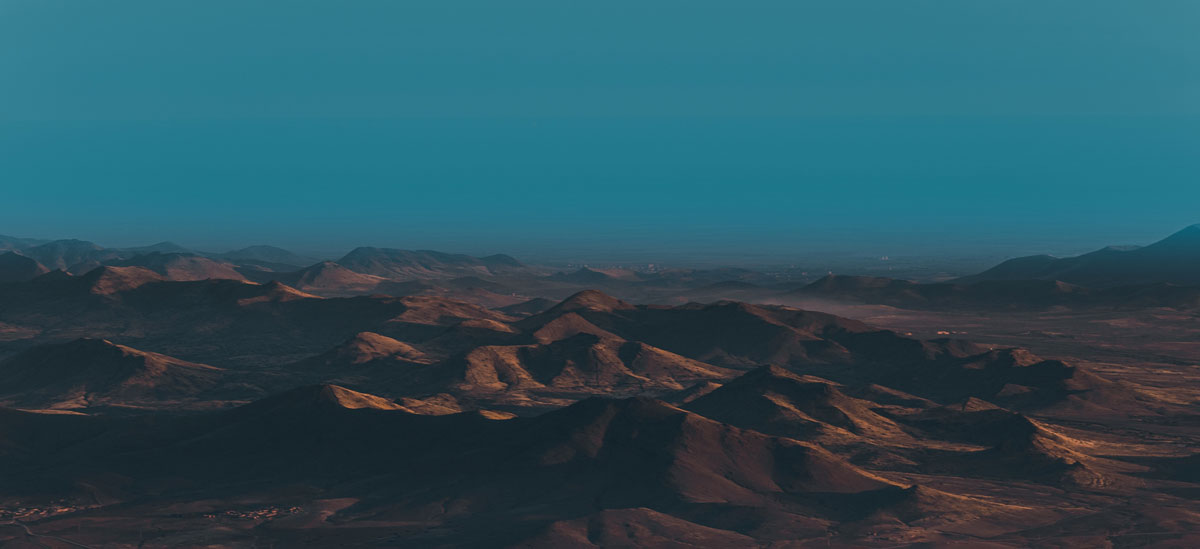 Hot air ballooning in Marrakesh
Our pilot, Mahmoud, keeps us updated on the current altitude of the hot air balloon, which he steers confidently through the air. No juddering, no turning and nothing to worry about. The hot air balloon floats effortlessly through the emerging dawn. The only occasional sound comes from the gas burners, activated by pilot to provide even more lift with a short burst of fire.
In the distance, three more balloons have taken off and blend almost seamlessly into the early morning scenery. However, they aren't up for long and are much lower down. Mahmoud turns to us. We've reached the maximum flying altitude for a balloon – 1500 metres. It's less windy than we thought. Nevertheless, we're glad to have brought a pullover for our hot air balloon ride.
The right landing posture
After a good hour, our phenomenal flight is nearing its end. Close to the ground, we get into the landing posture previously advised by the pilot and touch down without a hitch. While up in the air, we could see Mostafa following our hot air balloon in his white Land Rover. After the balloon has landed, he collects us and drives us back to the Berber tent. An opulent breakfast awaits, giving us something more to digest and adding to our intense impressions of this short adventure.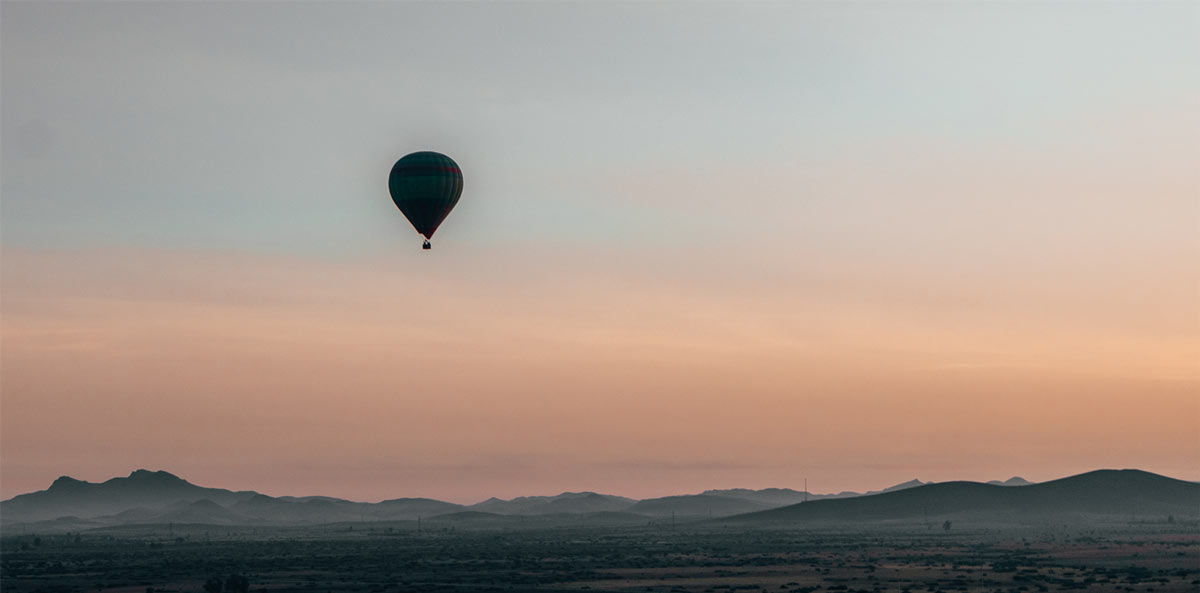 A balloon ride near Marrakech
Quite frankly, after seeing such a beautiful sunrise, would you really want to spoil the day with a bland camel ride? Absolutely not. So, after breakfast, we were quite happy to be driven straight back to the Djemaa El Fna.
Conclusion: A stunning adventure, a professional provider and attention to safety
The provider of this balloon flight specialises exclusively hot air balloon trips and is very professional. After booking, all e-mails were quickly answered and complete information provided. One of our travelling companions even booked at short notice and received her confirmation with all relevant information the very same evening. The pickup at Jemaa el Fna was smooth and reliable. At the take-off point, an experienced crew took care of setting up the balloon. Pilot Mahmoud ensured a safe flight and no one felt uncomfortable at any point.
In short, I have rarely experienced such a professional provider in Morocco. Particularly when it comes to a balloon ride, it's very reassuring to know you haven't got a dare-devil pilot in control of the balloon. I can guarantee that you trip in a hot air balloon will be an unforgettable experience.
Offer: Hot air balloon tour with a Berber breakfast
Including transfers, breakfast, flight
179 EUR
Price
Rating
Booking
While this experience is definitely not cheap, if you want to a truly unique holiday experience, give this some serious thought. But be prepared for your mere idea to turn into a concrete plan quicker than you think.
Photos: Travelguide Marrakech