Gourmets and ambitious amateur chefs will really get their money's worth by taking part in the cooking class at the House of Fusion. Along with her students, Hostess Edwina puts together an ingenious 8-course meal in honour of traditional Moroccan cuisine.
Edwina was already waiting to welcome us with freshly brewed coffee in the shady courtyard of her beautiful riad. Her native country is Australia but she's been living in Marrakech for many years. She bought this riad in the southern part of the medina a long time ago and lavishly restored it.

After a friendly chat discussing what we wanted to cook together, Edwina happily accepted our proposal of eggplant and chicken and put together a sophisticated set of recipes for us. Our aim was to prepare eight different dishes by midday. The highlights of our meal plan included Moroccan lemon chicken, oriental carrot marmalade, eggplant caviar, caramelised onions, sardines on a bed of orange and a cucumber-mint sorbet. Yum yum!
After a short crash course in Arabic, we all went off to the nearby market. After all, we wanted to be able to converse with the market traders when shopping. We bought fruit, vegetables and herbs and a freshly slaughtered chicken. Then we returned to the House of Fusion and regrouped around the large table, our working area for the next few hours of cutting, peeling, grilling, caramelising, marinating and seasoning – all under Edwina's guidance.
Edwina's cooking classes recreate contemporary dishes based on traditional Moroccan cuisine
Unlike many other cooking classes in Marrakech, this class isn't just a presentation of Moroccan cuisine where onlookers watch as a traditional tagine is made. The House of Fusion focuses on proper cooking. That means donning an apron, picking up a kitchen knife and working with fresh ingredients under Edwina's guidance.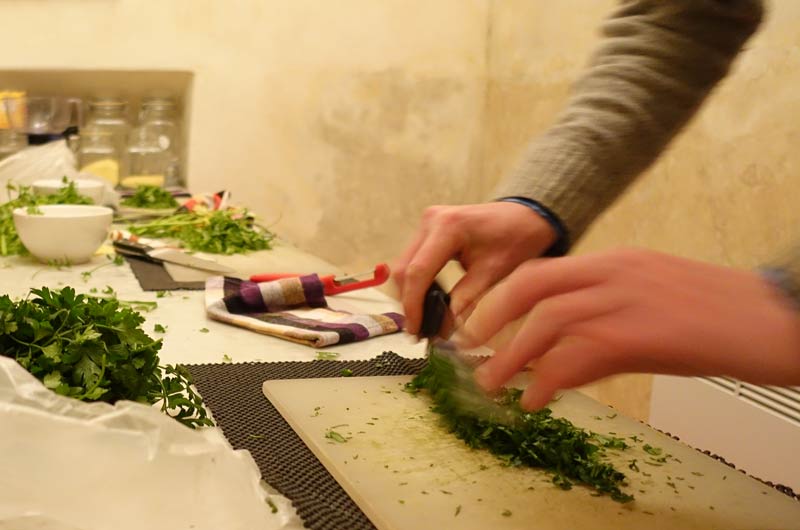 Chopping coriander during a cooking class at the House of Fusion
When cooking together, it's easy to sense right away that your hostess has a passion for fine food. Also, she likes to share her enthusiasm for sophisticated cooking with her guests. Time and again, we paused to take in the aroma of a certain ingredient or taste an elaborate combination of foods. Pinching our noses, we were also able to pick up on the intensity of special aromas. This makes it easy to follow Edwina's vivid descriptions of individual ingredients and their preparation, while their very essence washes over you.
After about four hours, we had finished cooking and sat down next to a water feature in the riad's courtyard. Then, our 8-course menu was served on an oblong plate. Each dish was beautifully presented side-by-side. The smell was mouth-watering and the taste just as good. We were proud of our work and also enjoyed the Moroccan red wine that Edwina served with our dinner. What better way to finish a cooking class than to enjoy such a splendid meal you've prepared with your own hands?
Conclusion: At the House of Fusion's cookery class, you really get the opportunity to cook
Edwina has created a magical place inside her House of Fusion in the middle of the medina where she brings traditional Moroccan cuisine right up-to-date with sensitivity and style. You'll find yourself accompanying her on a journey through sophisticated cooking. And you will take home much more than just a few new recipes.
The House of Fusion's cooking class is one of the most expensive in Marrakech and isn't necessarily for beginners. If you simply want to watch a tagine being prepared, you should book a cheaper cooking class in Marrakech. On the other hand, gourmets and foodies who enjoy great food and fine dishes won't find a better cooking course in Marrakech than this one. An insider tip: it's definitely well worth the relatively high price.
Cooking Classes at the House of Fusion
Duration
5 Stunden
Advice
1-6 persons
Rating
Price
from 90 EUR per person
Booking