What can you expect when going on holiday to Morocco as a vegetarian or a vegan? What can Moroccan cuisine offer vegans and are there any restrictions to eating a meat-free diet in Morocco? In this article, we're going to answer these questions and make a few specific recommendations for vegetarians in Marrakech.
Without doubt, Morocco is definitely a meat eaters' paradise. The national cuisine has many very special recipes and culinary techniques that can conjure up wonderful dishes. However, it's slightly harder for vegetarians and vegans in Morocco than in other Western European capitals. The good news is that with a little effort, you can enjoy a varied and balanced meat-free diet when visiting the country.
Being a vegetarian in Morocco
Moroccans see vegetarianism and veganism as a modern western phenomena and can find these somewhat disconcerting. This is particularly true in rural areas compared to cities like Casablanca, Rabat and Marrakech. These cities have a growing number of modern restaurants offering snacks, which reflects the increasing importance of a meat-free diet.
It's true that Morrocans don't regard vegetarians as coming from another planet. However, you should be prepared to come up against some restrictions when looking to eat a vegetarian or vegan diet in Morocco.
Busting a couple of myths: Morocco is either a paradise or a hell for vegetarians
In Morocco, fresh fruit and vegetables are sold on practically every street corner and buying regional food won't cost you much. There's an abundance of shops and stalls selling herbs and spices. It's true that, on the one hand, this is the ideal basis for a variety of vegetarian dishes. Unfortunately, on the other hand, real state of play for vegetarians in culinary terms can be slightly different.
Outside the big cities, be prepared for a rather restricted choice, with a couple of staple meat-free dishes. You'll find these everywhere you go: Couscous and Tajine. In most areas, these are prepared as vegetarian or vegan dishes and usually have some variety. However, some restaurants could be an exception and meat-free menu options might be hard to find. Also, anyone accustomed to eating meat substitutes like tofu, soy or seitan, will need to change their expectations when in Morocco.
On balance, Moroccan cuisine for vegetarians and vegans has much more to offer than you might first assume. To avoid living on a diet of chips, couscous, or bland Tagine every day, you need to invest a little effort. Vegetarians should look out for places with menus that offer something a little different. The good news for vegans is that most vegetarian dishes will cater for their diet. Most of the time, the best places are the local smaller one-off restaurants and street food stalls.
What can Moroccan cuisine offer vegetarians?
Moroccan cuisine features many regional differences. A good overall description of Morrocan food is that it's rustic and highly aromatic. With many contrasting tastes, you'll find that fresh herbs and exotic spices are used in abundance. Although vegetarians won't be able to indulge in the sweet-savory combinations of meat and dried fruits, Moroccan cuisine can still be a delight for gourmets who enjoy a meat-free diet. Cheese plays virtually no role Moroccan cuisine.
So, vegans must adapt to tighter restrictions compared to vegetarians — something they aren't necessarily used to in Western countries.
Appetisers
On a day-to-day basis for vegetarians in Morocco, the staple food at mealtimes isn't couscous, but fresh pita bread. Appetisers play an important role in Moroccan cuisine. In addition to the mandatory green olives, these include a range of salads, pastas, grilled vegetables, spreads and lentil and tomato dish La3dass. Other classic dishes include Harissa carrots, carrot and cinnamon jam, malven spinach (Bakoula), broad bean paste (Bissara) and, of course, aubergine caviar (Zaalouk).
Main dishes
In addition to couscous, tagines can be made using many different ingredients. For example, a vegetarian delicacy is potato tagine with peppers and almonds. Don't miss out on the soups either when you're in Morocco. In addition to traditional chickpea soup (Harira), you should also try pumpkin soup (Rabartahro).
A Moroccan classic vegetarian dish: Zaalouk
In the Medina, you'll find several places to enjoy street food, for example, deep fried triangular pastry parcels (Briouats). These are often suitable for vegetarians, with a choice of cheese or meat filings. The many food stalls also sell grilled vegetables. However, your expectations in terms of Moroccan street food shouldn't be too high. The North-African street kitchens aren't as diverse and don't really compare to those you'd find in Thailand or Vietnam.
Sweet treats
Moroccan confectionery is wonderful. It features the flavours and armoas of orange and rose petal oil. Amlou is also used as an ingredient, a marzipan-type paste extracted from almonds and argan oil. In addition to cakes and pastries, fruits often feature in desserts, for example oranges with cinnamon. For something more substantial, you could choose a dessert like Moroccan pancakes (Beghrir).
Self-catering as a vegetarian in Morocco
It's fairly easy to cater for yourself in Morocco. In towns and villages, you can buy fresh fruit and vegetables without any difficulty. The average olive shop has a wide range to choose from and you can buy olives at unbeatable prices. These may come ready-mixed with herbs and Harissa. In the Medinas, you'll come across barbecue stalls that will typically sell grilled eggplant or peppers. From time to time, you're also likely to see street sellers with bread carts trundling through the streets. This gives you all the ingredients for a tasty, vegan sandwich.
I like to buy a spice mix, e.g., Ras el Hanout, to spice up the taste of my sandwiches a little. It's also handy to have a thin cutting board and a knife with you. Buying other kinds vegan food is easy all over Morocco, for example, nuts, dried fruit and cookies.
A phrasebook for vegetarians
In case of doubt when ordering food, it's always best to ask if dishes are meat-free for vegetarians and vegans. Here are some examples of phrases in English and in French to help you get by.
Mini phrase book for vegetarians (English-French)
I'm a vegetarian. Do you have anything suitable for vegetarians without meat, fish or seafood?
Je suis végétarien. Avez-vous du repas végétarien sans viande, poisson ou fruits de mer?
Do you also serve vegan food? I'm vegan and don't eat any dishes with ingredients like meat, fish, butter, dairy products, honey, or eggs.
Avez-vous aussi du repas végétalien? Je suis végétalien/ne et je ne mange pas de plats qui contiennent de la viande, du poisson, du beurre, des produits laitiers, du miel ou des œufs, par exemple.
Does the soup contain meat?
Est-il de la viande dans la soupe?
Does this dish contain meat?
Est-il de la viande dans ce plat?
Is there a vegetarian restaurant nearby?

Y a-t-il un restaurant végétarien à proximité?
Vegetarian Marrakech
Currently, there are two vegetarian restaurants in Marrakesch, the Ayaso Concept Store Café and the Earth Café. In addition, most restaurants serve meat-free Tagine, as well as vegetarian couscous. Here's an overview of the recommended places in Marrakech that offer a better-than-average selection of vegetarian or vegan dishes.
Conveniently, restaurants with meat-free menu choices are fairly evenly distributed over the city. That's why you'll find local options for vegetarians and vegans within walking distance of all popular tourists spots.
My Tip: If you prefer to roam through the Medina on your own to find a snack bar or restaurant, you'll certainly find one in the Zitoun El Jedid, east of Jemaa el Fna. Go here to find plenty of street food options and many smaller restaurants.
Vegetarian and vegan restaurants
The restaurant scene in Marrakech is constantly changing. New restaurants open up frequently and established restaurants change ownership. So, the following selection isn't exhaustive and is only a sample of what's on offer.
Earth Café
The top place for vegetarians in Marrakech is the Earth Café, which now has two outlets. However, only the first restaurant in the southern Medina offers a completely meat-free menu. This slightly quirky, lop-sided building is very comfortable inside. The decor is somewhat alternative and the atmosphere is calm and relaxed.
Earth Café: Vegetarian/vegan restaurant in Marrakech
Almost all the dishes served by the Earth Café are vegan. Dishes are prepared with regional vegetables that all come from a farm close to Marrakech.
• Vegetarian, vegan, lactose-free
• Location: Southern Medina (Google Maps)
The Ayaso Concept Store Cafe
The Ayaso concept store has a vegetarian café and is located in the district of Gueliz. Dishes are prepared using exclusively organic products. Juices, coffee and various vegetarian dishes are also served. Most of them are also vegan can be served as a vegan option upon request.
• Vegetarian, vegan, lactose-free, organic
• Menu
• Location: Gueliz (Google Maps)
Le Jardin
Le Jardin is located near the Secret Garden in the Northern Medina. This restaurant has a beautiful garden. There are many vegetarian starters on the menu, for example Briouats, lentil salad, gazpacho or Burrata with tomatoes. However, when it comes to main courses, the selection for vegetarians is rather narrow. I can recommend the vegetarian Pastilla with carrots, eggplant, Zucchini and vermicelli. Booking in advance is recommended.
• Dishes with meat, vegetarian and vegan options
• Menu
• Location: Northern Medina (Google Maps)
Zwin Zwin
The Zwin Zwin Café is located in a multi-storey riad in the southern Medina. It's a little hip but still very comfortable and the cuisine comes with top recommendations. You'll also find a few vegetarian options such as Berber Tagine or avocado wraps on the menu as an exception to the otherwise meaty dishes.
• Dishes with meat, vegetarian and vegan options
• Alcohol
• Location: Southern Medina (Google Maps)
Nomad
There's been a lot of hype about Nomad in recent years. So much so that you definitely need to book to get a table there. The aim of this rather pricey restaurant is to combine traditional Moroccan cuisine with modern culinary trends – something it totally succeeds in doing. Spending the evening at Nomad is a real experience in every sense. If it's warm enough, the roof terrace is one of the best places to go.
A vegetarian salad at the Nomad
The Nomad has several meat-free dishes on the menu. My tip for vegetarians is the Pastilla.
• Dishes with meat, vegetarian, vegan options
• Menu
• Location: Northern Medina (Google Maps)
Latitude 31
The Latidude 31 is a modern restaurant that offers special menus for vegetarians and vegans. Among the various salads, you'll also find risotto, grilled vegetables, ravioli, mushroom tagine or Pastilla with apples, dates and ginger on the menu. Latitude 31 offers fine dining at higher than average prices.
• Dishes with meat, vegetarian, vegan options
• WiFi, DJ
• Menu
• Location: Northern Medina (Google Maps)
The Marrakech Henna Art Café
The Henna Art Café is a good recommendation for lunch in the southern Medina. There's a gallery on the ground floor of the Riad with contemporary artwork on display.
A perfect vegetarian snack for lunch: Olives, humus and zaalouk with fresh pita bread at the Henna Art Café
This café with a rooftop terrace is located on the first floor of the Riad. Various vegetarian, vegan and meaty snacks are on the menu, as well as fresh juices and smoothies. On the menu are dishes like eggplant caviar (Zaalouk), various vegan salads, hummus, lentils with rice, Zucchini salad, falafel sandwiches with Taktouka, vegetarian couscous and seasonal fruits.
• Meat, vegetarian, vegan, gluten-free
• Henna-Tattoos, gallery, WiFi
• Location: Southern Medina (Google Maps)
Un Déjeuner a Marrakech
Un Déjeuner a Marrakech is a chic and rather pricey restaurant in the Eastern Medina. The menu lists various vegetarian dishes.
• Meat, vegetarian, vegan, gluten-free
• Menu
• Location: Eastern Medina (Google Maps)
Amal Women's Training Center
This NGO helps to train Morrocan women from disadvantaged social backgrounds in culinary professions. There's also a restaurant run by the apprentices under the guidance of a chef and this serves excellent dishes. As a social showcase project, the Amal Women's Training Center offers a varied menu with interesting vegetarian dishes.
• Meat, vegetarian, vegan, gluten-free
• NGO training and support for disadvantaged women
• Location: Gueliz (Google Maps)
Henna Café Marrakech
The Henna Cafe isn't anything to do with the Henna Art Café and is near the Mouassine district in the Northern Medina. On the menu are vegetarian and vegan snacks such as humus, falafel or sandwiches, as well as drinks. As the name suggests, you can also get henna tattoos here. The Henna Café is a cultural institution and also offers free language courses for Moroccans. Anyone who wants to start a language course can register here in advance. Volunteers are always needed!
• Vegetarian, vegan
• Henna tattoos, language courses
• Menu
• Location: Northern Medina (Google Maps)
The Café Clock
The intercultural Café Clock originated in Fez and has now opened more branches in Chefchaouen and Marrakech. Concerts, readings, exhibitions and cooking classes all take place in the café. On the menu are numerous options for vegetarians, including a vegetarian tapas selection, Pastilla, tabouleh and falafel. The cafe also serves meat dishes. There are freshly-squeezed juices and smoothies.
• Meat, vegetarian, vegan, gluten-free
• Galerie, WiFi
• Menu
• Location: Southern Medina (Google Maps)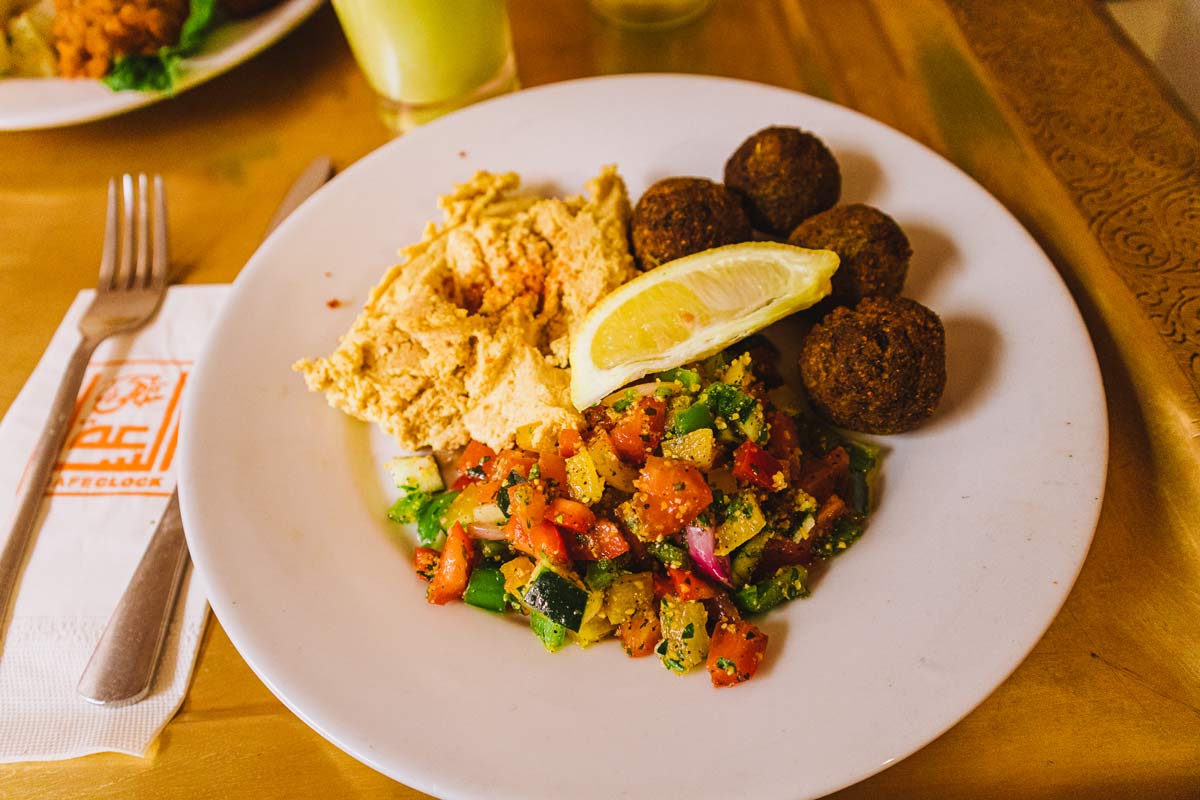 Café des Epices
'Spice Square' lies due north of Jemaa el Fna. From the terrace of the Café des Epices, you'll enjoy a wonderful view and can take photos. This cafe serves snacks with and without meat, including vegan avocado sandwiches, gazpacho, Harira, vegetarian Tagine and various salads. In terms of desserts, you simply have to try to the cafe's famous Kardomon coffee.
The Café des Epices is very popular and gets pretty busy. Sometimes, you may find it hard to get a table.
• Dishes with meat, vegetarian, vegan options
• Menu
• Location: Northern Medina (Google Maps)
Jemaa el Fna
I love the Jemaa el Fna square, but I find it's better to eat before mingling with the busy crowds there. I tend to have a snack and a few glasses of spiced tea there later on. The food stalls on the square offer Moroccan street food. Simply take a seat and choose what you fancy eating. If you want meat-free options, you'll always find vegetable salads, grilled eggplant, peppers, olives, or fries to choose from. The Jemaa el Fna is a must-see during any trip to Marrakech.
The Jemaa el Fna square is a place where you'll find vegetarian street food.
Vegetarian cooking classes
You'll get a deeper insight into Moroccan cuisine by attending a cooking class. However, since more and more cooking classes are being held in Marrakech, it isn't easy to get a good overview of what's on offer. Also, participants can expect to find significant differences in the various courses on offer. The really good courses will teach you so much about Moroccan cuisine, including how to plan and cook wonderful (vegetarian) meals. The courses that offer a less hands-on approach tend to get you to watch while others do the cooking. However, you still get to spend a relaxing morning and enjoy good food.
The Amal Women's Training Centre
Not only does the Amal have an excellent training restaurant, but it also offers cooking courses that you can book online. If you take part in these, you can specify that you'd like to prepare vegetarian food. This course is less expensive than many others, but you won't find yourself actually participating much during the course. However, it's very interesting to meet the Moroccan women.
The vegetarian cooking class at the Amal Women's Training Centre in Marrakech
The House of Fusion
The cooking class at the House of Fusion is the complete opposite. This is one of the most expensive courses you'll find. It's a really worthwhile investment and I've never enjoyed better food in Morocco. You plan the menu in advance. Then, you go out and buy the ingerdients and cook everything with the hosts and participants. The result is a mouthwatering lunch. Those who are passionate about cooking and eating should seriously consider taking part in this unique experience at the House of Fusion!
A vegetarian cooking class at the House of Fusion in Marrakech
You'll find more cooking classes in the article on cooking classes and food trails in Marrakech.
Conclusion
Vegetarians and vegans can expect to find excellent food and embark on a culinary journey of discovery. If you put a bit of effort into planning your trip and carry out some research in advance, you won't need to stop at the first snack bar you see. A meat-free diet is a bit dull in rural areas compared to the larger Moroccan cities with their dynamic restaurant scene. Those who like to self-cater and source their own food will be quite happy with the regional choices and the very cheap fruits and vegetables you can buy in Morocco.
Photos: Travelguide Marrakech