After having sat in a plane for hours and having passed passport desk and visa control you will find yourself in the entrance hall of spacious Menara Airport. If you have booked an organised trip or planned otherwise in advance, you will enjoy being welcomed and picked up directly at the airport – if you haven't, you have to see to find your way to your destination in the city centre of Marrakech.
If you do not yet carry Moroccan Dirham with you, you should get at least a small amount of money directly at the airport — either at one of the official exchange offices or at one of the four ATMs inside the terminal building. As these do not always work reliably, it is definitely advisable to have some cash ready to change money.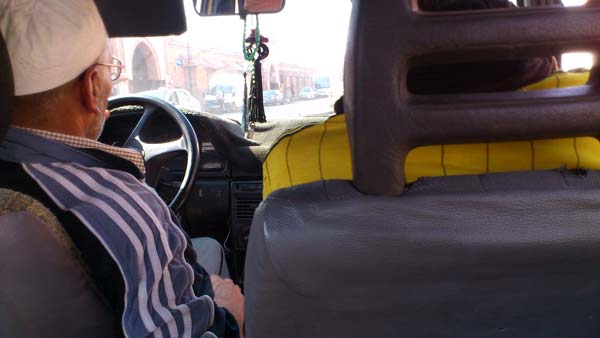 (Photo: travelguide-marrakech)
How to get from the Airport into Town: Grand Taxi, Petit Taxi or private airport transfer?
Menara Airport is located about 4,6 miles outside of Marrakech's city centre. After your arrival you can use a public shuttle bus, private airport transfer or a taxi to get into town. 
The airport bus service (line 19) operates from 6.30 a.m. to 11.30 p.m. and leaves every 30 minutes from outside the terminal building. At a price of 30 DH per person (50 DH return), this bus service takes you directly to Jemaa el Fna. Do not be irritated by locals who try to convince you that the bus is — for whatever reason — not running.
A taxi can be a convenient alternative: Only minimally more expensive than the bus, a taxi ride to Jemaa el Fna takes about 15 minutes. In Marrakech, there are two types of taxis: beige-coloured so-called Petit Taxis circulate within city boundaries only and transport a maximum of 3 people.
Grand Taxis can seat larger groups (and can provide transport to areas outside town). Taxi fares are officially fixed (see below). After 9 p.m. (8.30 p.m. in winter) an extra 50% is charged. Be aware that some taxi drivers may have to be reminded of the official rates.
So, in order to enjoy the fascinating ride into town fully, you better negotiate prices before you enter the taxi.
The following fares indicate costs for hiring the whole vehicle:
Fares Petit Taxi (seats up to 3 people)
Airport – City Centre: 70 DH
Airport – La Palmeraie suburb: 100 DH
Fares Grand Taxi (seats up to 6 people)
Airport – City Centre: 100 DH
Airport – La Palmeraie suburb: 150 DH
Pick-up and private airport transfer services
Not interested in either busy public transport, negotiating with local taxi drivers or getting lost in the medina trying to find your way from the bus stop to your hotel? Then, a private minibus transfer may be an option. It is only slightly more expensive than a taxi but great value: Your local driver will pick you up once you have passed customs and passport control and take you directly to your hotel.