The Sahara, desert of seemingly endless vastness, ocean of sand, invites you to spend romantic nights under the most impressive starry sky, only a stone's throw from Marrakech. But is this really what an excursion to the desert is like?
Most people believe so and put an excursion to the desert on their bucket list when travelling to Marrakesh. However, the truth looks a bit different, unfortunately, since getting from Marrakesh to the two big dune areas Erg Chebbi and Erg Chegaga will take you about 8-10 hours by car. Doing this non-stop is exhausting, even though the tour across the High Atlas and the fertile valleys of Draa and Dades which are lined with thousands of palm trees is definitely a visual feast with beautiful panoramic views.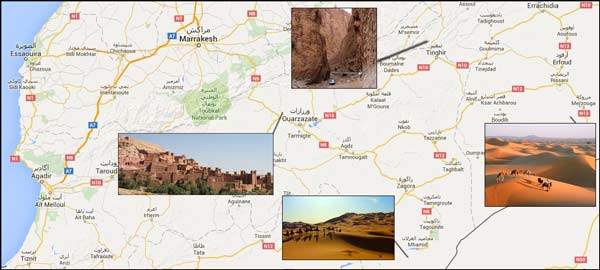 (map: Google Maps, photos: Travelguide Marrakech, Wikimedia)
Sand dunes, dromedaries, Berber tents, starry skies and campfires
You will find uncountable travel agencies offering shorter and longer tours to the desert. If you have only little time and still want to go to the dunes, you may choose a short overnight (sleep in a Berber tent) trip in two days. This means leaving Marrakesh very early in the morning, a short break at Unesco World Cultural Heritage site Ait Benhaddou and reaching your camp in the dunes in the early evening. After a short night you will return to Marrakesh. It is more worthwile to go on a longer trip which also allows you to see some more sights on the way, like, for example, impressive Todra Gorge or Kasbah Taourirt near Ouarzazate.
In Morocco, there are two popular dune areas: "Erg Chebbi" near Merzouga in the southeast of Erfoud and "Erg Chegaga" near M'hamid south of Zagora. Yet before you reach these extensive seas of dunes you need to cross the similarily extensive hamada, a largely barren, rocky plateau, via an unpaved road. The question of which of the two dune areas is the most beautiful is a difficult one. Some love Erg Chegaga for its remoteness which may give you a more authentic Sahara-feeling, others prefer Erg Chebbi, especially, if you can stay overnight in a hotel close to the dunes in Merzouga. Driving to Erg Chegaga also gives you the opportunity to see the valleys of Dades and Draa River. For travellers with only very little time, there finally is a third option: Agafay desert, close to Marrakech. Read more