A trip to André Heller's Anima Garden is a journey into another world where art and nature are lovingly intertwined. Find out more about the most beautiful garden in Morocco!
This breath-taking dream of greenery in an otherwise barren landscape to the south of Marrakech is definitely worthy of being called an island. However, this doesn't even begin to do justice to what the Anima Garden offers its visitors.
The garden can be described as a shady oasis full of unique plants, fragrances, colours and shapes that enchant the senses. Let's take a look in a little more detail. This little piece of paradise on earth spans three hectares. The once barren, red desert soil at the foot of the majestic Atlas Mountains has been transformed into aplace that invites you to stroll around, marvel and reflect. A more accurate description of the reality you'll find there is hard to portray without an actual visit.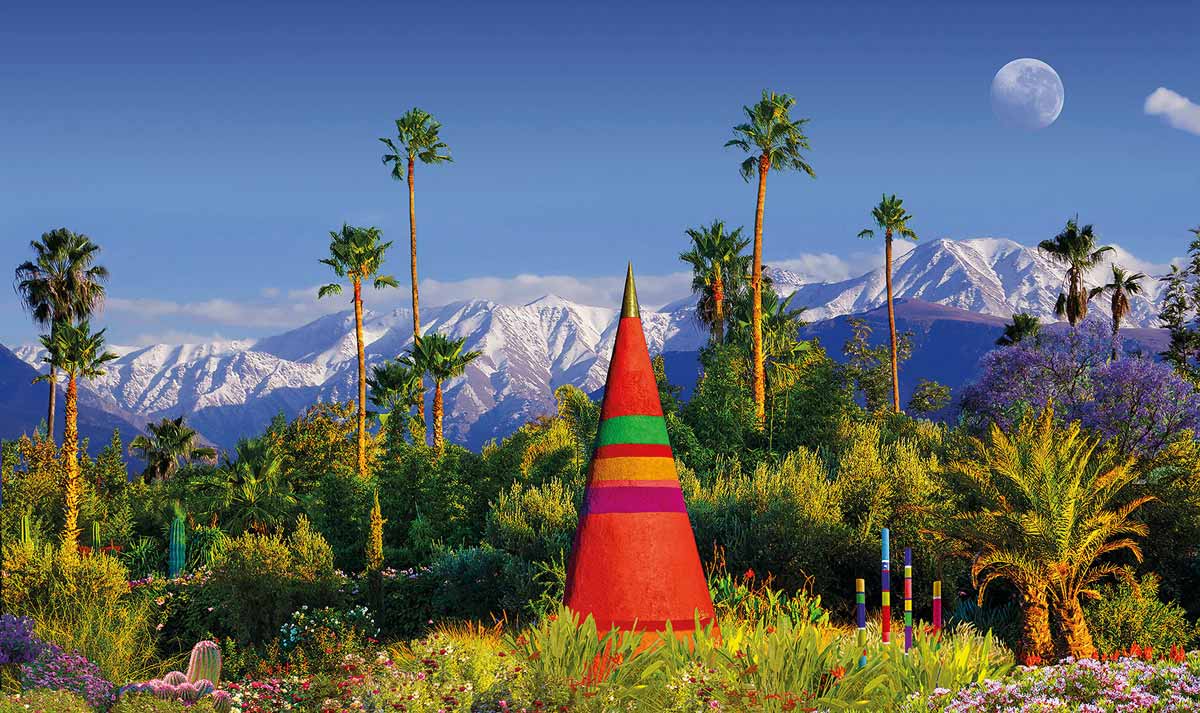 Breath-taking view (Photo: Anima Garden)
One of the most beautiful gardens in the world
The Anima Garden has been open to the public since 2016. As soon as it was completed, the gates were opened to visitors. Since then, this spot on earth has been deemed to be one of the most beautiful gardens in the world. If you're planning a trip to Morocco, a visit to the Anima Garden is a must. It's also a pretty easy excursion. Free shuttle buses regularly depart from Marrakech to Ourika, 27 km away in a valley with the same name.
When you arrive in Ourika, you step through an oriental gate and enter a fascinating, natural paradise. No sooner will you take your first breath, then it's time to forget about the hustle and bustle of Marrakech. How much time do you need for your visit? The answer is half a day, maybe longer. Experiencing the Anima Garden is simply a must!
Booking a trip from Marrakech to the Anima Garden
Duration:
Variable travel times
Included:
Guaranteed space on the shuttle bus, personal greeting
Costs:
Approx. 12 EUR
Rating:
Booking:
A unique blend of art and nature. Simply wonderful!
This natural phenomenon doesn't use any more water than the surrounding farms. The Anima Garden blooms, turns greens and shines in all its glory. It's a sustainable model and noted for the fact that this project employs around 1,000 people, providing a guaranteed income.
Focusing once again on this garden of paradise, carefully paved, meandering paths wind between exotic cacti and amazing sculptures. The paths are how you find your way as there aren't any of the usual signs or signposts in the Anima Garden. This is a place where your senses should guide you. At every turn, you'll be surprised by a new, unusual plant or shrub, placed with great care and attention. The detail of the subtle, harmonious encounters between nature and art are overwhelming. Everything seems to find its natural and right place here.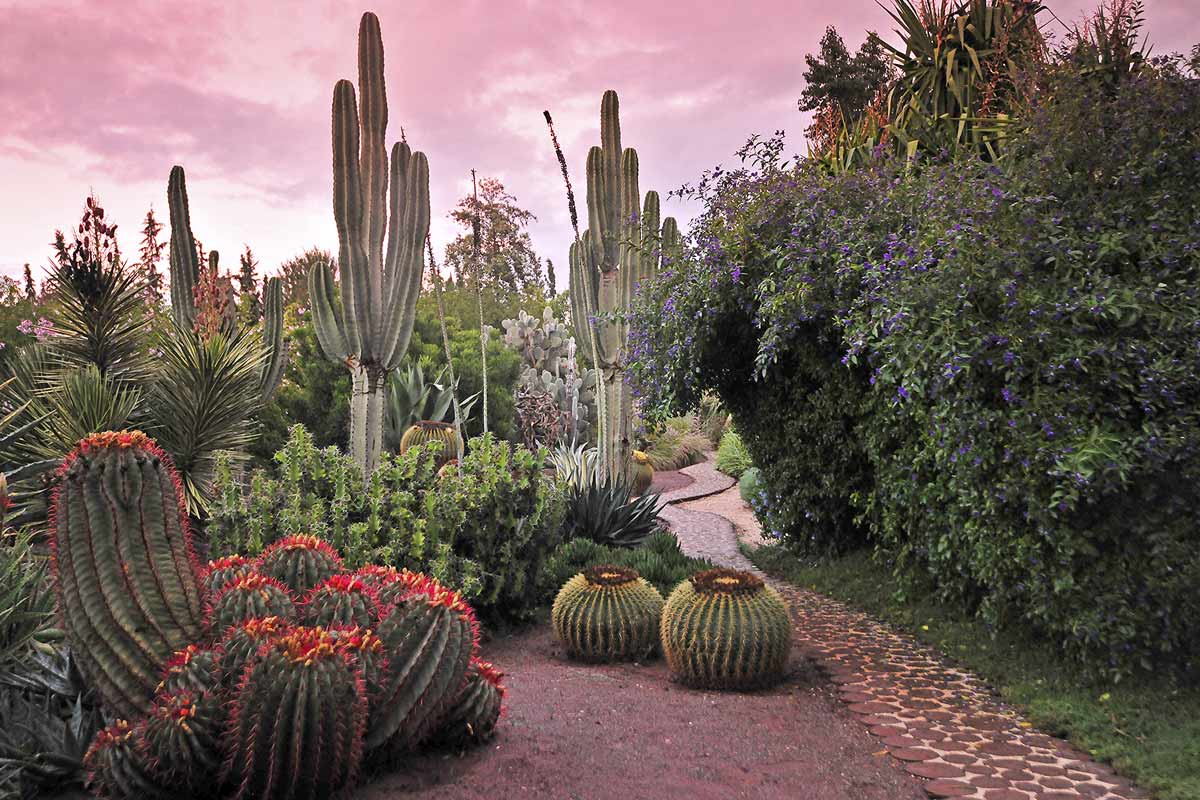 (Photo: Kurt-Michael Westermann)
André Heller's Garden of Eden is definitely staged, but you'll hardly notice it. The Anima Garden will delight your senses. It's a place of rest and contemplation, somewhere to draw new energy and inspire and stimulate fresh ideas. The contrast with the garden's surrounding landscape couldn't be stronger.
The Anima Garden is a magical place
A brilliant project like this takes time, patience and a lot of hard work. In a detailed interview, André Heller gives behind-the-scenes insights and talks extensively about the hurdles, difficulties and success stories of the time it took to implement his vision. The end result is a garden that not only combines art and flora, but is also an abstract way of presenting the social challenges of time.
You'll come face-to-face with Rhodin's thinker, lost in contemplation and facing away from a rusty ark, which symbolises the current refugee crisis. Just around the next corner, you'll find yourself in an Asian-style pavilion. At its centre, there's a fountain full of fresh, colourful, fragrant flowers.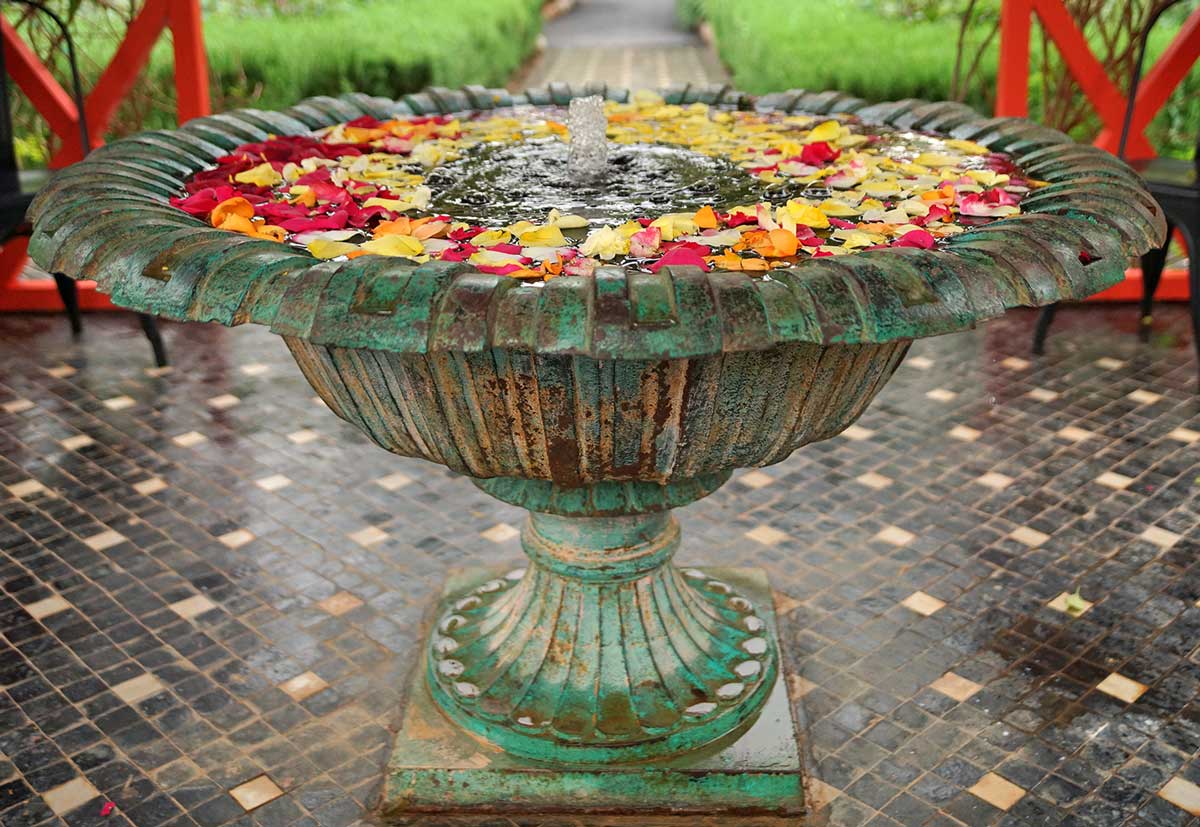 Fountain in the Anima Garden in Marrakech (photo: mhobl from Flickr)
On the other hand, the regular dimensioned mirror house looks almost like a mirage and seems to merge with its surrounding bushes, hedges, ferns and roses. A giant mosaic head in the middle of a sea of palm trees is just as impressive, subtly spraying a fine mist of water. With so many impressions and sensations to describe, words alone cannot really portray the true beauty of the place. You really need to go there and see it for yourself, feel and sense the atmosphere and absorb the magic of the Anima Garden.
Culinary delights in the Anima Garden: The "Paul Bowles" café
Even the café has a place in history, named after an American writer who lived and worked in Morocco for half a century: Paul Bowles. He's known for his work Heaven Above the Desert, which, like André Heller's Anima Garten, picks up on the failings of western life and artistically depicts the secrets, beauty and limits of the world.
No wonder the food and drink taste particularly good here. Also, the ingredients in the fruit juices, teas and Moroccan pastries served come from the Anima Garden itself. Heller's heavenly creation follows an all-round holistic concept, which tastes really good and is just as refreshing. This is a welcome tonic after the enriching tour through the lavish, colourful garden.
Practical information on the Anima Garden near Marrakech
The Anima Garden has developed into a thriving concern since it opened. It's a real visitor magnet and has also created numerous jobs, bringing new prosperity to a previously poor region of Morocco. André Heller wants to make the most of the potential of the Anima Garden. That's why the garden hosts regular cultural events.
Directions, shuttle bus and service
Knowing that 27km south of Marrakech, a dream of nature and art is waiting to be discovered is one thing. Having a plan of how to get there is another. That's why a shuttle bus service was specifically created for visiting the Anima Garden. This takes visitors in safety and comfort to the garden and also creates additional jobs.
This shuttle bus runs three times a day. The journey takes about 40 minutes.
Marrakech Shuttle Bus - Anima Garden
Departure
9.30 am
11.30 pm
2.30 pm
Arrival
10.10 am
12.10.pm
3.10 pm
The collection point for all visitors to Anima is the "Lavage la Koutoubia" car park, behind the famous Koutoubia mosque. Of course, return transport from the Anima Garden to Marrakech is also provided. Buses run four times a day.
Marrakech Shuttle Bus - Anima Garden
Departure
10.10 am
12.10.pm
3.10 pm
5.10 pm
Arrival
11 am
1 pm
3 pm
6 pm
The shuttle bus service is limited in July and August, the region's hottest months, when demand isn't quite as high. During this period, the shuttle bus only departs from Marrakech only once a day at 11.30 am. The return journey starts at 2.30 pm. However, a short visit to this artistic, botanical spectacle is totally feasible in July or August.
Travelling in your own car
If you prefer to drive to the Marrakech Anima Garden in your own car, head out from Marrakech towards Oukaimeden/Ourika. After about 27km, you'll see a large TOTAL petrol station on the left. After another kilometre, you'll see a sign to the Anima Garden. Then, you need to drive 500 meters down a gravel road until you finally reach the entrance gates to the oriental garden.
Opening hours and entrance costs
The Anima Garden is open all year round from 9.00 am. to 6.00 pm. However, this paradise on earth is closed during the Muslim feast of Eid-el-Kabir (what we call the sugar festival) as well as the sacrifice festival.
If you want to visit the Anima Garden during your stay Marrakech, I recommend booking a ticket in advance through Getyourguide because daily visitor numbers are limited to 500. The ticket not only includes admission, but also guarantees a place on the shuttle bus. You can present the booking confirmation on your mobile, and don't need to print off your ticket.
Booking a trip from Marrakech to the Anima Garden
Duration:
Variable travel times
Included:
Guaranteed space on the shuttle bus, personal greeting
Costs:
Approx. 12 EUR
Rating:
Booking:
Tickets to the Anima Garden aren't cheap, but this artistic monument is definitely worth it. Adults pay 120 DH and young people (12-16) pay 60 DH. There's no admission charge for young children.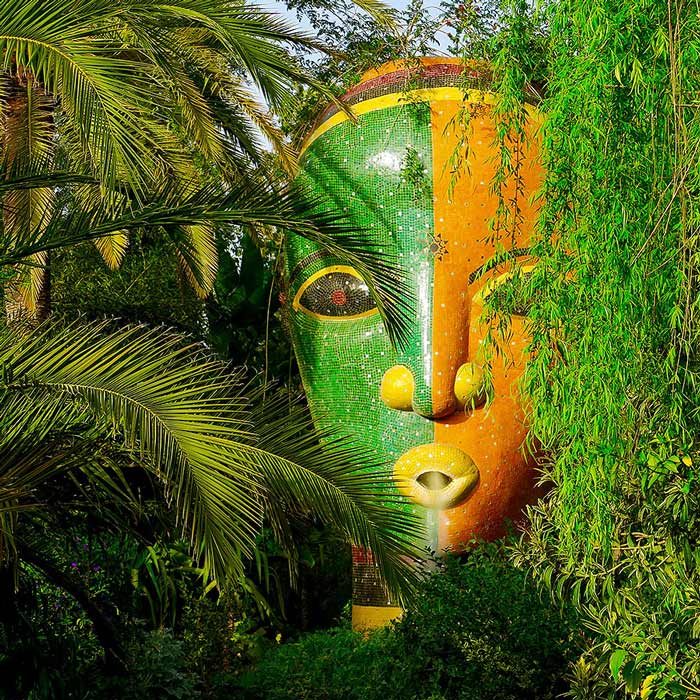 (photo: Albina Bauer)