You don't necessarily need to go to the Moroccan desert to enjoy a camel ride. Short excursions just outside of Marrakech give you the chance to experience an adventure on camelback. For example, camel tours are popular as the sun is setting over the Palmeraie.
When you book this type of camel tour in Marrakech, getting picked up from your hotel or riad is included in the price. Then, the driver will take you to Palmeraie, which is north-east of Marrakech and has over 100,000 palm trees .These trees form a beautiful backdrop, but you can see the effects of the drought over recent years. The actual camel ride on the excursions I'm going to tell you about in this article takes about an hour.
A camel ride through the palm grove
After making a booking, you'll receive a confirmation and precise information about where and when you'll get picked up. If you're staying outside of Marrakech, most organisers will also offer transfers from your accommodation at a little extra cost. On the other hand, if your riad is in the medina, your driver will pick you up at the nearest pick-up point accessible by car. The Cafe de France on Jemaa el Fna is a popular meeting place for almost all tours that start in the mornings. Usually, a minibus or people carrier will take you to the palm grove. You can easily spot the vehicles as they're marked with the company logo.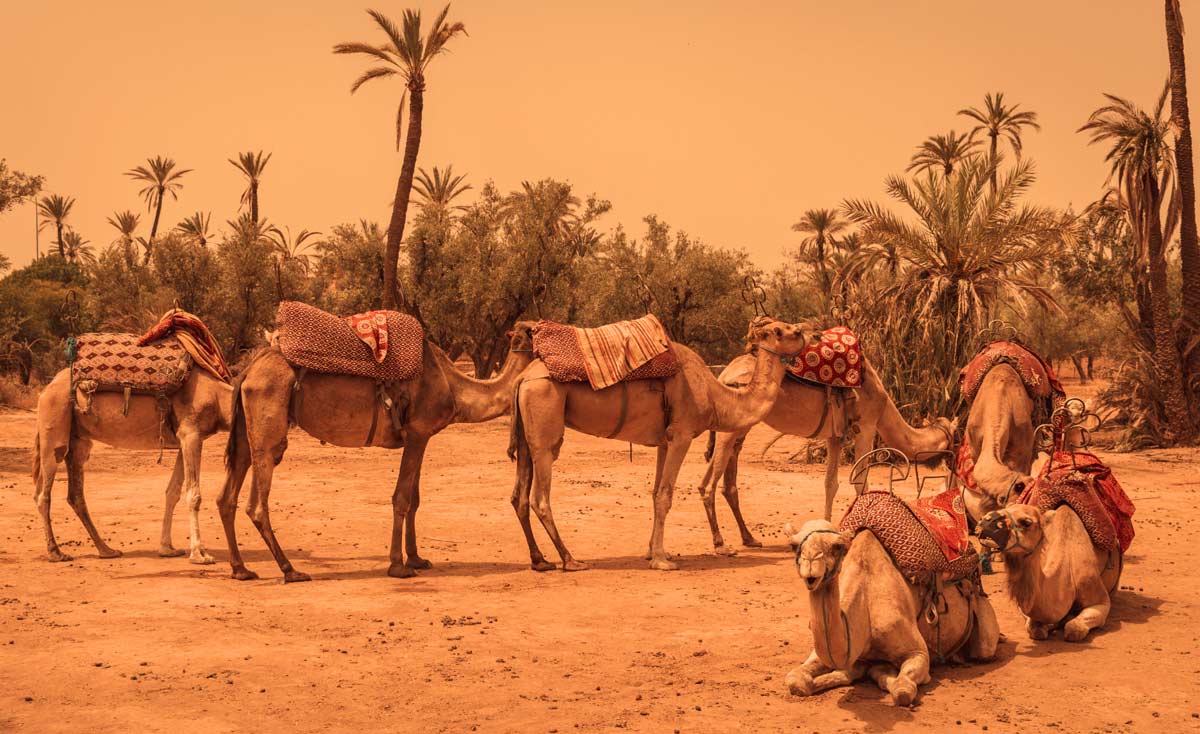 A camel ride in Marrakech
Once you arrive at the palm grove, you'll have plenty of time to get a really good sense of the place and the atmosphere, as well as take some lovely photos of the camels and surrounding area. Before the camel ride actually starts, a traditional turban is wrapped around your head. This protects you from the sun and makes the whole experience very authentic. Then, it's time to really hold on tight because sitting on a camel as it stands up or sits down is a really odd feeling.
Time for a break
Once the camel is up on all fours, your ride through the green palm grove will begin. English-speaking guides lead the camels. They also take pictures of the whole group and you and your travel companions. At the end of the ride, it's time for a break. You'll enjoy a moment of calm and relaxation in the unique setting of sand, grass and palm trees, which really works like magic. For physical and mental refreshment, traditional Moroccan mint tea is served during the break. After enjoying your tea, your driver will take you back to your hotel or riad.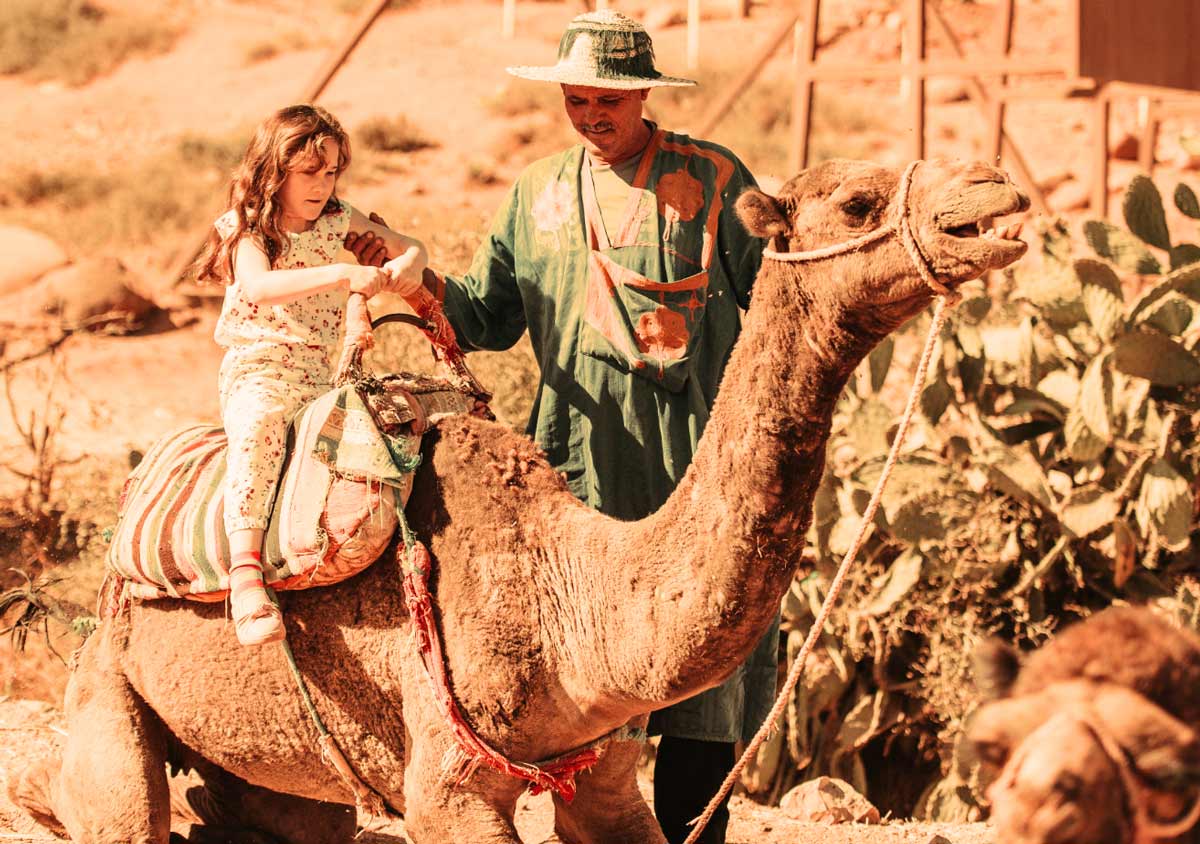 Conclusion: A camel ride is a great day out
If you want to leave the hustle and bustle of Marrakech behind for a while and go on a short excursion into the beautiful area surrounding Marrakech, camel trekking in the spectacular palm grove definitely offers a relaxing contrast to the lively medina. To enjoy your tour without any worries or concerns, you should definitely go with full-length trousers, sunglasses, sun cream and sturdy shoes. So, nothing will stop you from having a brilliant adventure on camelback!
Please note; this type of camel tour isn't suitable for pregnant women, people with heart problems or wheelchair users.
| | A camel ride into the sunset | A camel ride through the Palmeraie | A half-day desert tour on a quad bike and by camel |
| --- | --- | --- | --- |
| Special instructions | Transfers in a people carrier, a camel ride (1 hour), visit to a Berber village, nomadic clothing & turban, mint tea & water | Transfers, camel ride (1 hour), traditional mint tea, duration: 2 hours | Transfers, camel ride (1.5 hours), quad bike tour in the Agafay desert (2 hours), Berber village, nomadic clothes & turban, mint tea, Duration: 4-6 hours |
| Price | 20 EUR | 23 EUR | 47 EUR |
| Rating | | | |
| Book | | | |
(Photos: Annie Spratt)