There are many ways to get from Marrakech's Menara Airport into the city centre. Apart from shuttle bus services and taxis you can by now book convenient airport transfers easily online. Here's a field report on Getyourguide.
A four-hour-flight (depending on where you start) can be rather strenuous and it may not be to everybody's taste to either bargain appropriate taxi fares for a ride into town with sometimes rather pushy taxi drivers immediately after landing or to take a public shuttle bus not knowing where to get off exactly. The bus may be the cheapest option, yet if you travel with a group of four or more, this price advantage vanishes. In December 2015 I travelled with four fellow travellers and gave private airport transfer offers a chance.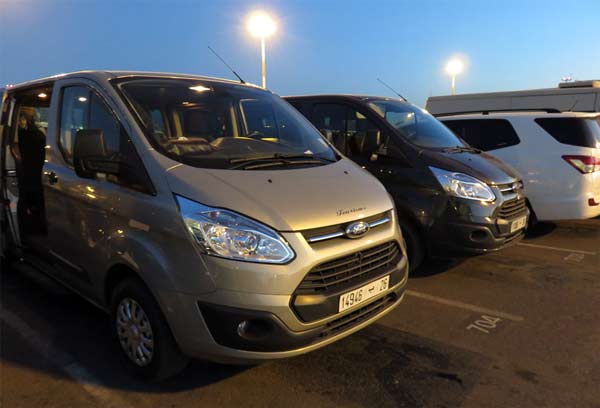 Private airport transfer in modern minibus including WLAN (photo: Travelguide Marrakech)
Getyourguide: Easy booking process and good service
Different transport companies offer private airport transfers from Menara to Marrakech's city centre via Getyourguide's booking platform. Their rates only differ slightly and resemble those of the Grand Taxis. We booked about 20 hours prior to our expected arrival time in a very quick and uncomplicated booking process on Getyourguide.
Simply enter your details, flight destination and the address of your hotel, flight number and arrival time. Payment can be made via Credit card or Paypal. You will receive a confirmation to print or to load on your mobile phone via the Getyourguide-App
Our flight was a little late and passport control procedures also took longer than expected so that we left the airport building about half an hour later than what we had entered in the online booking form. In the entrance hall we were expected by Ismail, our English- and French-speaking driver, holding a sign with my name and welcoming us cordially. Having checked the mobile ticket on my smartphone in no more than a quick glance, he led us to his minibus and took us to the city centre. Even the advertised WLAN worked inside the vehicle. After about 15 minutes we stopped near Jemaa el Fna and said goodbye without any additional bargaining – since we had, of course, already paid in advance.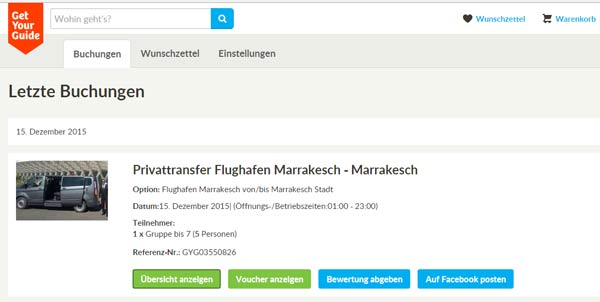 Screenshot: Backend Getyourguide (german) 
Airport Transfer: Feel Welcomed
The transfer worked without any problems and let us start our holiday in the most relaxed way possible: Neither did we have to squeeze in a taxi as a group of five, nor did we have to queue in front of the crowded ATMs in the airport building since we had already paid via Paypal. If you use a smartphone, you will appreciate the well-made app which allows you to manage all your bookings very conveniently. Moreover, it is a very agreeable experience to be expected and welcomed personally at the airport.
Notes on booking:
This private airport transfer via Getyourguide costs about €12 (up to 4 people), €16 (5-7 people) or €29 (8 and more people). Rides to the Palmeraie district are a bit more expensive. Special details, like bulky baggage, can be entered during the booking process.