In comparison to buying alcohol in Europe, doing so in Morocco is a little more complicated than you might imagine. However, you'll get there in the end! Here's an overview of where you can generally buy alcohol in Morocco and particularly in Marrakech.
This article will explain all you need to know about alcohol when on holiday in Morocco and where you can source it. The second part deals specifically with Marrakech. There's also an interactive map where you'll quickly be able to get your bearings and see where to buy alcohol in Marrakech.
Basic facts about alcohol in Morocco
First things first: Alcohol plays virtually no part in the daily lives of most Moroccans. The vast majority of Muslims don't drink. Generally, you'll be served water, soft drinks or juice when having a meal. There's also Thé à la Menthe, which Moroccan's jokingly call Whiskey Berber. This national drink is made of strong green tea, lots of mint and loads of sugar. It's really delicious but doesn't contain any alcohol. Nonetheless, you'll find it invigorating and exceptionally tasty.
If you're looking to by a bottle of wine in a medina in one of the country's larger cities, you'll come across many shops, but will soon realise that alcohol is only sold in certain places in Morocco. This might unsettle certain wine lovers at first, but the fact that alcohol plays such a small part of life in Moroccan life also has a few beneficial spin-offs.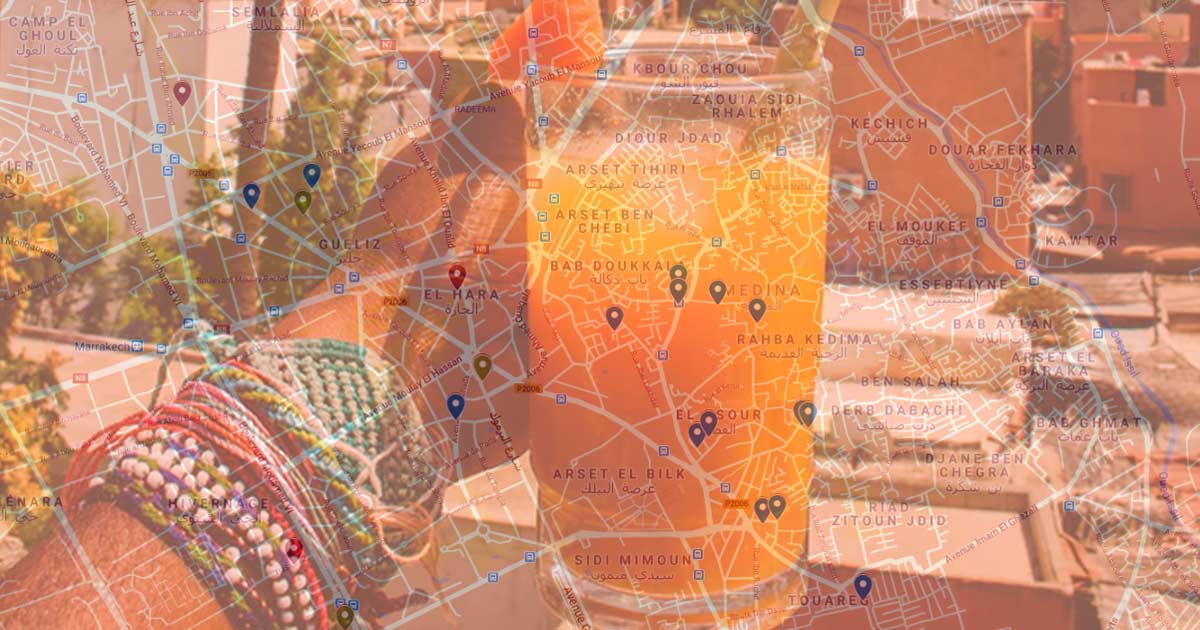 You'll experience a different sense of security in Morocco. While many alcohol-fuelled fights tend to break out at German village festivals after midnight, things are different in Morocco. Thousands of people freely wander around the Jemaa el Fna at night and it's an extremely peaceful and harmonious place.
The exegesis of the Quran and its 'dry' consequences: The Islamic ban on alcohol
Morocco is an Islamic country. It's a well-known fact that the Koran forbids Muslims from drinking alcohol. However, this prohibition didn't always exist and things used to be quite different. The current situation stems from a long history of the interpretation of the Scriptures. Surprisingly, the Qur'an actually contains Suras that encourage drinking alcohol.
To cut a long story short, we can sum up the story behind the interpretation of the Scriptures by saying that once upon a time, Islam approved alcohol consumption. Then, drinking became increasingly frowned upon, especially in connection with gambling. Eventually, at some point, this interpretation swayed towards alcohol being banned for Muslims.
Morocco's sweet vines and alcohol produced in the country
On the other side of the coin, there's a different view of the subject. Morocco is ranked 35th among the biggest wine producers of the world. The Meknès region makes excellent red wines such as the Château Roslane. Moreover, grapes such as Alicante, Cabernet Sauvigno, Carignan, Cinsaut, Grenache, Merlot and Syrah are grown for wine production in Morocco.
If you enjoy beer, your choices are pretty restricted, with barely half a dozen Moroccan beers on offer. Casablanca is probably the most popular and is quite a drinkable beer. Somewhat cheaper and not as good is another beer called Flag Speciale.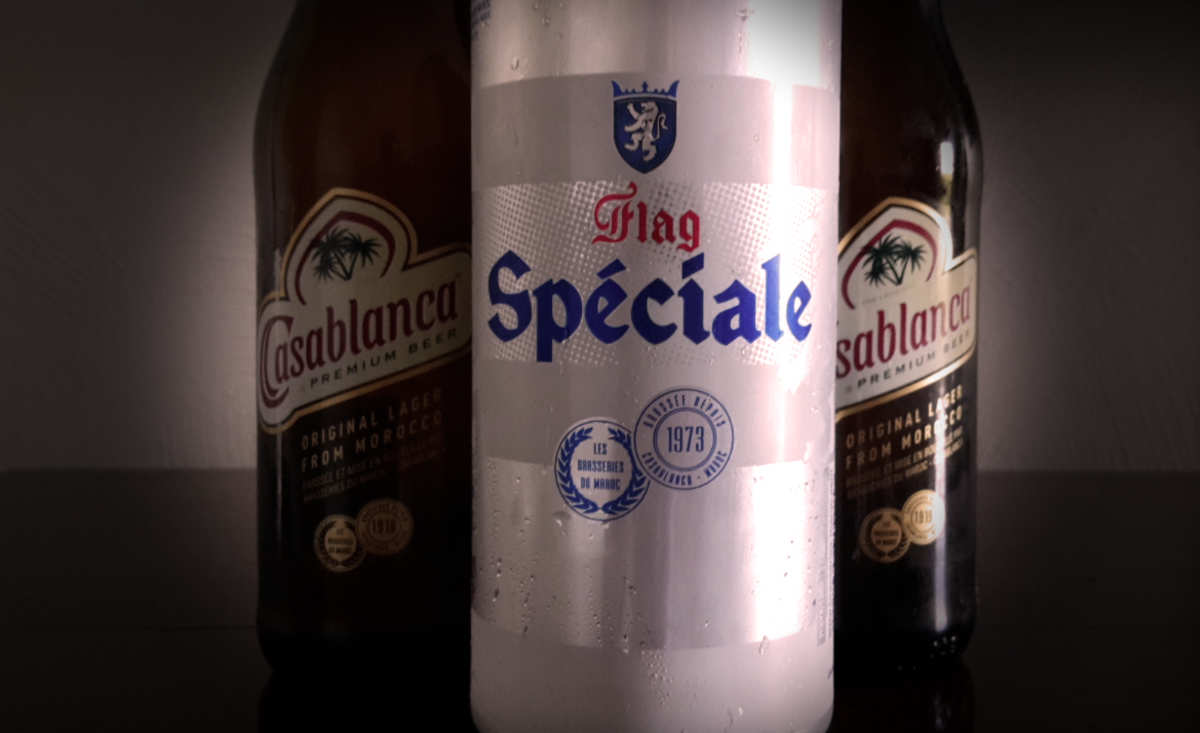 Moroccan beer: Casablanca and Flag Speciale (Photo: Leberkassemmel)
In the desert areas, with a little luck, you might be offered a sip of homemade palm wine. This tastes a little exotic, but isn't over the top. If someone invites you to sample homemade schnapps from their own backyard distillery, it's best to politely decline. Even distilled alcohol doesn't pass any quality control checks and, worse case scenario, it could cause you very negative health consequences. Although you mat be sorely tempted, it's best not to succumb, no matter where you are.
Bringing alcohol into Morocco
One option is to carry your own alcohol over from home. Customs regulations allow you to bring in one litre of spirits and the same quantity of wine to Morocco. However, absinthe and anise-based alcoholic drinks aren't permitted. Having said that, I'm not aware of any cases in Morocco where tourists have had to open their checked-in luggage at the airport customs desk to see what alcohol they have in their bags.
Things to consider when drinking alcohol in Morocco
Alcohol is rarely consumed by Moroccans and doesn't have a very good image in the country. Many people see it as a Western drug with the potential to corrupt. It's important to be aware of this and avoid drinking alcohol in public or walking around the city when drunk. This tip is particularly relevant during Ramadan.
In terms of alcohol and driving, Moroccan traffic regulations make it clear that there's a zero-tolerance approach to drinking and driving and you should stick to this. Don't expect any leniency if you get caught drink-driving. The message is really simple- never risk drinking and driving. Just don't do it!
If you buy alcohol in Morocco, you should always have your passport with you. Although you won't usually have any trouble buying drinks in specific shops or supermarkets, sometimes you'll be asked to show your ID. Also, if you wish to bring your own alcoholic drinks into the lounge area of your riad, make sure you know the score in advance. Some riads have their own bar and will disapprove of guests bringing in their own alcoholic drinks.
Where can you get alcohol in Morocco?
Various theories circulate online as to why alcohol is more readily available in some parts of Morocco than others. In my opinion, most of these are fabricated or lacking in substance. The truth is plain and simple: There are financial reasons for not selling beer on every street corner.
The reason why alcohol is almost exclusively sold in expensive bars, restaurants or hotels in Morocco boils down to the mandatory licencing laws. An annual licence to sell alcohol involves a four-figure sum. Therefore, the smaller restaurants simply can't afford to serve alcoholic beverages, but in some cases, places will flout these laws by offering wine 'under the counter' in neutral beakers.
Large hotels, expensive restaurants and upscale bars are mainly in the country's major cities. By contrast, in rural Morocco you'll be very hard-pressed to find a similar standard of places to drink. Larger cities have a few select shops that sell alcohol. If you're in doubt, most hotel staff can offer information or get hold of a drink for you if you pay them a little extra. Also, many taxi drivers know where these shops are, but during Ramadan, the sale of alcoholic drinks may be limited in most stores.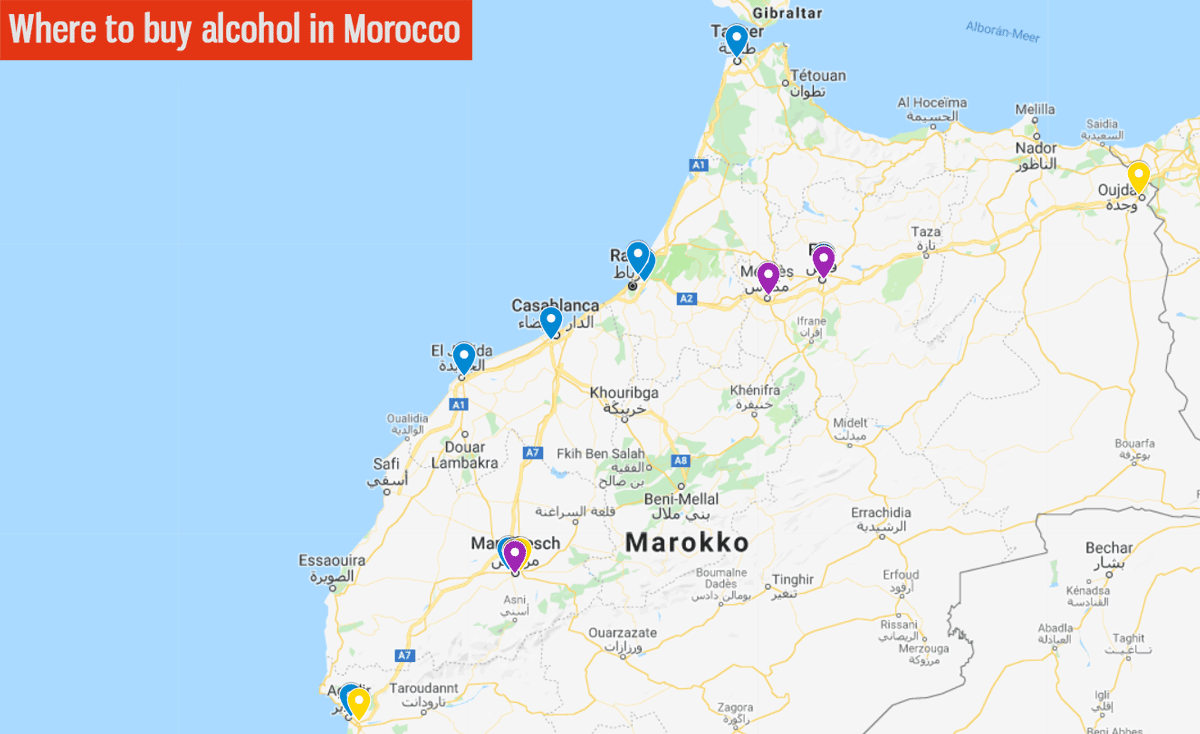 Various supermarket chains like Carrefour sell alcohol in Morocco. If you click on the picture, an interactive map with precise locations will open up.
Supermarkets like the French chain Carrefour or Atacadão also sell alcohol in Morocco, but you'll only find these chains in the big cities like Agadir, Casablanca, Tangier, Marrakech or Rabat. Marjane and Acima are also supermarket chains you'll come across but they haven't sold alcohol for some time.
Where can you buy alcohol in Marrakech?
In Marrakech, buying alcohol is easier than in the rest of the country. The city benefits from many expensive restaurants and licensed bars. You'll find some licensed liquor stores and two specialist wine merchants in the Newtown district. It's also pretty easy to pop to a supermarket that sells alcohol.
Selected supermarkets
In years gone by, you could just go Marjane, a supermarket near the Bab Doukkala, and buy wine there. The Acima supermarkets also sold alcohol. Shortly after 2007, the royal holding company SNI took over this chain and alcohol sales were stopped. It's now been several years since Marjane supermarkets sold alcoholic drinks.
Supermarkets where you can buy alcohol in Marrakech include Carrefour, Champion and Label Vie. Atacadão (formerly Metro) is actually a wholesale store and their range includes beer, wine and various spirits.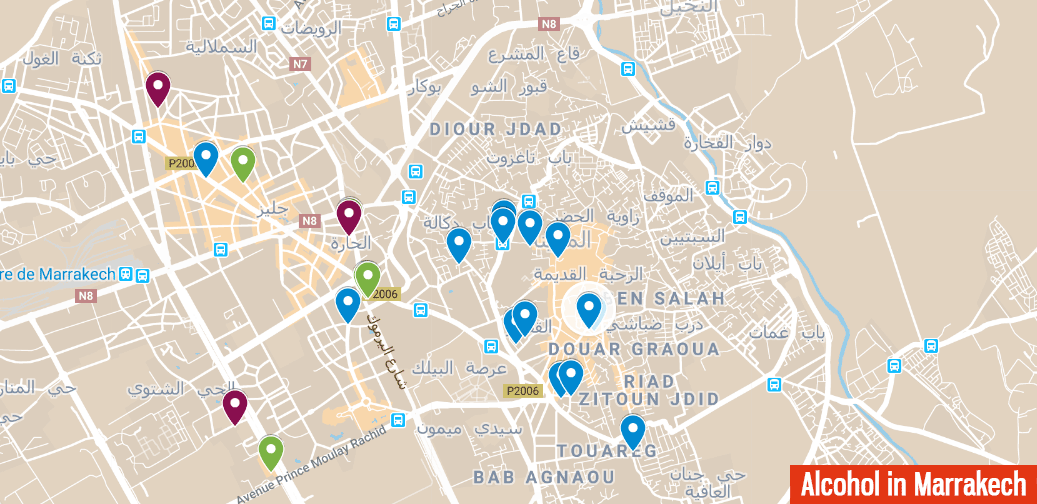 This map shows bars, licensed pharmacies, restaurants and supermarkets where you can buy alcohol in Marrakech. The link will take you to an interactive map.
Depending on where you are in Marrakech, I recommend going to one of the five Carrefour stores by taxi or on foot if you want to buy alcohol in a Moroccan supermarket. Just be aware that some of these stores keep their alcohol on shelves in the basement and it's easy to miss. Most noteworthy is that the alcohol sections often have shorter opening hours within the supermarket's trading times.
Bars and restaurants
Most of the bars and restaurants serving booze are in the Gueliz district, for example, the Baromètre Marrakech. You'll get better value for money here than in the medina, where alcohol is sold almost exclusively in more expensive restaurants. You'll also get a good deal at the Grand Hotel Tazi's rather shabby bar located at the end of Rue des Princes. Fortunately, there's a rooftop terrace where you escape the rather drab interior.
Speaking of roof terraces, the Kosybar on the Place des Ferblantiers in the southern Medina deserves a mention, as does the Café Arabe in the Mouassine district opposite the Secret Garden. Also, on the Jemaa el Fna, there are several restaurants serving tapas, for example, Marrakchi next to Cafe de France. These have an excellent view of the square. Adjacent, on Rue des Banques, you'll find the refurbished Salama restaurant, which offers happy hours and has a pleasant outlook.
Both Nomad and Le Jardin restaurants haven't renewed their alcohol licenses and don't serve liquor any more.
Alcohol and liquor stores
In the new districts of Gueliz and Hivernage, you'll find several specialist shops that can sell alcohol but close at 8.00pm. Any taxi driver worth their salt will know how to get you there. You can also refer to the map below.
Nicolas and the Atelier de Vin are two exclusive wine shops that have opened in Marrakech in recent years. Their staff team is very knowledgable and will be able to advise you on buying Moroccan wine.
Conclusion
Buying alcohol in Morocco isn't a breeze. Only a few shops offer alcoholic drinks and these are mostly in the Newtown districts or commercial areas of big cities. Out in the countryside, the situation is pretty dire when it comes to sourcing alcohol. That's why you should think twice about whether it's really worth the effort.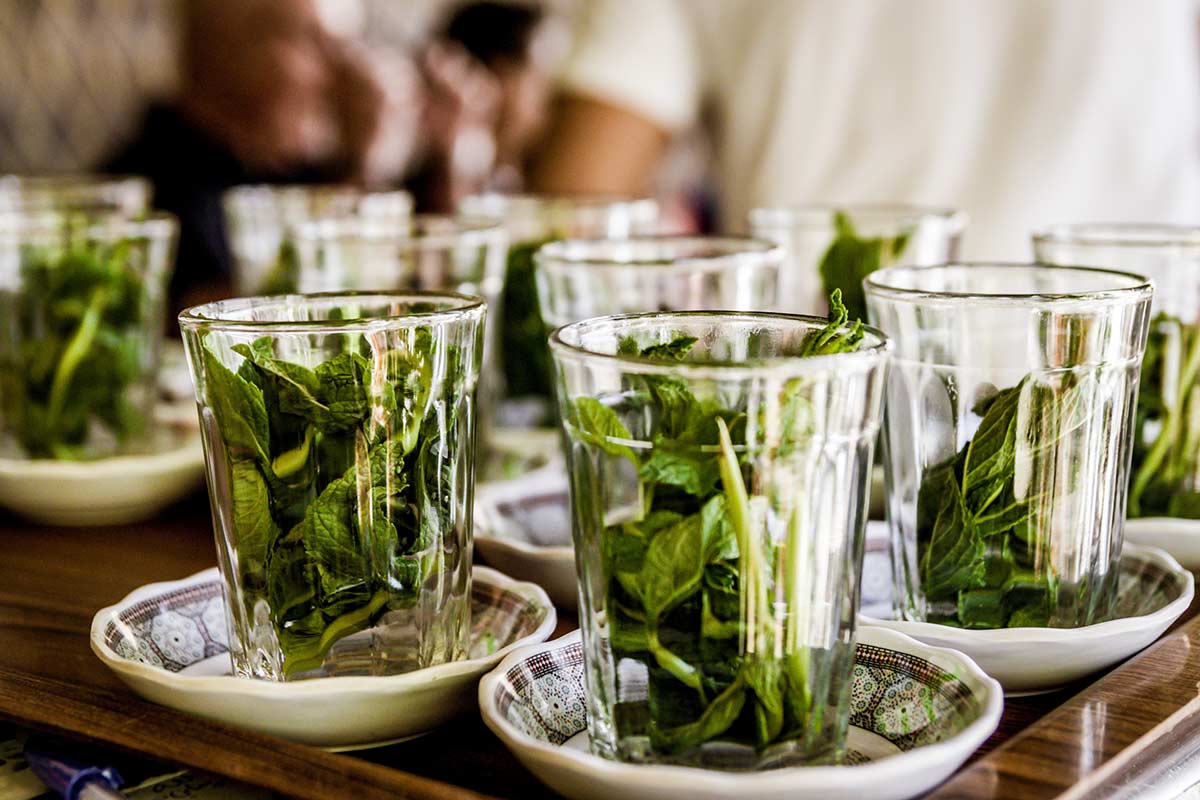 I don't drink alcohol anymore when in Morocco. A Whiskey Berber is far more authentic and very invigorating. (Photo: Massimo Adami)
If you don't want to go without a bottle of wine when away on your travels in Morocco, the easiest option is to pack it well-padded part of your checked-in luggage. If you're travelling in your own car or hire car, I'd advise heading to a Carrefour supermarket en route.
So, now you're all set to go. If you know of a shop selling alcohol that we can include in our map, please leave a us a comment below. On that note: Cheers, or as they say in Morocco, Bessahha!