You will not get very far without money — especially not in Marra-Cash. Some of the most frequently asked questions regarding money are how you can organize your travel finances during your trip and how to get Moroccan Dirham at attractive rates once you're there.
There are several ways to approach currency exchange issues. Most of them have both advantages and disadvantages. In the past, it was common to order and pick up the desired amount of foreign exchange from your local bank. But today no one does it anymore because of the cumbersome process. You are only allowed to take up to 1000 Dirham with you to Morocco and you are probably not to keen on keeping an eye on your cash permanently during your trip.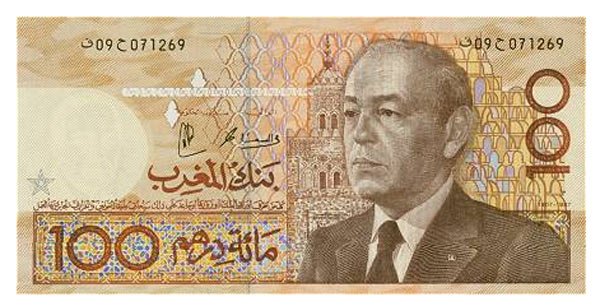 100 Moroccan Dirham banknote
Traveler's cheques have lost their popularity as well, since their use is equally complicated and too expensive. European cash can be exchanged at many places but not at very good exchange rates, and you would still have to carry around too much cash. So the only option left is plastic money.
Beware of bank charges and bad exchange rates
ATMs can now be found in most Moroccan cities and accept VISA as well as most Maestro cards. Every time I land at Marrakech airport, I head to the nearest ATM immediately to pick up about 1000 Dirham that will last for the first few days, and then I take a bus or taxi to get into town. If I run out of money, I will go and withdraw a similar amount — this way; I never have to carry around large amounts of money. Unfortunately, there are charges on every withdrawal you make, so you should only use this procedure if you're using a card that will return those fees to you — this is possible.
In the new town of Marrakech there are a lot of banks where you can withdraw money. If you're staying in the medina, you will find several ATMs at the south-western edge of the Jamaa el Fna, while others are hidden in the alleys of the old town. As soon as you arrive at the airport you should go to an ATM or change some cash at one of the exchange offices. This allows you to get into town first, and once there, you can start looking for better exchange rates.
Easy and safe: getting money from ATMs using debit or credit cards
The easiest and safest way is to have both cash and several cash cards in order to be prepared for loss or theft. With a free credit card, which nowadays you can get even if you don't have a steady income, you do not have to pay bank fees and you will be able to make online bookings for ferries, flights, rental cars or hotels. Traveler's cheques or money exchanged before the trip should better be left at home.