Wi-Fi is frequently available free of charge in Morocco. But to avoid being confined to your accommodation when going online, and to ensure reliable internet access at other times, it's worth investing in a Moroccan SIM card. Read on to find out how much a Moroccan SIM is likely to cost you, where you can buy one, and which providers are best avoided.
Morocco has relatively well-developed infrastructure when it comes to mobile internet and mobile communications. Services such as Google Maps, Skype or WhatsApp (which is widely used in Morocco) can generally be counted on to work reliably. With a Moroccan SIM card, you should get good reception pretty much anywhere in the country and be able to surf the net at reasonable speeds, often with 4G. I've achieved stabile G-3 connections, even in the remote Atlas Mountains.
Roaming charges will mean that using your own mobile number to make calls in Morocco could end up becoming expensive, particularly if you're using your phone to make calls from Morocco to European numbers. These charges will obviously vary depending on your provider, but getting a prepaid Moroccan SIM should make your phone calls much more affordable.
Incidentally, there are normally no additional charges for receiving text messages.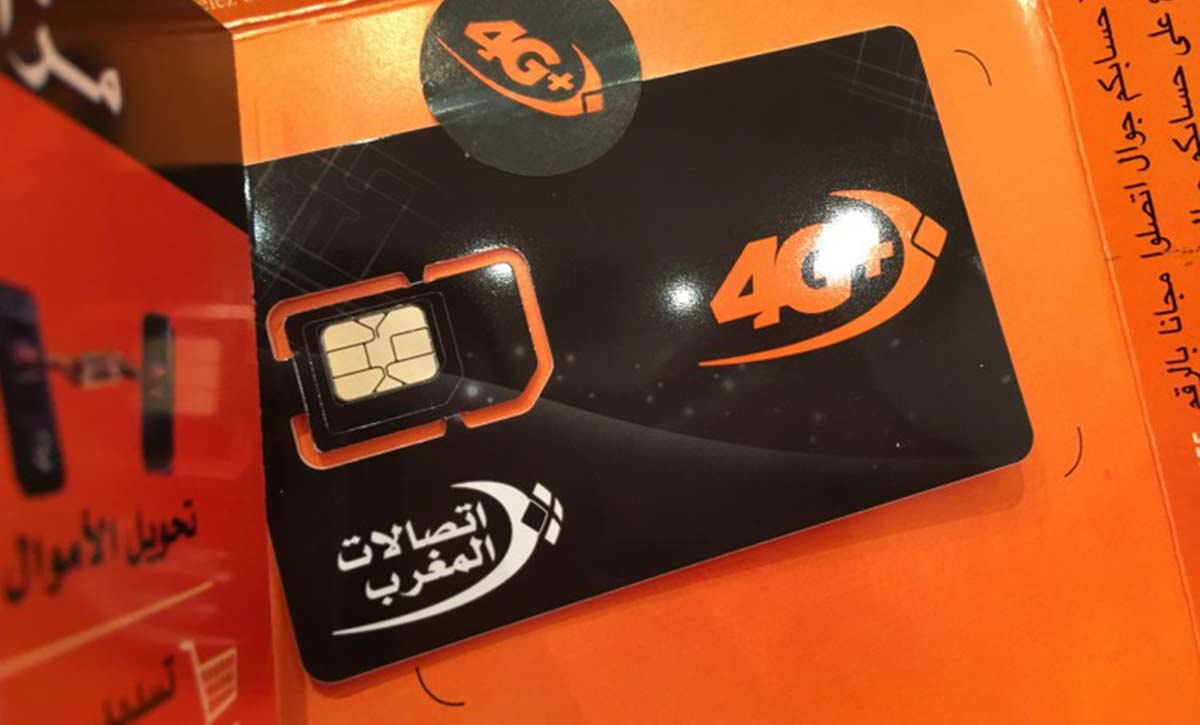 Where can I buy a SIM card for Morocco?
As previously mentioned, SIM cards are routinely used in Morocco to access mobile data with a smartphone. If you intend to get online straight away, you can purchase a SIM shortly after your arrival at the airport. Maroc Telecom and Orange au Maroc (formerly Méditel) both have small stands in the arrival's hall at the airport.
If you aren't in a hurry to purchase a SIM card as soon as you arrive, there will be ample opportunities to do so later. In the Medina there are kiosks and small mobile phone shops on practically every corner selling prepaid SIMs with credit. You can also get help with inserting the new SIM into your mobile.
How much do SIM cards for mobile internet cost in Morocco?
Mobile data is affordable in Morocco. With a bit of luck, you'll receive some starting credit when you purchase your SIM. Thereafter, you'll need to top up your credit manually. You can expect to pay in the region of 10 DH per 1 GB data. Don't be confused if the data usage does not appear to be calculated in GB. In Morocco, gigabytes are abbreviated as Go (giga-octet).
Be aware that there are several different types of SIM card available. With a so-called Carte Internet Mobile prépayée, you will only receive mobile data. No calls can be made with this card. These SIMs are often sold in a bundle with a 3G/UMTS stick.
If you intend to make phone calls with your mobile during your stay in Morocco, I recommend that you buy a universal SIM card (Jawal), which provides mobile data, calls and texts.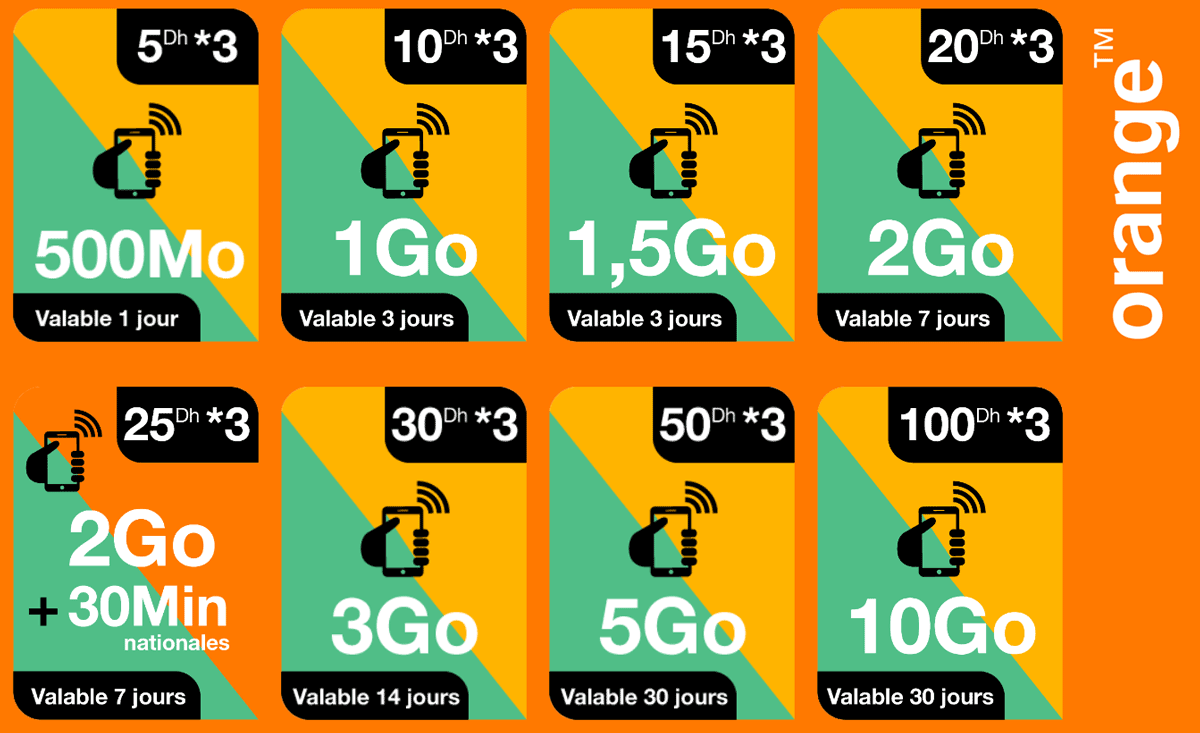 The amount of data required will depend on your average usage and other factors. How long will you be in Morocco? Does your accommodation include free Wi-Fi? For a stay of two weeks, you should probably ensure a mobile data allowance of 3-5GB.
Which prepaid SIM card is good for mobile internet in Morocco?
There are three major telecoms companies in Morocco: Maroc Telecom, Orange au Maroc und inwi. As elsewhere, these providers offer various tariffs and network coverage. As a rule, you can expect more reliable coverage in towns and cities than in more remote, rural areas.
Maroc Telecom
Maroc Telecom is the biggest and best recommended of the three main providers. It offers the most extensive network coverage and the most reasonable prices. Maroc Telecom's SIM cards are available to buy in practically any town or village. In addition to the normal tariff, it also offers international tariffs, which make calls to international numbers more affordable. If you are planning a more extended stay, a flat rate offer is probably worthwhile.

Orange Maroc
The second-biggest provider, Orange Maroc, was formerly known as Méditel. Its average prices are also in the region of 10 DH per GB of data. When it comes to Orange's network coverage, there are some significant regional variations. Most Moroccans prefer Maroc Telecom and report that it has the most stable network. However, Orange has the upper hand in the south of the country and in the desert, where its network is noticeably faster than Maroc Telecom's.
Inwi
Morocco's third largest mobile telecoms provider is inwi. I have not yet had any personal experience with this company's SIM cards. But to date I have heard almost exclusively negative reports about its network coverage, particularly in the south of the country. If you use an inwi SIM card in Morocco, I welcome your feedback.
Alternatives to mobile internet with SIM cards
Free Wi-Fi is now more or less standard at any accommodation in Morocco, so your hotel's Wi-Fi is probably the best alternative to buying your own local SIM. If you would like to use your phone as a navigation tool with Google Maps, try using an app that also works offline.
Free Wi-Fi
Free Wi-Fi is widely available throughout Morocco. From the moment you arrive at the airport, you can connect to the public Wi-Fi and distract yourself whilst queuing for passport control. If you decide to travel into central Marrakech from Menara Airport by private transfer, rather than taking the shuttlebus, you can even make use of Wi-Fi during this journey.
When you're travelling, you can be confident of being able to go online at your accommodation. Practically all hotels and riads in Morocco now offer free Wi-Fi to all guests. This service is also becoming standard at many cafés and restaurants.
Internet cafes
Every town in Morocco has internet cafes and so-called teleboutiques with payphones. Internet cafes will usually offer related services such as document scanning or printing as well as computers with internet access.
Conclusion
For many visitors to Morocco, the free Wi-Fi provided at their hotel will be more than adequate. After all, you're on holiday and most things can wait until the evening. But for those dependent on constant internet access, or those planning a lengthy road trip in a hire car, mobile data can prove very handy.
You can purchase a SIM card at pretty much any town in Morocco. The country's network coverage is extensive and prices for mobile data are very reasonable. You can expect to pay about 10 DH per gigabyte of data.