If you're in Marrakech, and you're on the lookout for an excellent café to hang out at, you may have heard of Café Clock. It advertises itself as a "Warm café with an artful, cozy interior focusing on local dishes, live music & cultural displays." Let's see if Café Clock delivers on its promise of good traditional Moroccan food and more importantly, a cozy atmosphere.
I need to note that it was a little inconvenient to get to the café. It's located far from Jemaa el Fna in the south Medina, but relatively close to the Saadian Tombs. If you're in the mood for a walk through the streets of Marrakech, you can get there on foot by following maps. If not, a quick cab ride can remedy that.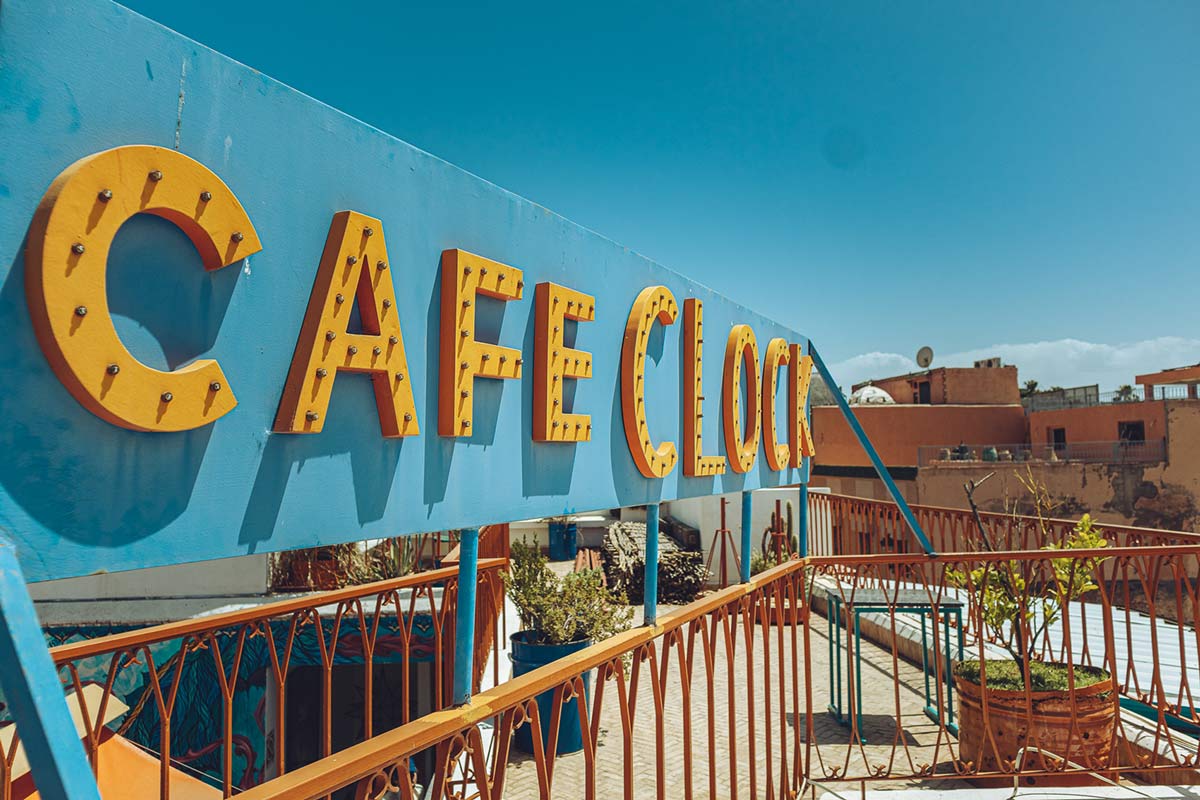 The café itself is a gorgeous, 2 terrace place. The beautiful paintings and artworks there set an authentic Moroccan vibe. One special thing you'll notice immediately is the wide variety of tables to choose from. They are available in different styles, shapes and colours, which is a nice touch.
The first floor is refreshingly cool in the summer. If you're visiting in winter, don't worry. The place is equipped with a fireplace. So, in terms of cosiness Café Clock delivers on its promise. What about the food, though?
The Café Clock has you covered if you're a vegan
The café offers an assortment of traditional Moroccan food. Harira, Pastilla, Couscous, and Tajins are just a few of the dishes available. If you feel like playing it safe, you can do that too. The place offers vegetarian food like the Falafel, Hummus, and Taboulé as well as the Marrakech tapas plate. Both dishes taste great. So, if you're a vegan, this place has you covered.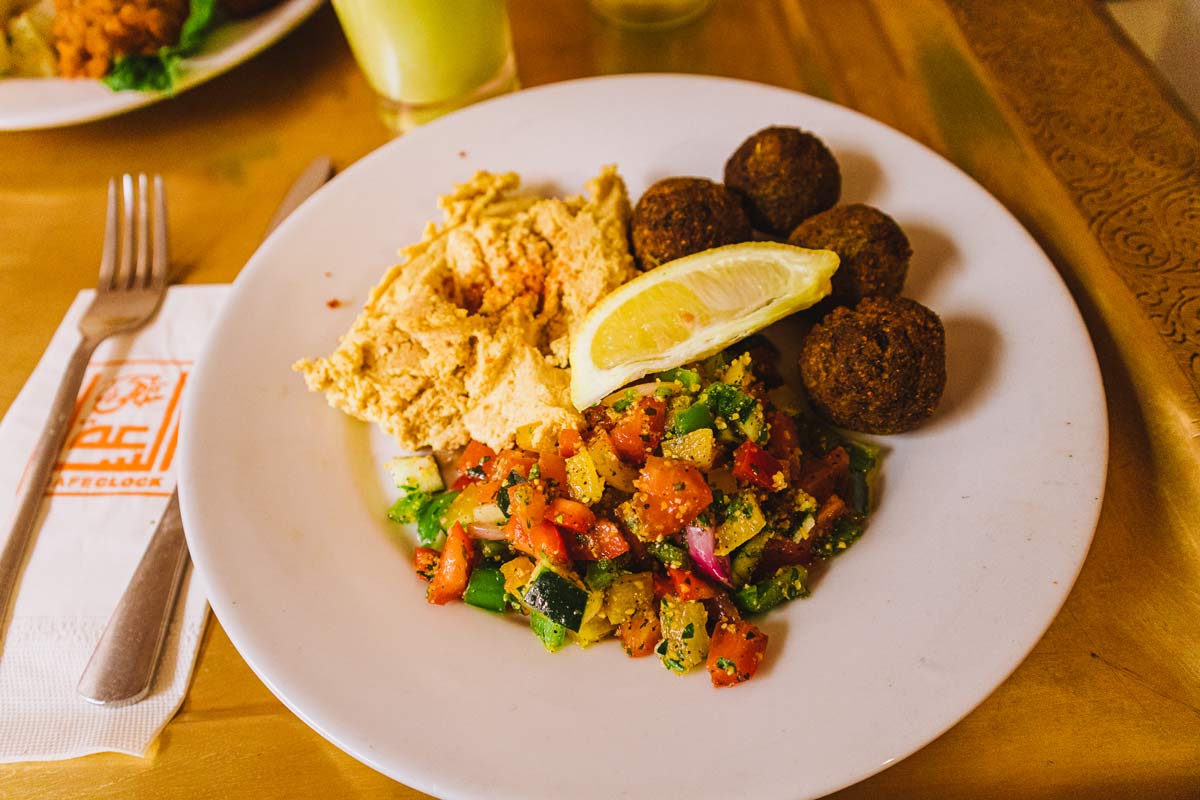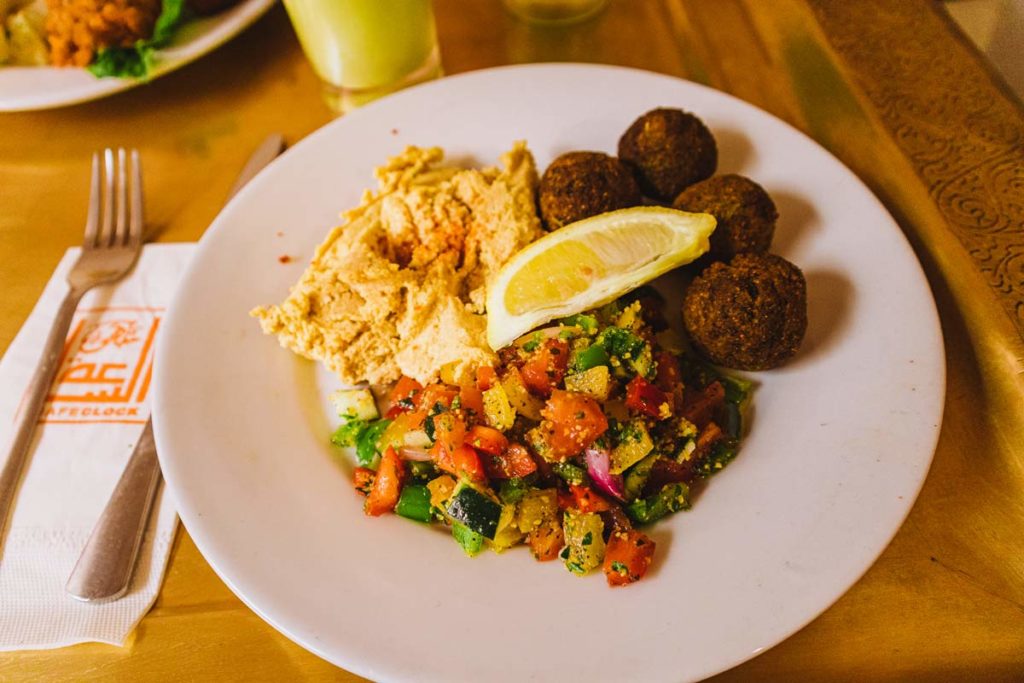 Café Clock offers more than just a cosy place to dine in. It also holds a different cultural event every day of the week. You can attend storytelling night twice a week. There are also musical concerts and jam sessions. You can check their menu to know the date and time of the events.
Finally, let's talk about pricing. The café isn't the cheapest place you can visit, but it's not too expensive either. It falls somewhere in the mid-range price. You can have a meal for two with drinks for about 200 DH. The events are free, however.
In conclusion, Café Clock delivers on its promises. It's a lovely café that offers a cosy atmosphere and authentic Moroccan dishes. The events are certainly a big selling point.
It's especially a good idea to head there for a lunch break after visiting the Saadian tombs.
Location
You can quickly get to Café Clock in Marrakech from the Saadian Tombs, following the Rue de La Kasbah to the south direction about 600 meters.
224 Derb Chtouka, Marrakech
Mon-Sun: 9 am-11 pm
Tel: (+212) 5243-78367