If you're planning on using a rental car or bringing your vehicle for transportation in Marrakech, parking would seem like the least of your worries. However, the truth is that unless you plan where and when to park, it's going to lead to a lot of headaches and possibly ruin an otherwise lovely holiday.
So let's see how you can make parking in Marrakech a hassle-free task.
Parking on-street vs. secure parking
There are plenty of on-street parking spaces in Marrakech and secure car parks. Which one you choose depends entirely on where you are and how long you need to park.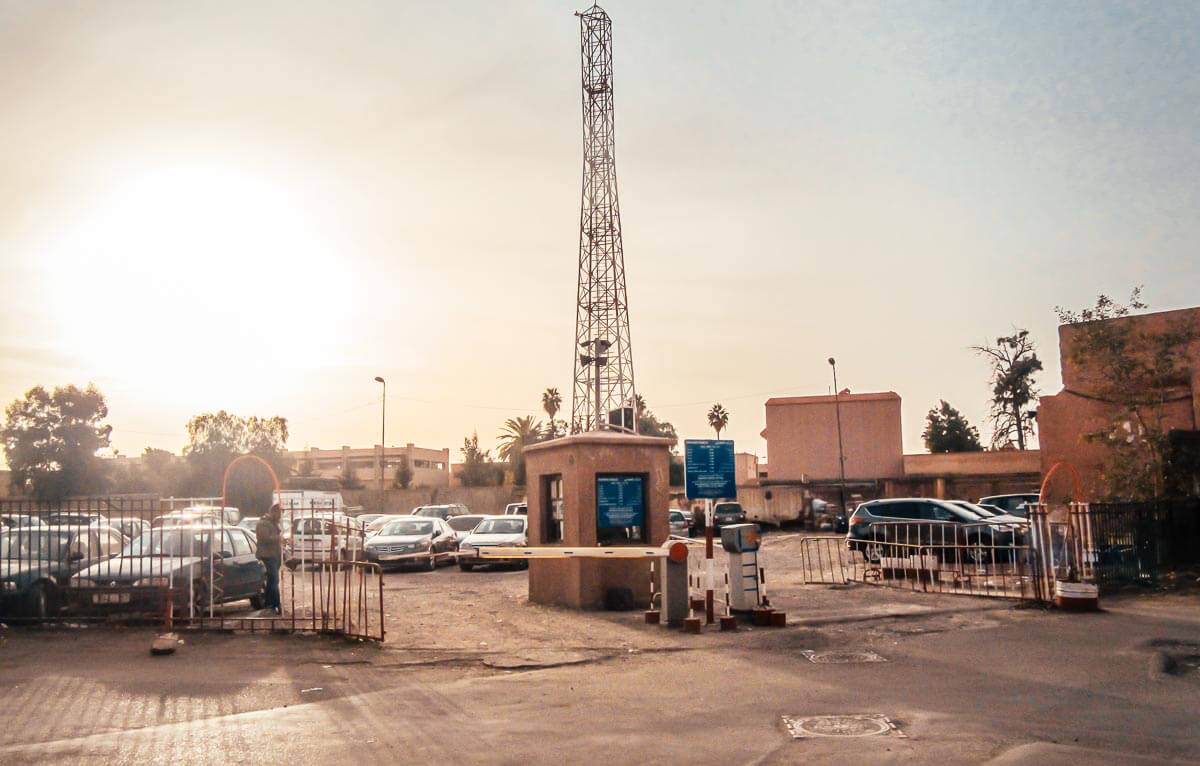 If you're parking on-street, a car park attendant will control that area. You won't miss them as they'll rush towards your car as soon as you show up. You'll need to pay them a few Dirhams, usually between 3 and 5, when leaving.
If you're planning on parking overnight, you'll usually need to pay the night street guardian when you park. Guards generally leave their posts early in the morning so don't be surprised if you don't find them.
You can tell a guard by their yellow jacket and tickets. They all seem to have them in cities to give as proof. Some of them even include the parking fee. In many other places, however, it's typically just to pay and not have a ticket.
Your car will almost always be safe if you park it on-street for a few hours. That is unless you leave something valuable visibly in the car (which is a bad idea anywhere). For your overnight parking needs, however, I always recommend using secure parks.
General compound parking is your best bet. All compounds are either located in the basement lot of a building or lots with a locked gate. Guards are available at all hours of the night. The compound/parking lot type of parking is usually about 50DH a night.
Where to park your car in Marrakech?
Parking in the Medina
You'll most likely need to use one of the secure car parks, compounds, or underground parking in some cases. For instance, if you're in the Medina, I strongly recommend using one of the many secure parks around the area.
The easiest to find is the one opposite Jemaa el Fna just behind the Koutoubia. The parking fee is 10 Dirhams for the first hour and 1 Dirham for every subsequent hour. The park has a gated security booth at the entrance and is surrounded by a fence. If you're planning on using it for overnight parking, you might want to enquire about that first.
I recommend going this route because finding on-street parking is extremely difficult. It gets even more complicated if you're there during Moroccan holidays. It's also recommended you park far from the Medina and make your way there on foot. Doing this will save you a lot of time in traffic jams and parking spot searching.
Parking in Gueliz
If you are in Gueliz, one of the best secure parking lots you can find is at Carré Eden shopping centre. It's underground, costs a couple of Dirhams per hour, and is as safe as it gets. Overnight parking is available there.
You may also purchase a ticket to park there for a whole month 24/7. The price, according to their website, is 250 Dirhams.
Street parking further out of the centre in Gueliz where we often stay is 20 Dirhams a night. It's cheaper during the day, though.
Parking at the Airport
It's possible to park your car at the Marrakech Menara Airport. The place uses a ticket system. If you park under an hour, it'll cost 5 Dirhams. For every following hour, the fees vary from an additional 2, 3, or 4 Dirhams. You can park your car for 24 hours for 38DH.
Check the Marrakech Menara Airport's website for a more comprehensive look at the fees.
Tips for Parking in Marrakech
Every shopping mall or centre in the city has its own parking. Either underground or compound, sometimes for free. So, if you're visiting Menara garden, for example, you might want to use the nearby Menara mall parking lot.
One thing to keep in mind is that most, if not all hotels have free parking. However, hostels don't come with parking.
If you are visiting on a Moroccan holiday, on-street parking fees, spike up to double their usual prices sometimes. So it's better to find secure parking lots. That is because they have fixed prices.
On that note, it's also recommended you plan the routes you're going to use. Traffic around the holidays tends to get jammed, and it'll be a pain to navigate. So, check your map for the most straightforward road before you head out.
For those who want to avoid the traffic jam and crowdedness of Marrakech during holidays, you can easily find lists of Moroccan school holidays online and plan your trip accordingly.
If you're travelling to other cities besides Marrakech, some other cities follow a completely different system. The one you need to be aware of is the meter system. Some places will have ticket booths that operate with coins depending on the duration of your parking. They are inexpensive.
While there might be a person that'll guide you to the booth and explain it to you, you don't need to pay them anything.
Parking in Marrakech in a nutshell
That'll be all for this guide on parking in Marrakech. Just be sure to plan where you are going, Whether it's close or far from the centre of Marrakech. Also, know how long you'll park and if it's overnight. Make sure you know what to expect when you get there (on holiday seasons at least). Should you follow these tips, you'll have a stress-free and smooth experience getting to places and parking.