Amal Women's Training Center is not only a social showcase but also an excellent restaurant. Although people say that too many cooks spoil the broth, cooking courses for small groups are offered there. Here is a field report by a passionate amateur cook.
A while ago, the brilliant restaurant at Amal Women's Training Center was already recommended here on this blog. Behind the project there is a non-profit organization seeking to support socially disadvantaged women in developing their professional careers and helping them find jobs to earn their livings. These women work together with 15 employees and 12 volunteers and get gastronomic training including Moroccan and international cuisine, service, French language courses focussing on tourism as well as practical training in riads and restaurants.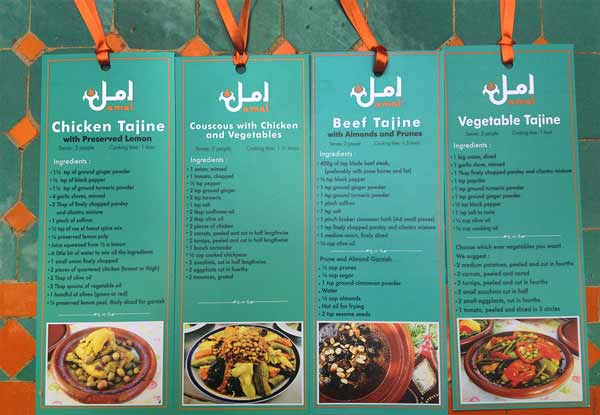 In Amal Center, cooking courses in which you can learn how to prepare couscous, tagine or pastilla, are offered six days a week. These courses are held – according to your needs – in either Arabic, French, English or Spanish and cost DH 200 per person. Book your course online — better early than late — , enter your desired date and language and choose from a list of eight different dishes what is going to land on your plate at the end of your course. You will get an e-mail-confirmation with a very good description on how to find the rather hidden Amal Center in the new town of Marrakech.
Cooking class in traditional Moroccan cuisine
My fellow travellers and I agreed on two Moroccan dishes to be taught to us: a chicken tagine with olives and pickled lemons as well as a tagine with lamb and plums. Our cooking class started after a short introduction during which our host and chef Oumaima explained the Amal Project and gave details about the living conditions of socially disadvantaged women in Morocco. After that, we finally got started.
In a shady corner of the garden, a fireplace and a place for our kitchen work had already been prepared among which all eight cooking students gathered. First, we were given different herbs and spices, then, onions and meat had to be chopped and marinated. Our chef checked our work before all ingredients went into the tagine, which was put on the heated fireplaces. Preparing the chicken tagine was quick and easy whereas the lamb tagine was more complex but also more informative.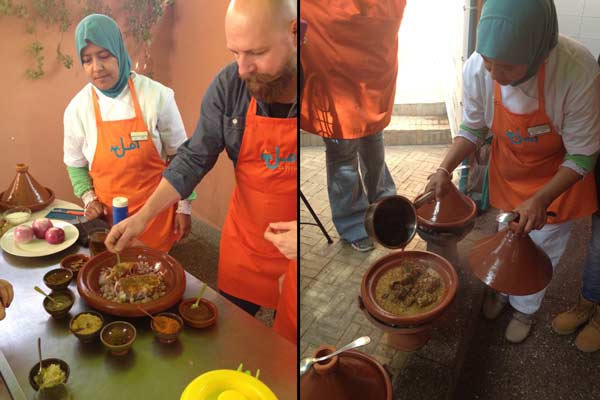 It took about 90 minutes before both tagines where taken from the fire and served with fresh flat bread. Waiting time was shortened by more stories of Amal's recent successes, told by Oumaima. She also answered a lot of questions. Then, our freshly made dishes were tested. In short: They tasted excellent and left nothing to be desired – especially with the generously served mint tea. Finally, Oumaima gave each participant a recipe of another dish and served delicious desserts. Time had passed all too quickly and after four hours, our cooking course was finished at 2 p.m.
In a nutshell: Cooking course in Amal Women's Training Center
The cooking class in Amal Center aims primarily at beginners who will get an overview on preparing traditional Moroccan dishes. Yet, since some steps are already prepared by the staff before the actual course starts, there is, all in all, not much to do for the participants. Thus you do not learn very much. However, you got the chance to learn some tricks and questions were answered patiently.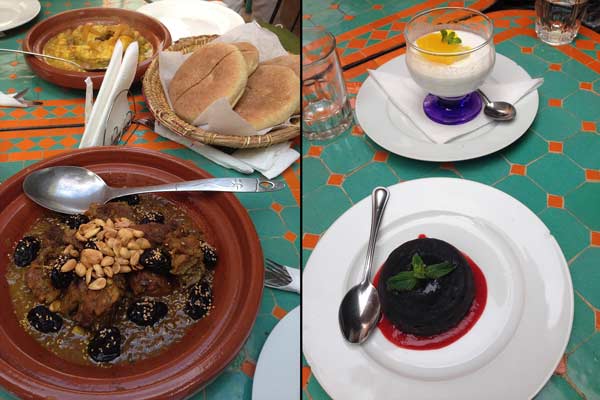 If you wish to stroll through the souks with a cook accompanying him or her buying ingredients before the actual course, this is not your type of cooking course. Choose a different – and unfortunately more expensive – one. In Amal Center, on the other hand, which partly finances itself by these courses, you get an insight into the work of a social project and have the chance to get to know Moroccan women in their daily work routine. Your money is well spent here, the food is brilliant and the atmosphere perfect, so that this cooking course can also be recommended as an authentic intercultural experience.
Amal, by the way, is the Arabic word for "hope".
More Information:
(photos: Travelguide Marrakech, 2015)