When is the best season for holidays in Marrakech. In short: It definitely is spring and autumn: it is agreeably warm, neither too hot nor too chilly. However, Marrakech can also be worth a trip in summer and winter.
Marrakech's climate

The former Imperial capital is located close to the mountain range of the High Atlas which divides the country into two climatic zones: the mediterranean climate in the north and the arid south. Although there is a light to moderate breeze from the Atlantic Ocean all year round, it can be very hot in Marrakech in summer.
The hottest months are June, July, August and September. Especially in midsummer, temperatures may rise above 40°C. However, since Moroccan heat is very dry it is bearable in shady places. In contrast, winter is clearly colder: From December to February you can expect Mediterranean warmth with just above 20°C whereas nighttime temperatures may fall just below 7°C from time to time. Winter is also the rainiest period — if you can say so, considering a total yearly amount of rain of 250mm. On average, expect rain on 4 days in December.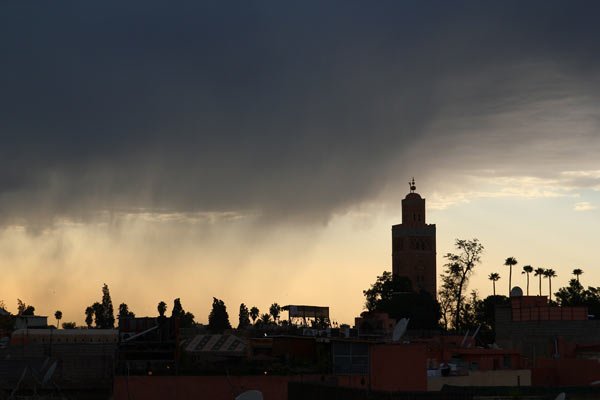 The ideal time for travelling to Marrakech is, as already mentioned, spring (mid March – end of May), as well as autumn (mid September – mid November). Temperatures are around 25°C then. Evenings will, of course, be a little cooler. These months are also the tourist high season, which doesn't only mean a lot of tourists but also fully-booked hotels and higher prices for accomodation.
In a nutshell: Marrakech is an all-season destination with some especially recommendable periods
Even if it can get a little chillier in January, it will still be much warmer in Marrakech than at home!
The perfect time for travelling to the Rose City is spring, in my opinion, since you can admire flourishing landscapes on excursions outside the city whereas in autumn many regions are very dry. Marrakech has a very agreeable climate in both seasons. Yet, if you plan to do a trekking tour in the close Atlas mountains and only use Marrakech as a stop on your way there, the best time for travelling definitely is between May and September — at least if you do not intend to take winter gear with you.